Available Application Forms
Chandigarh University B.Tech admission 2018 Started – Apply Here
Bennett University B.Tech admission 2018 Open – Apply Here
JEE Main 2018 Updates Available Now – Check Here

NEET 2018 Syllabus: Central Board of Secondary Education (CBSE) every year conducts NEET (National Eligibility cum Entrance Test) which is a national level medical examination of the country. From the year 2016 onwards, All India Pre Medical Test (AIPMT) exam has been replaced by NEET examination. NEET 2018 is the gateway to offer admissions to deserving applicants in MBBS and BDS courses at the best colleges in India. (National Eligibility cum Entrance Test) NEET is a gateway for admissions into medical and dental undergraduate courses offered by various government and private medical colleges of the country. As per notification released by CBSE on its website cbseneet.nic.in, there will be NO changes in the NEET UG syllabus. "The Syllabus of NEET(UG), 2018 will be exactly same as it was for NEET(UG), 2017. There is no change in the syllabus for NEET(UG), 2018".
The NEET 2018 Syllabus will be from Physics, Chemistry, Zoology and Biology. Therefore, a candidate is required to have learnt all these subjects in their 10+2. After the release of official notice interested Applicants can apply for National Eligibility cum Entrance Test (NEET 2018). The application process for NEET 2018 will end tentatively in the Second week of January. Candidates can fill the Registration Form only through online mode before the last date. For more details read the article mentioned below.
---
NEET 2018 Important Dates:
Given below are the dates released by the council. They are very important for an aspirant and must be checked after every alternate time for any updates. Also, the pdf format of the same is given below for downloading purposes. It should be saved with the aspirant for further uses.
| | |
| --- | --- |
| Events | Dates (Announced) |
| Application form release | 08 February 2018 (Released) |
| Last date for filling the application | 12 March 2018 (5:30 PM) (Extended) |
| Last date to submit the application fee | 13 March 2018 (11:50 PM) |
| Correction Window Open | 15-17 March 2018 |
| Release of admit card | 1st week of April 2018 |
| Exam date | 06 May 2018 (10:00 AM to 1:00 PM) |
| Result announcement | 05 June 2018 |
| 1st Round Counselling starts | 12 – 24 June 2018 |
---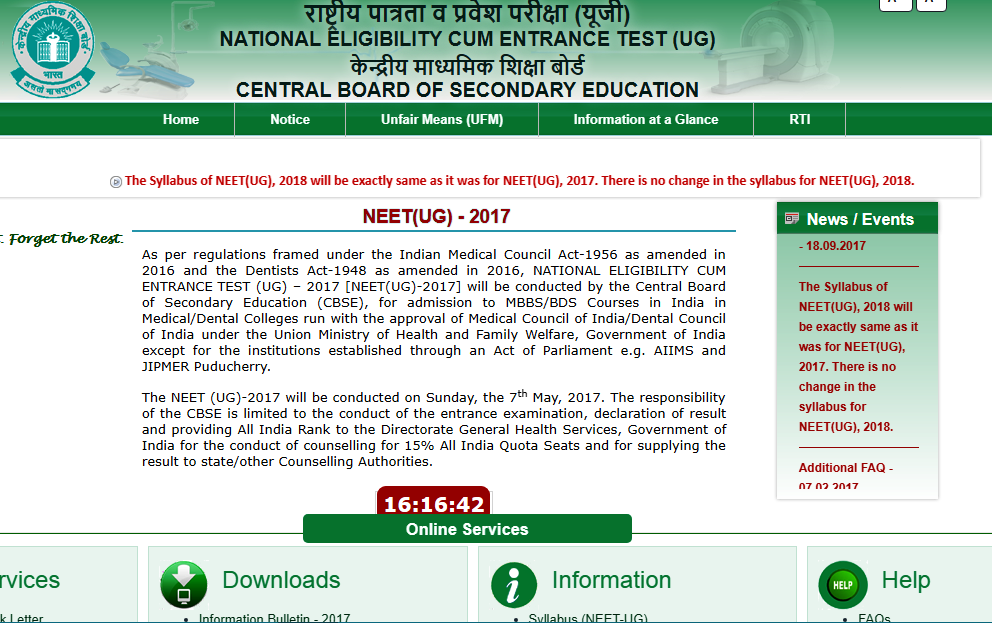 NEET 2018 Syllabus
The NEET 2018 Syllabus comprises of all the main chapters of Science Subjects and also some other parts and a candidate can achieve success by covering all the syllabus and the concepts of all the parts covered in Syllabus.
NEET 2018 syllabus will be laid down by the Medical Council of India. The syllabus will be based on 11th and 12th Standard subjects. The Syllabus for NEET 2018 is given below:
Important Exam Update
Updates Regarding JEE Main 2018
Chandigarh University B.Tech. Application Available Apply Now
LPU University B.Tech Admission Forms Apply Now
NEET 2018 Syllabus for Physics
Class 11th:
Laws of motions
The Motion of the system
Work, Energy, Measurement and the Physical World
Gravitation
Kinematics
Kinetic theory
The behaviour of perfect gas
The motion of systems of particles and rigid body
Properties of bulk matter
Oscillations and Waves
Class 12th:
Dual Nature of Matter and Radiation
Electrostatics
Electronic Devices
Current Electricity
Electromagnetic Waves
Magnetic Effects of Current and Magnetism
Electromagnetic Induction and Alternating Currents
Optics
Atoms and Nuclei
NEET 2018 Syllabus for Chemistry
Class 11th:
Some Basic Concepts of Chemistry
Structure of Atom
Classification of elements and Periodicity in Properties
Chemical Bonding and Molecular Structures
States of Matter: Gases and Liquids
Thermodynamics
Chemical Equilibrium
Redox Reactions
Hydrogen
S-Block Elements
Organic Chemistry- Some Basic Principles and Techniques
Hydrocarbons
Environmental Chemistry
Class 12th:
Solid State
Solutions
Electrochemistry
Chemical Kinetics
Surface Chemistry
General Principles and Processes of Isolation of Elements
P-Block elements
D and F Block Elements
Coordination Compounds
Haloalkanes and Haloarenes
Alcohols, Phenols and Ethers
Aldehydes, Ketones and Carboxylic Acids
Organic Compounds containing Nitrogen
Biomolecules
Polymers
Chemistry in Everyday life
NEET 2018 Syllabus for Biology
Class 11th:
Diversity in Living World
Plant Physiology
Human physiology
Organisation Structural  in Animals
Plants and Cell Structure
Class 12th:
Reproduction
Ecology and Environment
Biotechnology and Its Applications
Genetics and Evolution
Biology and Human Welfare
---
Recommended Books for NEET 2018:
Given here are the important books an aspirant should follow to get good grades.
Best Books for Biology:
NCERT Biology Books: Class XI and XII
Trueman's Biology: Volume 1 and Volume 2
Objective NCERT at Your Fingertips for NEET- Biology by MTG Editorial Board
NEET Preparatory Series
Trueman's Objective Biology for NEET- M.P Tyagi
Pradeep Publication's Biology
40 Days Biology for NEET- S. Chakravarty
Objective Biology by Dinesh
GRB Bathla's Publications for Biology
Best books for Physics
NCERT books of class 11th and 12th
Concept of Physics: HC Verma
NEET Preparatory Series
Fundamentals of Physics by Halliday, Resnick and Walker
40 Days Physics for NEET- SB Tripathi
Complete NEET guide: Physics- MTG Editorial
Physics for NEET- C.P. Singh
Problems in General Physics by I.E. Irodov
Objective Physics: DC Pandey
Objective NCERT at Your Fingertips for NEET – Physics Paperback – 2018
Best Books for Chemistry
A Textbook of Organic Chemistry by Dr OP Tandon
NEET Preparatory Series
NCERT Chemistry for class 11th and 12th
40 Days Chemistry for NEET- Sudhanshu Thakur
Objective NCERT at Your Fingertips for NEET – Chemistry by MTG Editorial Board
Physical Chemistry by O.P. Tandon
Organic Chemistry by Morrison and Boyd
Objective Chemistry- R.K Gupta
Complete NEET guide: Chemistry- MTG Editorial
Concise Inorganic Chemistry by J.D. Lee in Inorganic Chemistry
Dinesh's Chemistry
---
NEET Syllabus PDF
The National Eligibility cum Entrance Test (UG) 2018 syllabus PDF is recommended by Medical Council of India (MCI). The MCI recommended this syllabus after reviewing various state, CBSE, NCERT and COBSE syllabi. NEET 2018 Syllabus is yet to be announced by examination conducting body.
Download Final Syllabus for NEET UG PDF here.
---
NEET Registered office:
The Assistant Secretary (NEET)
Central Board of Secondary Education,
Shiksha Kendra 2, Community Centre,
Preet Vihar, Delhi- 110092
For more details, Candidates can also visit the Official Website: CLICK HERE
Stay Tuned for More Updates about NEET 2018 Syllabus: MBBS Admission Test
neet 2018 syllabus weightage, syllabus of neet 2018 topic wise, neet 2018 syllabus weightage pdf, neet exam syllabus 2018, neet 2018 syllabus weightage pdf download, neet syllabus for biology, neet syllabus 2019.
Available Application Forms
Chandigarh University B.Tech admission 2018 Started – Apply Here
Bennett University B.Tech admission 2018 Open – Apply Here