Amity University conducts AMITY JEE 2019 (Joint Entrance Examination) for admissions Registration is started for various B.Tech. courses offered by various campuses of Amity University. Amity JEE 2019 Application Form is for various courses offered by 8 campuses of Amity University. The exam dates are released by University and examination will be held from 08 April 2019 to 05 May 2019 (announced). The Application Forms are available in both offline as well as online mode. And, Aspiring Candidates should fill the Application form as soon as possible. For more details, read the article below.
Upcoming Application Form
Amity University Admission Latest Update
Amity JEE 2019 Online Application Form is available now. Click here to fill the application form.
Details about upcoming JEE Main 1st exam by NTA here.
University has released all the details regarding the Entrance Examination.
The campus is located in Lucknow, Noida, Mumbai, Kolkata, Gurgaon, Chennai, Gwalior, Dubai and the entrance will be Computer Based Test.
Amity University Highlights
| | |
| --- | --- |
| Name of Examination | Amity Joint Entrance Exam |
| Commonly Known As | Amity JEE |
| Exam Conducting Body | Amity University |
| Examination Level | University Level |
| Category | Undergraduate Entrance Examination |
| Purpose of Exam | Admissions into Amity University Courses |
| Mode of Examination | Online |
| Duration of Exam | 2 Hours |
| Total Marks | 360 |
Important Instructions regarding AMITY JEE 2019
The university published following instruction for Amity Joint Entrance Examination (AmityJEE). As Pearson VUE (on behalf of Amity) is going to conduct the admission test and the test will be held in the list of cities across India and abroad.
Firstly, Candidates should see the Eligibility Criteria carefully. And, They need to fulfil the minimum eligibility criteria in order to get admission through AMITY JEE.
Also, Candidates who have given compartment examination for their class 12th are not allowed to appear for AMITY JEE.
Moreover, Admit Card for the Entrance Examination will be issued 48 hours before the Examination. And, students coming to the Examination centre should carry one printout of the Admit Card along with a valid ID Proof.
Candidates who are appearing for the Examination outside India will have to pay additional fee at the Test Centre itself.
Electronic/Manual Calculators are not allowed inside the examination hall.
Candidates must carry his/her admit Card along with one Government ID proof i.e, Driving License/ Aadhar Card/ Voter ID/ Pan Card/ Passport.
Candidates who take dates and do not show up, will be charged Rs. 750/- for getting another date.
Rescheduling will be allowed only ONCE and up to 48 hours prior to the test.
Note: Process of Amity JEE (Admission Test) has been explained in this PDF document.
AMITY JEE 2019 Dates
The dates are announced by Amity University.
| | |
| --- | --- |
| Event | Date Announced) |
| Application form availability | 19 November 2018 |
| Examination Dates | 08 April – 05 May 2019 |
| Admit card | Releasing soon! |
| Result | 10 May 2019 |
Scheduling/Rescheduling of Exam
The candidates who successfully applied for Amity JEE admission test can schedule and reschedule their exams tentatively in second week of May 2019. The link for the same is available at the official website and can be accessed after login to the application area.
Amity JEE 2019 Application Form and Registration Process
Application Form is available on the AMITY University Website.
Similarly, Amity JEE 2019 registration Application Fee for the Entrance Exam is Rs 1100/- candidates can pay it by online i.e., debit card/ credit card/ net banking as well as offline mode can pay via DD in favor of 'Amity Form' payable at New Delhi.
Candidates can also buy Application packs from any of the designated Amity campus.
However, International Students will have to give extra money. And, they will have to submit the money at the Test Centre.


How to Apply Online Mode:

Visit the official website & click on "Apply Now 2019" link.
There will be a tab for "Apply Online, Upload documents, Pay Online".
Click on "Apply Online".
Candidates will have to first register on the portal & then fill required details.
After filling details correctly, candidates will have to upload scanned passport size photograph of dimension 3.5 X 4.5 in JPG, JPEG, PNG, GIF and BMP format.
Last step will be to make payment of Application fee.


How to Apply Offline Mode:

Visit the official website & click on "Apply Now 2019" link.
There will be a tab for "Download Application Form for offline submission".
Click on "Download Application Form".
Once downloaded printout the application form & fill each field correctly.
Affix recent passport size color photograph and submit along with photocopy of class X mark sheet at the respective campus you are applying for.
Amity application form can be downloaded free of cost by submitting DD of Rs 1100 in favor of 'Amity Form' payable at New Delhi or by paying online by debit/credit card.
Candidates can also buy the application form.
There will be a tab for "Buy application pack from Amity Information Centers / Campuses".
Candidates can by the application pack from Amity Information Centers / Campuses in Noida, Greater Noida, Lucknow, Jaipur, Gurgaon (Manesar), Gwalior, Kolkata, Mumbai, Raipur & Ranchi.
Affix recent passport sizecolor photograph and submit along with photocopy of class X mark sheet at the respective campus you are applying for.
Amity JEE 2019 Admit Card
Amity JEE Admit Card will be released 48 hours prior to the Examination. Moreover, Candidates can change the preferred date for examination exactly once before the release of admit card.
However, no such request will be entertained after the Admit Card is issued. In order to appear for the exam, the candidates are supposed to produce the admit card for AMITY JEE 2019.
And, the admit card can be obtained from the site where you can view the application status processing status and even payment status after filling in the application form and payment of fee is done and application is processed successfully. Further, The date for the same will be announced later on.
AMITY JEE 2019 Eligibility Criteria
The aspirants who are willing to be part of Amity University for the academic year starting 2019 must apply for AMITY JEE. The candidates must meet the following eligibility criteria as given below:
First of all, the candidate must be a citizen of India. However, if he/she is from a different country then they must produce the proof of citizenship.
Secondly, candidates must have passed 10+2 with a minimum of 60% marks.
Further, Applicants must have scored a minimum of 70% in Physics, Chemistry, and Mathematics.
Moreover, English in 10+2 is a mandatory subject.
Finally, Candidates must be born on or before 31 December 2000.
Amity University Entrance Exam 2019 Syllabus
Candidates should prepare all the concepts taught in class 11 and 12 thoroughly. Also, most of the questions asked will be from concepts taught in NCERT. Also, for the detailed understanding of any topic, candidates are advised to go through various reference books available in the market. Finally, aspirants should also solve various sample test papers. And, they can be easily obtained from the internet. Moreover, candidates can also download the sample paper by clicking here.
English
Reading Comprehension
Grammar
Vocabulary
Verbal Ability
Logical Ability
Physics
Physics and Measurement
Vector Algebra
Kinematics of a Particle
Newton's Laws of Motion
Work, Energy, and Power
Rotational Motion
Gravitation
Periodic Motion
Wave Motion
Properties of Solids and Liquids
Heat
Thermodynamics
Kinetic Theory of Gases
Electrostatics
Current Electricity
Magnetic Effects of Current and Magnetism
Magnetism
Terrestrial Magnetism
Electromagnetic Induction
Alternating Currents
Electromagnetic Waves
Ray Optics
Wave Optics
Dual Nature of Matter and Radiation
Atoms and Nuclei
Electronic Devices
Communication Systems
Experimental Skills
Chemistry
Some Basic Concepts in Chemistry
Chemistry in Everyday Life
Atomic Structure
Classification of Elements and Periodicity in Properties
Chemical Bonding and Molecular Structure
States of Matter
Chemical Thermodynamics
Chemical Equilibrium
Ionic Equilibrium
Redox Reactions
Hydrogen
S-Block Elements (Alkali & Alkaline Earth Metals) : Group 1 & 2 Elements
P- Block Elements
Purification and Characterization of Organic Compounds
Basic Principles of Organic Chemistry
Hydrocarbons
Solid State
Solutions
Electro-Chemistry
Chemical Kinetics
Surface Chemistry
General Principles and Processes of Isolation of Elements
D and F Block Elements
Co-Ordination Compounds
Organic Compounds Containing Halogens ( Alkyl and Aryl Halides)
Organic Compounds Containing Oxygen
Organic Compounds Containing Nitrogen
Polymers
Biomolecules
Mathematics
Quadratic Equation
Sequence Series
Complex Number
Binomial Theorem
Permutation and Combinations
Matrix and Determinant
Straight Line
Circle
Parabola
Trigonometric Equations (Ratios, Identities, Equations)
Properties of Triangles
Functions
Limits and Continuity
Differentiation and Differentiability
Indefinite Integration
Definite Integration
Area
Differential Equations
Application of Derivatives (Tangents and Normals)
Maxima and Minima
Ellipse and Hyperbola
Inverse Trigonometric Function
Probability
3D
Vectors
Furthermore, For more details regarding the syllabus, we have a dedicated article for AMITY JEE 2019 Syllabus. And, Candidates are advised to check that as well.
Download the Amity University Joint Entrance Examination Syllabus PDF.
Amity JEE 2019 Exam Pattern
Candidates should be well informed about the AMITY Entrance Test Pattern before appearing for the Examinations. Also, Candidates should reach the examination centre 30 minutes before the exam
Mode of Question: Objective type questions.
Duration of examination: 120 Minutes (2 hours)
Total No.of Question:90 questions.
Sections: 4 Sections
| | | |
| --- | --- | --- |
| ()Subject | Number Of Questions | Marks Awarded(Correct/ Wrong) |
| Physics | 25 | (+4,-1) |
| Chemistry | 25 | (+4,-1) |
| Mathematics | 25 | (+4,-1) |
| General English | 15 | (+4,-1) |
AMITY JEE 2019 Test Centres
The amity university entrance exam 2019 will be conducted in the following cities on the mentioned dates-
State

Test Centre

Delhi NCR

Gurgaon
Noida

Andhra Pradesh

Hyderabad
Vizag
Vishakhapatnam

Assam

Dibrugarh

Bihar

Patna

Bhagalpur


Chhattisgarh

Raipur

Gujarat

Rajkot
Ahmedabad
Vadodara

Surat

Haryana

Karnal

Himachal Pradesh

Shimla

Jharkhand

Dhanbad
Jamshedpur
Ranchi

Karnataka

Bangalore
Mangalore
Mysore

Kerala

Calicut
Kannur
Kochi

Madhya Pradesh

Bhopal
Indore

Gwalior
Jabalpur

Maharashtra

Aurangabad
Mumbai

Nasik
Pune
Nagpur


Orissa

Bhubaneswar
Cuttack
Rourkela

Pondicherry

Pondicherry

Punjab

Amritsar
Chandigarh
Jalandhar
Ludhiana

Rajasthan

Jaipur

Tamil Nadu

Chennai
Coimbatore
Madurai
Salem

Tripura

Agartala

Uttar Pradesh

Kanpur
Lucknow
Moradabad Agra
Allahabad
Bareilly
Greater Noida
Varanasi

Uttarakhand

Dehradun
Haldwani

West Bengal

Burdwan
Durgapur
Kolkata
Siliguri
*All these test centres are distributed according to specific dates. And, The dates will be updated as soon as any announcement from the officials is made.
AMITY JEE 2019 Answer Key
Answer key will be available once examination for all the slots and days is over. Most probably the answer key will be emailed to the candidates and henceforth they are advised to provide a valid email id.
AMITY JEE 2019 Result
Results for AMITY JEE will declared on 10 May 2019.
Moreover, there are no such fixed rules for the cut-off mark.
And, it will be decided on the basis of the performance of the candidate and marks secured according to which an appropriate cut-off mark will be declared based on which a merit list will be made.
Further, if any candidate wishes to pursue any course in any of the campuses, appearing for the entrance exam is a must.
AMITY JEE 2019 Counselling
Once the result is out and the merit list is made, the counselling date would be soon made public. And, the candidates would be called upon based on the ranks and merit list. Further, those who have secured good rank will be given priority and henceforth the counselling will be purely merit-based. And it will also define the Amity JEE Main Cutoff.
Amity Scholarship Scheme
The Amity University believes in rewarding the meritorious students their academic achievements.
Similarly, as part of the ongoing Scholarship Schemes, in the year 2013 over Rs. 60 crores worth of Scholarships have been distributed to students on need or merit basis.
Furthermore, from a student at Amity University can grab 25% to 100% scholarship.
Finally, the students who are eligible for the scholarship for courses after 12th class are even considered for fast-track admission.
Download the details of the scholarship scheme here.
Note: These scholarships do not include refundable security deposits, boarding and lodging costs.
Amity JEE 2019 – Courses Offered
Applicants can check the list of course offered by the university. It is given below:
| | |
| --- | --- |
| S. No | Course |
| 1. | B. Tech (Civil Engg.) – 3 continent |
| 2. | B. Tech (Computer Science & Engg.) – 3 continent |
| 3. |  B. Tech (Electronics & Communications Engg.) – 3 continent |
| 4. | B.Tech ( Biomedical Engineering) |
| 5. |  B.Tech (Aeronautical Engineering) |
| 6. | B.Tech (Aerospace Engineering) |
| 7. |  B.Tech (Automobile Engineering) |
| 8. | B.Tech (Avionics) |
| 9. | B.Tech (Bioinformatics) |
| 10. | B.Tech (Biotechnology) |
| 11. |  B.Tech (Chemical Engineering) |
| 12. | B.Tech (Civil Engineering) |
| 13. | B.Tech (Computer Science & Engineering) |
| 14. |  B.Tech (Electrical & Electronics Engineering) |
| 15. | B.Tech (Electrical & Electronics Engineering) – 3 Continent |
| 16. | B.Tech (Electronics & Communication Engg.) |
| 17. | B.Tech (Electronics & Instrumentation) |
| 18. | B.Tech (Electronics & Telecommunication) |
| 19. | B.Tech (Food Technology) |
| 20. | B.Tech (Industrial Heavy Machinery)Noida |
| 21. | B.Tech (Information Technology) |
| 22. | B.Tech (Internet of Things) |
| 23. | B.Tech (Mechanical & Automation Engg.) |
| 24. | B.Tech (Mechanical Engineering) |
| 25. | B.Tech (Mechanical Engineering) – 3 Continent |
| 26. | B.Tech (Nanotechnology) |
| 27. | B.Tech (Nuclear Science & Technology) |
| 28. |  B.Tech (Software Engineering) |
| 29. | B.Tech (Solar and Alternate Energy) |
| 30. |  B.Tech(Civil Engg. – International) |
| 31. | B.Tech(Computer Science Engg. – International) |
| 32. | B.Tech(Electrical & Electronics Engg. – International) |
| 33. | B.Tech(Mechanical Engg. – International) |
| 34. | B.Tech. (Artificial Intelligence) |
| 35. | B.Tech. (Biotechnology) – 3 Continent |
Colleges taking Amity University Admission 2019
| | |
| --- | --- |
| S. NO. | College Name and Branch |
| 1. | Amity University, Noida. |
| 2. | Amity University, Lucknow |
| 3. | Amity University, Jaipur |
| 4. | Amity University, Gurgaon (Manesar) |
| 5. | Amity University, Gwalior |
| 6. | Amity University, Mumbai |
| 7. | Amity University, Raipur |
| 8. | Amity University, Kolkata |
| 9. | Amity University, Dubai |
| 10. | Amity University, London |
Amity University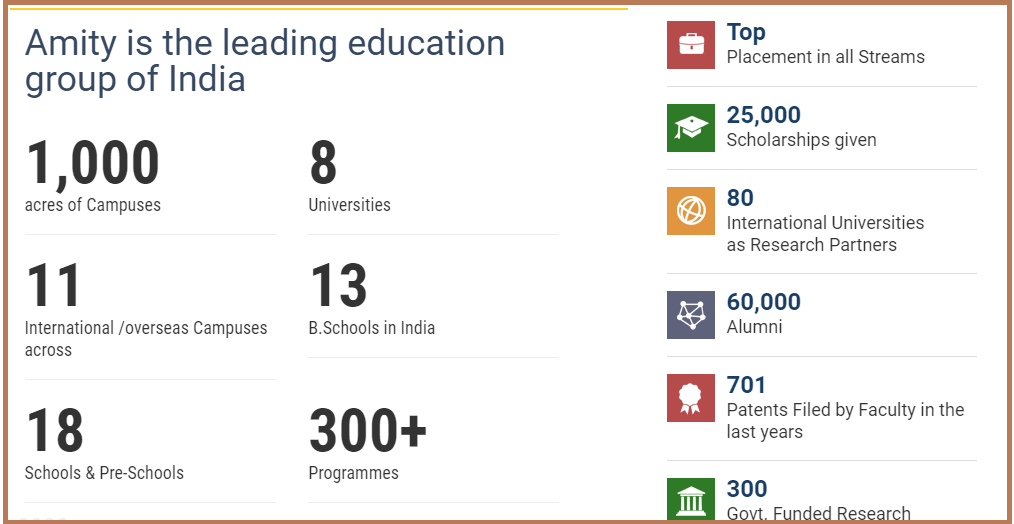 amity university admission 2018, amity university entrance exam 2018, amity university eligibility for mba, amity university bangalore