DTU 2019 Eligibility Criteria is set by Delhi Technological University. DTU is one of the topmost government universities located in New Delhi. All the candidates who have passed their 10+2 examination or will be passing the exam in 2019 can check about all the required eligibilities to sit for the Delhi Technological University examination for studying undergraduate engineering courses from the academic year commencing from 2019.
Upcoming Application Form
DTU 2019 Eligibility Criteria
Admission is based on JEE Main 2019 marks and ranks.
The eligibility criteria are as follows:
Qualifying examination of the student
10+2 with Mathematics, Physics, and Chemistry from a recognised school within National Capital Territory of Delhi
Required pass percentage to sit for DTU 2019
Minimum 50% aggregate marks in Physics, Mathematics, and Chemistry (passing each subject separately)

Passing in English as a core/ elective subject.

JEE Main 2019 qualifications
At least 60% marks
Age limit of the candidate
17- 25 years of age during admission.
Qualifying Examination
The qualifying examination for admission to colleges under JAC Delhi is as follows:
(i) 12 Year course Senior School Certificate Examination (SSCE) of the C.B.S.E. New Delhi.
(ii) ISCE – Indian School Certificate Examination (12 Year course) of the Council for Indian School Certificate Examination (CISCE) New Delhi.
(iii) Any other equivalent recognised examination.
Note: Candidates who appeared in the year 2019 and having compartment will not be eligible for admission for the year 2019.
Minimum Marks Criterion in Qualifying Examination
Engineering Course at DTU, IGDTUW and NSIT
A candidate must secure minimum of 60% per cent in the Physics, Chemistry and Mathematics, and English in 12th Board exams.
B. Tech. Program at IIITD
A candidate must secure a minimum of 80% percentage. The 80 per cent marks in the aggregate of best of 5 subjects that include Physics, Chemistry & Mathematics. Also, Minimum 80% in Mathematics in 12th Boards is eligible.
B. Arch. Course at IGDTUW
A candidate must secure 50% percentage in aggregate and must have passed Mathematics as a subject in the SSCE and also qualifies the JEE Main 2019 (Paper – 2) exams.
NATA is also compulsory for admission to B.arch course in India as per COA- Council of Architecture.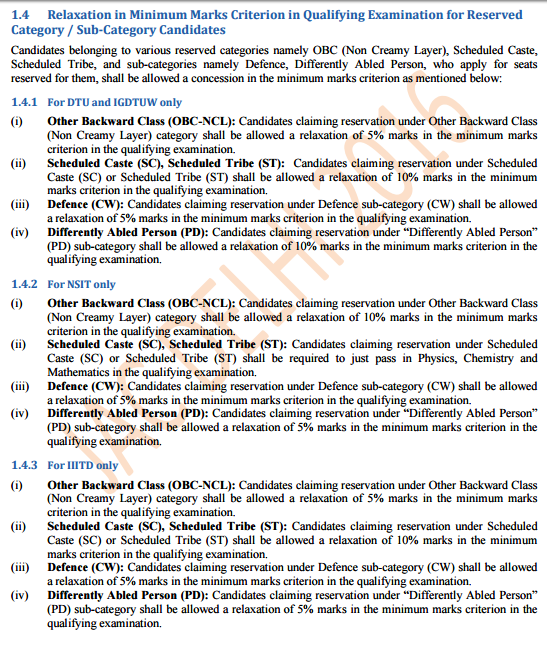 Official Website: http://www.jacdelhi.nic.in/
Delhi Technological University Admission Criteria
DTU 2019 Important Dates bring an elaborate description and information about the requirements which a candidate must fulfil to sit for the DTU 2019 examination so that later their applications don't get rejected during the admission process in DELHI TECHNOLOGICAL UNIVERSITY for the year 2019 for not fulfilling all the DTU 2019 Eligibility Criteria. The tables incorporate a detailed description of the criteria a student must fulfil before sitting for the entrance examination.
DTU Admission Process: DTU 2019 Eligibility Criteria
dtu admission 2019, dtu admission criteria, dtu entrance exam 2019, dtu exam, delhi technological university admission 2019, dtu mba admission 2019.