CBSE released JEE Main 2018 Notification. JEE Main is a nationwide entrance level examination conducted by CBSE. Lakhs of students sit for this admission test to qualify and obtain a seat in renowned engineering colleges across the nation. Through this exam, students can get admission to B.tech and B. Arch courses. Further, the application form is available from the 01 December 2017 and the last date is 02 January 2018 (Closed Now). Also, Notification for JEE Main 2018 contains all the crucial details of this examination. These are Application Form Dates, Admit Card, Exam Date, Syllabus, Result, and Counselling. Further, candidates should read the article below to clarify all their doubts regarding JEE Main 2018 Notification. Finally, the offline exam date is 08 April and online exam date is 15-16 April.
jeemain.nic.in 2018 latest update
Results for JEE Main 2018 Paper 1 and paper 2 released by CBSE.
CBSE released the JEE Main 2018 notification along with information brochure on 23 November 2017. Whereas, the Dates of Jee Advanced Exam is announced by IIT Kanpur, the conducting body of the exam. i.e 20 May 2018.
Admit Card has bee released on 12 March 2018. 
---
Important Information Regarding JEE Main 2018 Notification at a Glance
The detailed information regarding dates, eligibility and venue etc are given here.
S.No.
Events
 Dates & Schedule
1.
JEE Main 2018 Examination for Offline (Pen and Paper Based) Examination
Paper 1 (B.E. / B. Tech.)

Paper 2 (B. Arch. / B. Planning)

08 April 2018

09:30 Hours (IST) to 12:30 Hours (IST)

2.
JEE Main 2018 Examination for Online (Computer Based) Examination
15-16 April 2018
3.
Application Form Submission

Closed

4.
Deadline for Application Form Submission

30 January 2018

5.
Release of Admit Card for JEE Main 2018 on Official Website
12 March 2018 onwards
6.
Examination Venue
Mentioned on Admit Card
7.
Availability of Answer Keys and Image of OMR (Response) Sheets
24-27 April 2018
8.
Declaration of JEE Main 2018 Paper 1 Result. Top 2,20,000 candidates will be eligible to appear in JEE Advanced 2018
30 April 2018
9.
Declaration of JEE Main 2018 Paper 2 Result
Last Week of May 2018
10.
Availability of Score Card / Rank Card
After Declaration of AIRs of JEE Main 2018 Examination
11.
Materials to Bring on the Day of Examination
Admit Card. The candidates appearing for Paper 2 (B. Arch. / B. Planning) of JEE Main 2018 should also bring their clipboard, geometry box, pencils, erasers, and colour pencils or crayons
12.
Rough Work (Pen and Paper Based Offline Examination)

Rough Work (Computer Based Online Examination)

The candidates should do all rough work on test booklet only. But, they should do any rough work or put any stray marks on the answer sheet

The candidates will get the paper for rough work at examination venue only.
---
JEE Main 2018 Notification Details:
The jee main 2018 information bulletin Contain following details:
About JEE MAIN 2018: Introduction & Scheme of the Examination, Mode & Type of Examination etc.
Important Dates: Schedule & Date of Joint Entrance Exam.
Eligibility: Eligibility requirements for appearing in JEE Main 2018: Qualification, Age, Date of Birth, Subjects and Number of Attempts.
Syllabus: Complete syllabus guideline with weightage.
Admission: Process of admission to NITS, IIITS, CFTIS, SFIS, STATE ENGINEERING COLLEGES and Other Participating Institution.
Number of Seats: Total Number of Seats and Reservation of seats for the various category.
Seat Allocation Process: Details about Counselling Process and Admission Procedure.
Guidelines: Instruction for the candidates regarding Pen & Paper based or Computer-based test. Also Code of conduct in the examination hall.
---
The Changes are mention below.
Firstly, Aadhar card number of candidates is mandatory for Jee main form filling.
Then, admission will be on the basis total marks achieved by a student.
Also, 12th class exam marks will not include in calculating JEE Main – All India Rank (AIR).
According to the new eligibility norm, Student must have a score at least 75% or be in the top 20 percentile to be eligible for IITs.
While Students from categories like SC and ST will need only 65% to qualify for the admission in IITs as well as NITs.
---
JEE MAIN 2018 Admission Important Information
The brief important information is mention below.
Name of the exam: Joint Entrance examination 2018
Conducting body: CBSE
Commonly known as JEE Main
Level of examination: National level examination
Release of Admit Card: 10-12 March 2018
Information Booklet: jee_main_information_brochure_2018
---
Percentile Calculation for JEE MAIN
Calculation of Percentile of Qualifying Examination. i.e Class 12th or equivalent and JEE Main Marks.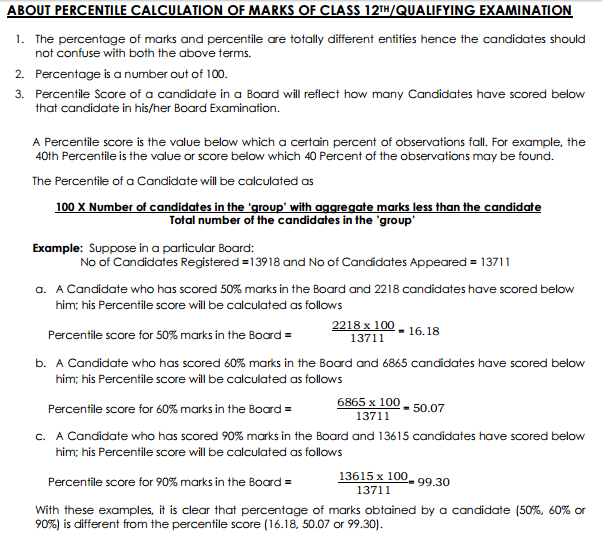 As a Result, For the calculation of percentile of qualifying examination marks. following 5 subjects are taken into account:
1- Language,
2. Physics,
3. Mathematics,
4- Any one of (Chemistry, Biology, Biotechnology, Technical Vocational Subject),
5- Any other subject.
Note: If a student appeared in 6 subjects in the 12th Class. so the subject (5 or 6) with better marks will be taken into consideration.
---
JEE Main 2018 Notification for Examination:
Candidates applying for JEE Main Exam 2018 have to apply through online only. Further candidates should keep in mind that no printed form will be available for the same.
Also, Candidates should ensure the eligibility criteria mention in  JEE (Main). Further, same for JEE (Advanced) and the State Institutions participating in the JEE Entrance Exam.
It is compulsory for the candidates who are applying for this exam to have a valid aadhar card.
Then, the Aadhaar card for the candidates applying must match the candidates' details.
As a result, Aadhaar card will also help in reducing the number of documents to prove one's identity.  Also, this provision is applicable for Students from all states except Assam, Meghalaya, and J&K.
---
What is the provision for corrections and modification in the Application form?
After submission of an application form, No options can be changed at a later stage.
The JEE Main Application Form Uploaded Image correction is open now.
While Students may get a chance to change/correct some of the areas in  JEE Main online application form after January 2018.  Also, applicants should have the valid reason for the same.
Thus the name of the Student and their parent's name must be the same in JEE Application form. Also, in qualifying Examination i.e Class 12th/ equivalent.
---
Choice of Paper and Mode of Paper:
Moreover, the applicants can select the two papers in the examination according to their choice in JEE Mains Exam 2018. Besides this, the mode of papers  i.e. whether the candidate wants to opt for pen and paper-based or computer-based examination is to be selected by the candidate.
CHOICE OF PAPER

MODE OF PAPER

PAPER -1 (B.TECH. or B.E.)

PEN & PAPER-BASED

———————————–

COMPUTER BASED EXAMINATION

PAPER-2(B.ARCH. Or B .PLANNING)

PEN & PAPER-BASED

BOTH PAPER -1 (B.E./B.TECH.) & PAPER- 2(B.ARCH./B .PLANNING)

PEN & PAPER BASED for both the Papers

COMPUTER BASED EXAMINATION for Paper – 1 and PEN & PAPER BASED for Paper – 2
---
JEE Main Exam Dates
Candidates can go through the table here to check for all the events related to jee main important dates.
| | |
| --- | --- |
| Events | Dates |
| Application Form | 01 December 2017  |
| Last Date | 02 January 2018 |
| Online Application form Correction | January (2nd Week), 2018 |
| Admit Card Release Date | March (1st Week), 2018 |
| Offline exam (Pen and Paper Based Exam) | 8 April 2018 |
| Online Exam (Computer Based Exam) | 15-16 April 2018 |
| Result declaration | 30 APRIL 2018 |
| Counseling schedule | Starting from June 2017 |
Furthermore, about JEE main 2018 eligibility criteria for droppers. Also,  jee main login, JEE Main 2018 Notification, and other details. Also, please refer JEE MAIN 2018 page here.
---
What are the Special Provisions for Persons With Disability in JEE Exam?
Firstly, the applicants under PwD category need to fill the type and percentage of disability correctly in the online application form of JEE Main 2018.
Moreover, only candidates who have disability equal to or greater than 40% will get a Scribe / Reader on the candidates' request.
Also, such candidates will have the permission to opt for his / her own Scribe / Reader or request the Centre Superintendent for the same.
If the Scribe / Reader is provided by the Centre Superintendent, the candidate can meet him/her a day before the day of examination to ensure the suitability of the Scribe / Reader.
Accordingly, such candidates with the disability more than or equal to 40% will get 1 Hour extra as compensatory time.
Candidates should prepare the documents that are compulsory, beforehand (only for those candidates for whom they are applicable).
---
JEE Main Required Documents
The list of documents with sample copy is given here. Disability certificate, Medical Certificate are included for candidates convenience. Download the documents here.
JEE Main Required Documents PDF
Stay tuned to Entrancezone for further updates regarding JEE Main 2018 Notification.
---
jee main 2018 date, jee main 2018 form, jee main 2018 application form, jee main 2018 registration, jeemain.nic.in 2018, jee mains 2018, jee main login.