NTA closed the JEE Main Application Form Correction 2019 window. And Correction in the application forms can be made from 08 October 2018 till 14 October 2018. The Candidate who successfully submitted the application form and looking for the correction in the uploaded images can review and change the same by clicking on the link available "Remove Discrepancy in Uploaded Image" and "Notice: Correction in JEE Main Form". The official link is given below to access the correction window directly. For making any changes, the applicants need their registration credentials i.e. Application Number & Password. This is a good opportunity for the candidates who submitted the application form successfully and wants to check the images they uploaded are in the correct format or not, also can rectify and upload a new image if it is required. The official notification copy of CBSE/JEE/2017-18 is given below.
Upcoming Application Form
Latest Update: JEE Main (II) 2019 Application Form has been started by the National Testing Agency on 08 February 2019.
As the wrong image leads to rejection of JEE Main application form. National Testing Agency will again open the window and give a chance to make a specific correction in the details entered at the time of form filling. However, JEE Main 2018 Application Form correction in specific details will be available after the last date of application i.e. 02 January 2018.
Read the complete process of correcting the images uploaded in the JEE Main Application Form Correction 2018. Find specification of images, details and important information on this page.
JEE Main January 2019 result declared. Click here to know yours.
JEE Main Application Form Correction (April Exam) Related Updates
The discrepancy in Uploaded Image removal is a one time task and can only be done once. But if not done and there is an error in it, the form will be rejected.
NTA will open the JEE Main Application Form Correction 2018 window soon.
JEE Main 2018 Application Form Correction Date
As per the notification, CBSE will not accept any request for change through an offline medium, i.e. postal applications, fax or email etc. The Applicants can only make the correction online. Also, changing the mode of examination allowed from Pen and paper mode to computer-based test (Online Mode) and not the reverse. Please find the dates related to application and correction in the table given below.
JEE Main Form Correction Date 2019:
| Event | Dates |
| --- | --- |
| Release of Application Form | 01 September 2018 |
| The opening of Correction window to Remove Discrepancy in Uploaded Images | 08 October 2018 |
| Last date for JEE Main Application Submission (January Session) | Closed |
| Last date for Correction window to Remove Discrepancy in Uploaded Images | 14 October 2018 |
Note: The aspiring students should not wait for correcting the images and details through correction window. Rather, candidates should ensure and make sure that details and image they are submitting are correct.
Weblink for JEE Main Application Form Correction 2019: Click Here and remove discrepancy in uploaded image(s).
CBSE JEE MAIN Correction Notification: CBSE/JEE/2017-18

How to change the details in Application form while JEE Main application form correction 2019?
The Steps to make the correction in online application form is given here.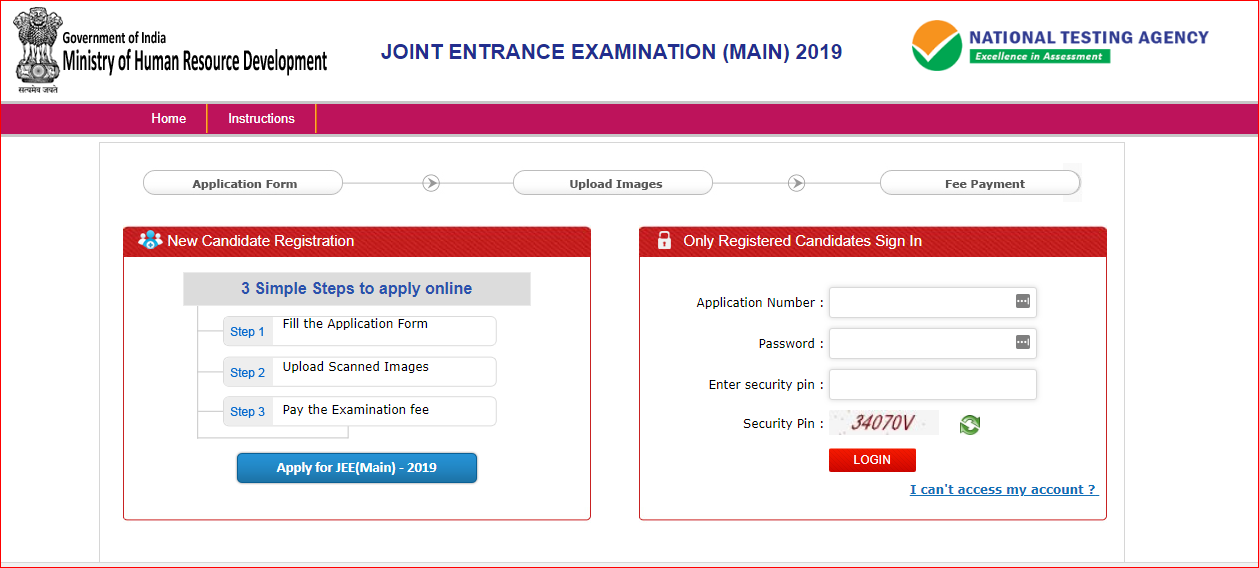 What is the specification for correct Image Sizes and Format?
Correction in Application Form particulars – JEE Main is mention here.

Official Link for JEE Main Application Form Correction
The link to know more about JEE Main Form Correction 2018 is given here.
The official website for JEE Main Form Correction 2019 is given here.
Correction Facility for Candidates of JEE Main – January 2019 Notification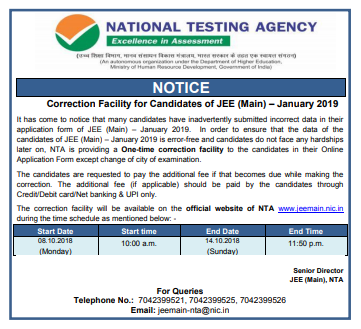 jee main helpline, jee main category change, jee main rechecking form, correction application format, jee main correction date 2017.