Firstly, NATA 2019 (National Aptitude Test in Architecture) is the only National level Aptitude Test conducted by Council of Architecture for admission to affiliated colleges of COA. Candidates qualifying this exam can obtain admission in B. Arch in numerous reputed colleges all over India. From 2017, it will be conducted yearly.  Further, COA will release the notification for NATA 2019 on 18 January 2019. NATA score card will be valid throughout the country. National Aptitude Test in Architecture was conducted by Council of Architecture for admission into COA on 29 April 2019. And now it's a single day exam. Also, NATA 2019 Registration Dates modified from 18 January 2019.  Furthermore, Now NATA exam will be managed by TCS ion. 
NATA 2019 – NEW CHANGES
National Testing Agency is going to conduct JEE Main 2019 in January, find detailed information here.
Candidates can check their results on the official website from 7 June 2019.
Also, as per NOTICE by Council of Architecture, NATA will take place in a single day from 2017. Then, the provision of appearing for NATA five (5) times has been abolished.

The NATA registration form has also been modified.

Moreover, National Aptitude Test in Architecture is the mandatory aptitude test for admission to B.Arch. Therefore, all the candidates who want to pursue B. Arch from any Indian Institute have to sit for this exam.
Furthermore, COA assigned TCS ION to conduct NATA for 2019-19 session.
NATA 2019 Exam Dates:
The interested candidates can find the updated important dates for NATA below.

| | | |
| --- | --- | --- |
| S.No | Events | Dates |
| 1 | Release of Information Brochure | 03 January 2019 |
| 2 | Start Date of Online Application | 16 January 2019 |
| 3 | Last Date of Registration | 30 March 2019 |
| 4 | Release of Admit Card on NATA website | 17April 2019 |
| 5 | Date of Exam | 29 April 2019 |
| 6 | Result Declaration | 07 June 2019 |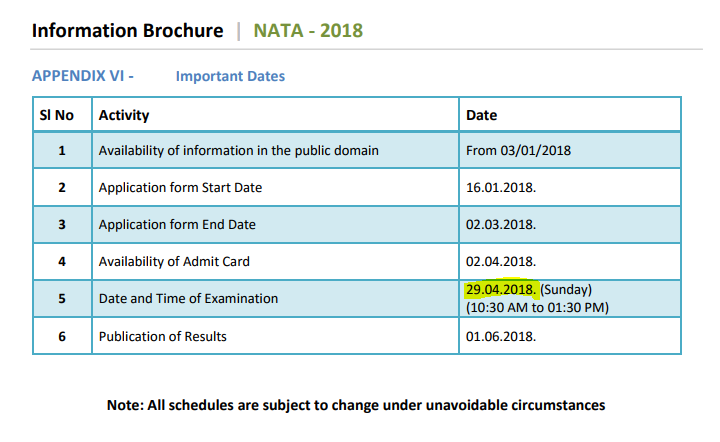 NATA 2019 Result
NATA Result are available from 7 June 2019. The result of NATA will be announced after some weeks from the date of exam. Candidates have to log in to check their result. They should download the soft copy and print it out. This NATA score card will be essential for admission in any college across the nation. The scorecard will be valid only for two years.
Some Relevant Information Regarding Issue of NATA 2019 Admit Card Are Furnished Below
The aspirant should download the admit card prior to the exam. Also, as without the admit card one cannot get the permission to take this exam.
Then, the candidate should download the soft copy of the admit card and take the print out of it. Also, it contains application number, test centre, test time, scanned photograph and signature and some more pertinent information.
Further, the candidate should keep the print out of the admit card safe and secure. Also, one should not damage or defile it, in any condition. And it also should contain starkly clear scanned image and signature as well.
The student should also bring one ID proof along with their admit card that can be Aadhar card/voter ID card/Pan card/Passport/Driving license etc.
One ID proof is also very important to carry with admit card.
How to fill NATA 2019 Application Form
Firstly, the online NATA Application Form 2019 is live and available for the students to fill it. And the form can be filled in four simple steps:
Firstly, filling the Online Application Form.
Then, upload the Scanned Images.
Then, payment of Application Fees.
 Finally, confirmation Page Downloading.
Allocation of NATA Examination Centre
The allocation of National Aptitude Test in Architecture (NATA) examination centre spread across India and covering all capitals of states. And other selected cities subject to choice filling by a minimum number of students is 250 students in general. Center of a city will be based on the choices given by the applicants during online application form filling.
How correction can be made in NATA form?
If in any case corrections are needed in NATA Form, the form correction window will open for a period during which the applicants would be allowed to change some data.
Is lateral admission is allowed in B.arch. Course?
No lateral admission is allowed at any stage of B.Arch. course during 5 years based on any qualification.
New NATA 2019 Registration Process
The nata 2019 registration is modified by COA and now TCS ION will be involved in managing the application forms.
NATA 2019 Registration Form has been started from 16 January 2019 and will be open until 30 March 2019. Earlier the nata online registration date was in December 2017.
Therefore, Students seeking admission into B.Arch course must apply for National Aptitude Test in Architecture (NATA).
In conclusion, aspiring candidates should fill the online application form as per the instructions.
An especially relevant schedule is given on this website.
Registration Fee
Following are the point for paying the registration or application fees.
Firstly, NATA test registration fee is Rs. 1250/- for all the candidates.
Therefore, fees can be paid through online (debit/credit card, net banking). so the link is available in this article also.
Also, the student can pay the fee via Offline mode (Challan at ICICI Bank).
Eligibility Criteria for NATA 2019

Qualifying Exam:
Firstly, candidates should have completed Senior Secondary Board (class 12th) or equivalent exam with Mathematics subject.
Candidates with 10+3 years diploma program in mathematics as one of the subjects can also appear for the NATA exam.
Also, Candidates studying in International Baccalaureate Diploma program after 10 years of Schooling in Mathematics as a compulsory subject.
Further, please find detailed information on NATA website. www.nata.nic.in
Age Limit: Students appearing for NATA 2019 exam must going to complete 17 years of age as on July 31, 2019.
Lateral Entry:  There is NO lateral admission for B.Arch, 5 years degree course.
NATA 2019 Syllabus: How to Download the Syllabus PDF
The examination will consist of two papers- Mathematics and General Aptitude and Drawing Test. Furthermore, NATA 2019 syllabus pdf is prescribed by Council of Architecture.
Mathematics Syllabus: Logarithms Algebra Complex Numbers Binomial Theorem (Positive Integral Index) Quadratic equations.
General Aptitude Syllabus: Visualising different sides of 3D objects Objects, texture related to architecture and built environment.
Drawing Test Syllabus: Conceptualization and visualisation Drawing of patterns – both geometrical and abstract.

Download Syllabus PDF with subject wise weightage Here.
NATA Exam Pattern
The paper pattern is given in the table below:
| | | | |
| --- | --- | --- | --- |
| SUBJECT | NO OF QUESTIONS | MARKS DISTRIBUTION | MODE OF EXAMINATION |
| Mathematics | 20 | 20*2=40 | MCQ (OMR based) |
| General Aptitude | 40 | 40*2=80 | MCQ (OMR based) |
| Drawing Test | 2 | 40*2=80 | Paper and Pencil |
| Total Marks |  – | 200 | |
How to Apply for National Aptitude Test in Architecture (NATA)
The following steps are given below for registration in the exam.
Search for NATA official website @www.nata.nic.in or www.nata.in
Find the link "How to Apply" and click on that.
Also, keep ready with required documents to upload.
Fill the online form carefully.
And Pay the required fees.
Finally, take the printout and keep it safe for future referance.
What is NATA?
The following points will clear your understanding about the test.
NATA: National Aptitude Test in Architecture is an admission test that determines the aptitude of the candidates for the specific field of study, i.e. Architecture.
And it is being conducted by COA since 2006. Before last year it was conducted on various dates and slots. From last year it is conducted on a single day.
Also, the purpose of conducting NATA is to provide a single platform and to facilitate the aspirants of architecture education all over India. So that candidate can apply for admissions in architecture seats in institutions spread across the country and to avoid appearing in multiple aptitude tests.
However, the actual admission counselling shall be carried out only by the concerned competent authorities of the respective states/institutions based on NATA scores.
Read more about COA Nata Information Brochure 2019 PDF
Public Notice for Candidates who have opted Dubai as Exam Centre
The candidates who opted the Dubai exam centre need to submit the application fees of 7000 Rs in Council of architecture Bank account.  The issue of admit card will take place from April 2019.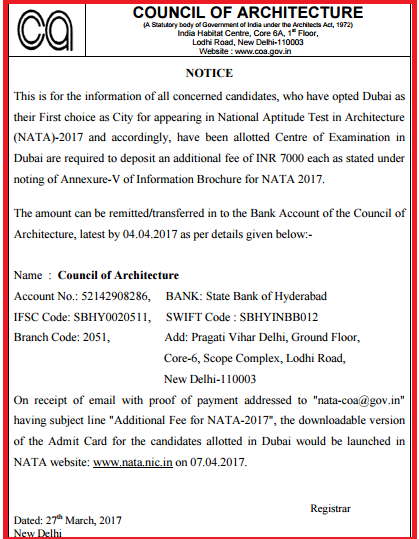 How to get Admission in B.Arch.
An important article is published by us regarding this here.
How to get admission in B.Arch at Architecture College of India?
Council of Architecture (COA): A Brief Introduction
The government of India constituted Council of Architecture under Architects Act, 1972 validated by Parliament of India. And the act came into existence from 1st September 1972. Whereas the main aim of this act is to provide for Architects registration number, standards of education, recognized qualifications and standards of professional conduct and etiquette to be complied with by the architects.
JEE Main 2019 Paper 2 for B.Arch Admission
The Admission to Architecture course at NIT, IIT and Colleges under CBSE managed JEE Main is made through Joint Entrance Examination (Paper 2). JEE Main paper 2 conducted every year as offline exam along with JEE Main Paper 1. Read detailed information JEE Main Paper 2 Here.
Finally, "Stay informed about EntranceZone Latest updates and feature articles regarding NATA 2019"