Available Application Forms
Manipal University B.Tech admission 2018 Started – Apply Here
SRM University B.Tech admission 2018 Open – Apply Here
WBJEE 2018 Exam Pattern is an entrance examination which takes place every year for the Engineering as well as Medical aspirants. It is a means of getting admission in some of the prestigious private as well as government institutes of West Bengal. Also, it occurs in the offline mode and is usually a pen and paper mode exam.
---
WBJEE 2018 Exam Pattern
After the eligibility is checked, an application form is filled and submitted along with the fees and the registration number is allotted, the candidate can then appear for the examination. However, it must be known beforehand as to what the syllabus and the pattern of the exam is. There is negative marking for the incorrect answers as well.
Every year, before the examination is conducted, an exam pattern is released by the examination board for the candidates taking the exam and all the candidates are advised to follow it as well as the pattern is bound to give an insight to the candidate as to how will the exam be conducted under what guidelines and which is the best way to score well on it.
Subject wise Marks Distribution:
There are three categories in the examination. Biology exam carries a weightage of 150 marks whereas mathematics and physics carry 100 marks each. The exam pattern is below for the candidates:
SUBJECT
CATEGORY-1
CATEGORY-2
CATEGORY-3
QUESTIONS
SCORE
Biology
80X1 mark
25X2 marks
10X2 marks
115
150
Physics and Chemistry
30X1 mark

30X1 mark

5X2 marks

5X2 marks

5X2 marks

5X2 marls

40

40

50

50

Mathematics
50X1 mark
15X2 marks
10X2marks
75
100
The examination will take place for three hours and the mode of language will be English.
Further details regarding the categories are as follows-
In category 1, only one option will be the correct answer to a, particularly given the question. For every correct answer, the candidate will get 1 mark and for every incorrect exam, the candidate will lose the ¼ mark. In category 2, only one of the options will be correct, the candidate will score 2 marks for every correct answer and every incorrect answer will result in the deduction of ½ mark. In category 3, more than one option can be correct and the candidate will get 2 marks for every correct answer. But, in addition to this, in category 3, the marks are according to the (2X number of correct answers).
---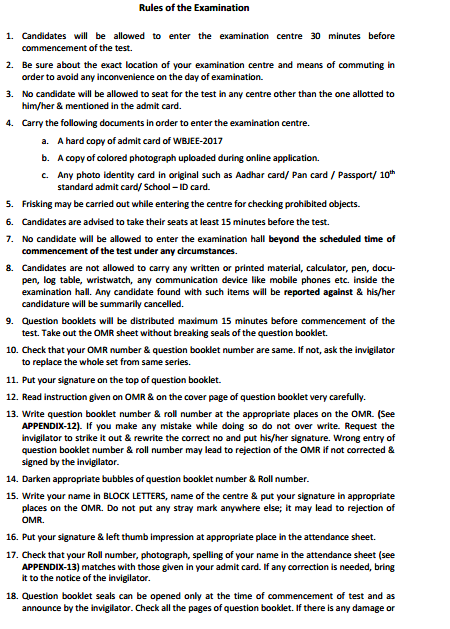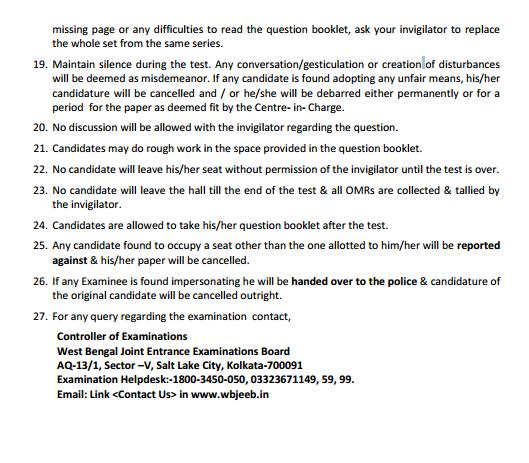 Take into consideration the examination pattern given to score well. 
Finally, "Stay tuned with EntranceZone to keep getting updates regarding WBJEE 2018 Exam Pattern."
Available Application Forms
Manipal University B.Tech admission 2018 Started – Apply Here
SRM University B.Tech admission 2018 Open – Apply Here