List of Recruitment Exams Postponed due to Coronavirus outbreak: Various recruitment exams postponed due to coronavirus outbreak; checklist Here. Not only the cases of COVID-19 virus are increasing rapidly around the globe but deadly virus is taking a toll on school, higher education, competitive exams and job recruitment too.
UPSC Civil Services Personality Test (Interview) of Civil Services Mains Exam – 2019 Postponed
Union Public Service Commission has postponed Personality Test.  Interview which is part of civil services exam 2019 is postponed until further notice due to prevailing grim situation created by COVID-19 pandemic. The interview was scheduled between 23 March to 3 April 2020. The new dates will be announced soon.

GPSC Police Inspector (PI) Exam Postponed 2020
Chairman, Gujarat Public Service Commission twitted "In order to avoid any uncertainty and confusion, the GPSC has decided to postpone upcoming examinations of dated 22/03/2020 and 29-03-2020 till further notice. Take care of your health and keep studying."
SSC JE 2020 Exams Postponed
The SSC CHSL and SSC JE 2020 exams have been postponed in view of the emergency situation arises in the country due to Corona Virus. Check official notification below: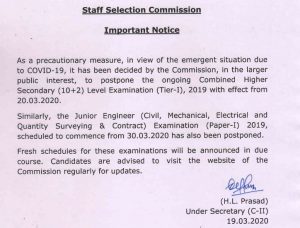 SSC CHSL 2020 Tier-1 Exam Postponed due to COVID-19
SSC CHSL 2019-20 Exam has been rescheduled due to Coronavirus Outbreak. Staff Selection Commission has published an official notification at its website. As per notification, the SSC said in view of public interest, to postpone the Secondary (10+2) Level Examination 20th March 2020. SSC CHSL Tier-1 2019-20 Examination was scheduled to be conducted between 17 to 28 March 2020 in online mode across country. The Exam was conducted on 17 to 19 March 2020 but now it is cancelled and a new schedule will be announced soon.
SSC Exams Postponed in Telangana
The Telangana Education department has postponed the SSC Public Examinations that were scheduled between 23 to 30 March. The education department's announcement comes as the High Court directed the State government of Telangana to postpone examination scheduled between 23 to 30 March and re-schedule the examination in security, safety and health issues prevailing in country.
Madras HC Computer Operator & Typist Skill Test Test Postponed
High Court of Madras has postponed the Skill Test for the recruitment of Computer Operator & Typist Posts against the advertisement Advt. No. 126/2019. The Skill Test was scheduled to be held on March 21 and 22, 2020.
The notice issued by the Madras HC reads: "The Skill Test for the Posts of 'Computer Operator and Typist', scheduled to be held on 21.03.2020 (Saturday) and 22.03.2020 (Sunday ) at Chennai, is postponed. Further dates for the skill test will be intimated later."
Jharkhand HC Computer Typist Exam Postponed
HIGH COURT OF JHARKHAND, RANCHI INFORMATION
This is for information to all concerned that due to the impending threat of the pandemic COVID-19, the Typing Skill Test for the post of Typist of this Court scheduled to be held on 28.03.2020 at Oxford Public School, Pragati Path, Ranchi has been postponed till further orders.
BSSC 1st Inter Level CC (Mains) Exam 2014 Last Date Extended
Bihar Staff Selection Commission (BSSC) has extended the last date to apply for 1st Inter Level CC (Mains) Exam 2020. Earlier, the last date to apply online was March 18, 2020, which is now extended up to March 28, 2020.
Bihar Staff Selection Commission (BSSC) has given an employment notification for the recruitment of 1st Inter Level Combined Competitive (Mains) Exam-2014.
DSSSB JE (Civil), Environmental Engineer Tier II Exam Date Postponed
Delhi Subordinate Services Selection Board (DSSSB) did not cite Coronavirus as a reason behind the postponement of the online examination (Tier-II), which is scheduled to be conducted on March 30, 2020.
UPSSSC Jr Clerk & Assistant Exam 2020 postponed
The Uttar Pradesh Subordinate Services Selection Commission has postponed the Junior Assistant and Junior Clerk Typing Test for Hindi and English examination. The UPSSC Jr. Clerk and Assistant Typing Test (Hindi and English) was scheduled to be held from March 18, 2020, to March 26, 2020. The Commission said that the mentioned examination is being postponed to help contain the COVID-19 virus in the country. Earlier, the UP government had ordered to shut down all schools and colleges till April 2, 2020. This means that the UPPSC BEO Exam that was scheduled
to be conducted on March 22 is likely going to be postponed till further notice.
Airmen Recruitment STAR 01/2020 Exam Postponed
The Airmen Star 01/2020 automated e-Pariksha has been postponed by the Central Airmen Selection Board (CASB) due to Coronavirus threat. The notice posted on the official website says, "n view of the outbreak of Coronavirus, various government advisories and Section 144 at many places, STAR (01/2020) exam scheduled from 19- 23 Mar 2020 is POSTPONED to the last week of April 2020, tentatively.
HSSC Recruitment Exam 2020 Postponed
Haryana Staff Selection Commission (HSSC) has also postponed the UDC, Assistant Lineman and Instructor recruitment examination due to COVID-19 pandemic. The HSSC has invited application for the recruitment on various posts through the advertisement number 12/2019 and 11/2019.
Available Application Forms
Top and Current Application Forms Available Now – Apply Here