The National Bank for Agriculture and Rural Development (NABARD) invites Indian citizens to apply for a post for Manager in Grade 'B' in Rural Development Banking Service(RDBS). NABARD Grade B 2020 Syllabus and all the details are given below.
Before applying, candidates should read all the instructions carefully and ensure that they
fulfil all the eligibility criteria for the post.
To clear each phase of the selection process, you must be completely familiarized with the NABARD Grade B 2020 syllabus.
NABARD Grade B 2020 Syllabus
Selection phases are carried out in three phases.
Prelims: Online(Objective MCQ)
Mains:  Online (Objective MCQ and Descriptive)
and finally, Interview.
Syllabus for Prelims NABARD Grade B 2020
Type: MCQ
Maximum Marks: 200 Marks
Duration: 120 Minutes
Test of Reasoning – 20 Marks
Puzzles (Seating Arrangement, Linear Seating Arrangement, Floor Based), Syllogism, Data Sufficiency, Statement Based Questions (Verbal Reasoning), Inequality, Miscellaneous Questions, Input-Output, Blood Relations Etc.
English language- 40 Marks
Reading Comprehension, Cloze Test, Sentence Improvement, Spotting The Errors, Fill In The Blanks And Sentence Rearrangement
Computer Knowledge- 20 Marks
Networking, Input-Output Devices, Dbms, MS Office, Internet, History Of Computers & Generations, Shortcuts
General Awareness- 20 Marks
Current Affairs And Banking And Economy, Insurance. In The Current Affairs, Questions Can Be Asked From Recent Appointments, Awards And Honours, Sports, New Schemes, National And International News, Latest Developments In Science And Technology.
Quantitative Aptitude- 20 Marks
Data Interpretation, Quadratic Equations, Number Series, Simplification/ Approximation, Data Sufficiency And Few Miscellaneous Questions From Profit And Loss, Age, Average, Simple And Compound Interest, Boat And Stream, Time And Work And Area
Economical and Social Issues- 40 Marks
Agriculture and Rural Development- 40 Marks
Main Examination NABARD Grade B Syllabus 2020 Phase 2
Paper 1 (Writing skills online through keyboard) General English: (Descriptive)
The paper will have descriptive questions carrying 100 marks.
Duration: 1.5 Hours.
The analytical and drafting ability of the candidate shall be assessed from the Descriptive
English paper through essay writing, comprehension, report writing, paragraph writing &
Letter writing.
Paper 2: Economic and Social Issues and Agri. and Rural Development (with focus
on Rural India) for General Posts and Agriculture for candidates applying for Manager
(RDBS) Agriculture Post.
Duration 1.5 Hours
Syllabus: Economic & Social Issues: Nature of Indian Economy – Structural and Institutional features -Economic underdevelopment – Opening up the Indian Economy – Globalisation – Economic Reforms in India – Privatisation. Inflation – Trends in Inflation & their Impact on National Economy and Individual Income. Employment Generation in India
Agriculture and Rural Development:
Agriculture: definition, meaning and its branches, Agronomy: definition, meaning, and
scope of agronomy. Classification of field crops. Factors affecting on crop production, Agro
Climatic Zones; Cropping Systems: Definition and types of cropping systems. Problems of
dryland agriculture; Seed production.
Rural Development- Concept of Rural Area, Structure of the Indian Rural EconomyImportance and role of the rural sector in India- Economic, Social and Demographic Characteristics of the Indian rural economy, causes of rural backwardness.
Paper 3:  (MCQ) Development Economics, Statistics, Finance & Management
Development Economics: Measures of development, Economic Development Models, the role of subsidies, the importance of savings and investment, Importance of agriculture, Terms of trade in agriculture, Development issues in India.
Statistics: Basic statistical concepts, Summarizing of data, Frequency distribution, Measures of Central Tendency, Relative dispersion, Elementary Probability, Relative Frequency Approach, sampling, Axiomatic Approach, Analysis of frequency distribution, Correlation, Regression, Sampling Methods, Time Series Analysis.
Finance: Financial system in India; Regulation of Banks & Financial Institutions, Banking and Financial Institutions in India; financial system- features, characteristics, and issues; Microfinance, its significance, and importance; Union Budget; Project finance- Assessment and Sources for block capital, working capital, Infrastructure financing- Risk Management in Banking Sector, Sources of capital.
Management: Management: its nature and scope; The Management Processes; Planning,
An organization, Staffing, Directing and Controlling; The Role of a Manager in an Organisation.
Leadership: The Tasks of a Leader, Leadership Styles, Leadership Theories, A successful
Leader versus an effective Leader.
Read the details here.
Interview NABARD Grade B 2020 Syllabus – Phase 3
Applicants qualifying in the Phase-II Examination and securing a sufficiently high rank in merit shall be short-listed for interview.
Marks for Interview: 40 Marks
NABARD Grade B Syllabus 2020 – CUT OFF (Overall) Year 2016

Official NABARD Grade B Cut Off (Section Wise) for the Year 2016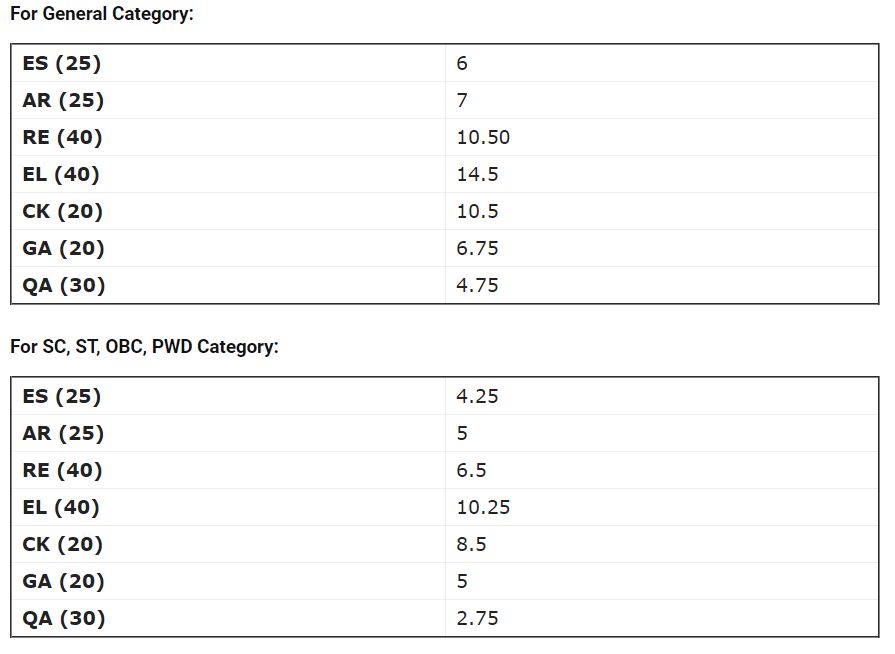 For more details regarding the syllabus visit the official website.
Candidates are requested to apply only ONLINE through bank's website www.nabard.org.
Read about more jobs update from NABARD here.
Available Application Forms
Top and Current Application Forms Available Now – Apply Here