According to Indian Express-News, Now Private sector employees and social workers will qualify for IAS positions on the basis of their qualifications and experience. IAS Without Civil Services Exam or Civil Services later scheme.
As per the report that Sources said Prime Minister's Office instructed DoPT (Department of Personnel & Training) to prepare a broad framework (proposal) of recruiting individuals from private sectors for the appointment. These selected people will get employment in the ranks of deputy secretary, director and joint secretary in ministries that deal with economy and infrastructure.
IAS Without Civil Services Exam – Lateral Entry Scheme
The instruction was in response to a DoPT report on central government staffing policy paper. where the DoPT had specified an insufficient number of officers mainly at the middle management level.
As per sources, Cabinet Secretary led committee will carry out these selections. Also, the shortlisting will be purely based on experience & qualification.
Also as in preliminary stage around 40 individuals will get the call through lateral entry scheme, the list may include the scholars, entrepreneurs, and social workers. And the selected people will work at the position till joint-secretary level. As said there is a scarcity of middle management officer in the areas like finance & infrastructure.
According to another official, these lateral entry members would not be available in ministries like Home, Defence, Personnel. Even they are not going to enter into Corporate Affairs.
Lateral Entry into Civil Services Exam
As per last year news by Times of India 10 August 2016, Jitendra Singh (Minister of State, Ministry of Personnel) had cleared the Lok Sabha Members that there was no proposal to draft such modalities for lateral entry as such schemes required political consensus.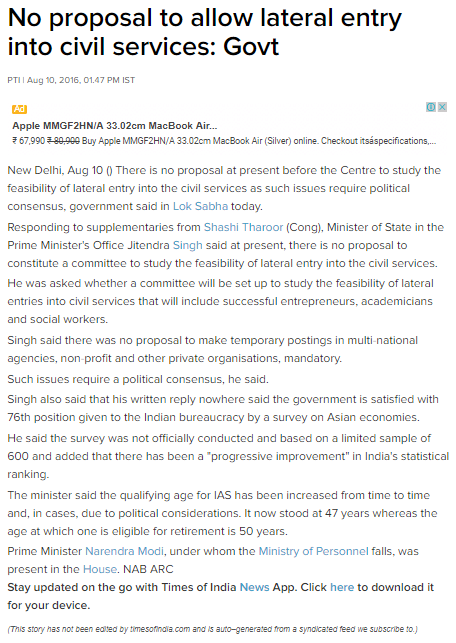 The News states that the minister told that the age qualification for IAS has been increased and now it is 47 years. Whereas at is 50 years of age IAS is eligible for retirement.
Department of Personnel and Training
The DoPT is an agency of the Central Government for coordinating in personnel matters specially issues like recruitment. This department is under Government Of India Ministry of Personnel, Public Grievances & Pensions along with other two departments called Department of Pensions & Pensioners' Welfare (DOP&PW) & Department of Administrative Reforms & Public Grievances (DARPG).

Read more about Civil Service Exams 2020.
Available Application Forms
Top and Current Application Forms Available Now – Apply Here