CBSE Class 12th Board Exams 2021 has been postponed. CBSE 12th Result 2021 will be declared by Central Board of Secondary Education, New Delhi in the Second week of July 2021. Students can also view result through SMS, Type CBSE12<space><Roll No><space>Admit Card Id> and send to 7738299899 Students can download their digital marksheet online. The result is released in online mode. The board conducts the examination for class 12th standard based on CBSE syllabus across all the regions in India. So students studying in CBSE schools may expect the results at the same time, looking to the previous years of Class 12th Results. Senior School Certificate Examination (Class XII) Compartment Results 2021. For complete details regarding the CBSE 12th result 2021, students may go through the given article.
CBSE Result Latest Updates
CBSE Class 12th Board Exams 2021 have been postponed.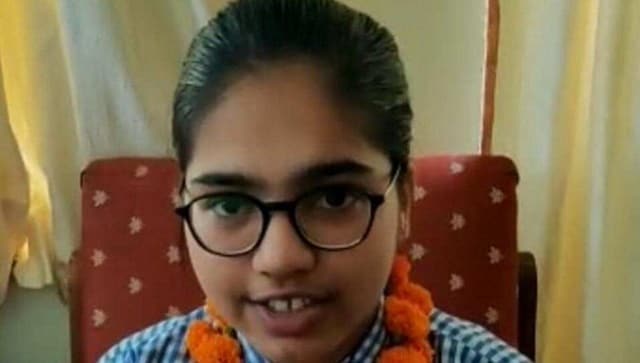 Divyanshi Jain scored 600 marks out of a total of 600 to get 100 per cent in CBSE Class 12 result 2020. The report added that Divyanshi had appeared for all exams except Geography, which was cancelled due to COVID-19 pandemic.
Central Board of Secondary Education Declared the 12th Class board result at cbseresults.nic.in/ around 1 Pm on 13 July 2020.
CBSE provides the marksheets on various digital platforms including DigiLocker and UMANG app.
Re-Evaluation & Verification of Marks
The board notified the rules regarding verification of marks, obtaining photocopy of the evaluated answer books, re-evaluation of marks.
Subscribe to Get Updated Information about CBSE 12th Result 2021 (Postponed) : Class XII Board Results @cbseresults.nic.in - Admissions
​
CBSE 12th Result 2021 Date
The date for the result announcement will be in June 2021 and the following result dates are based on previous year information. The CBSE is a competent authority to declare the CBSE 12th Result 2021 for all affiliated schools.
Name of Exam
Examination Schedule
Result Date
CBSE Class 12th Result 2021
April 2021
Second week of July 2021
Link for verification of marks to open on
Third week of July 2021
——- 
 
 
 
 
Last date to submit application for verification of marks
Third week of July 2021 (up to 5:00 PM)
Request for obtaining photocopy of answer book starts on
First week of August 2021
Last date for applying with fee for obtaining photocopy of answer book
First week of August 2021 (5:00 PM)
CBSE 12th revaluation application process 2021
First week of  August 2021
Last date to submit the form for compartment
To be notified
Third week of July 2021
Note:
How to Download and Print CBSE Class 12th 2021 Result?
The steps to cbse class 12 result download pdf is mentioned below. Candidates are advised to pay attention while filling the credentials like Roll Number, Name, Fathers Name etc very carefully.
Search for official website @ results.nic.in or cbseresults.nic.in.
Click on "Senior School Certificate Examinations (Class 12th) Results 2021 (All Regions)".
Now Enter roll number and/ or date of birth of the candidate.
Finally, the result page will appear on the screen.
Further, students must download the result and take a printout for future reference.
Also, candidates should collect the original copy with a transfer certificate from the school.
Details Printed on CBSE Results 2021
The following details are printed on the CBSE Results 2021. Candidates can check the details below:-
Roll number.
Centre number.
School number.
Admit card id.
Name.
Email id.
Mobile number.
Father's name/ Mother's Name
Total Marks
City.
Numbers/Grades
Percentage
Passed/Failed
Here is list of official websites where students can check their result:
cbseresults.nic.in/ is the CBSE official website for exam results. The website archives result from 2004. The website is maintained by National Informatics Centre (NIC).  "The results published on net are for immediate information to the examinees. These cannot be treated as original mark sheets. Original mark sheets will be issued by the Board separately."
results.gov.in/ is the single source for the results of all examination held in India, the website is Designed, Developed and Maintained by e-Counselling Division, National Informatics Centre, Ministry of Electronics & Information Technology, Government of India. This website hosts all academic and entrance exam results like NTA, CBSE and education board for states including Andhra Pradesh, Karnataka, Madhya Pradesh, Maharashtra, Meghalaya, Odisha, Rajasthan, Tamil Nadu, Tripura, Uttar Pradesh, Uttarakhand, West Bengal and others.
IVRS Facility: Central Board of Secondary Education will also provide results of 10th and 12th class through IVRS (interactive voice response system). National Informatics Centre (NIC) will update the telephone numbers on the day of result, through which the students will get to know their result.
Check Results on Mobile App: Students will be able to access their Class 10 and Class 12 result 2021 mark-sheets and passing certificate using the DigiLocker website and app.
UMANG App: Students can also check their results on UMANG App,  A Mobile app which is available for android, iOS and Windows based Smart Phones.
Result Via Digilocker
DigiLocker has partnered with CBSE to provide digital certificates to students of year 2019. Students will receive their DigiLocker username through SMS on the mobile number registered with CBSE. The DigiLocker app is available for both operating systems i.e. Android and iOS . Alerts will be sent to the registered mobile number.
Read How to Access Your CBSE Certificates Here: digilocker.gov.in/cbse-certificate.php.
CBSE Class 12 Board Exams Passing Criteria
Students would be considered to have cleared the CBSE board exams if they fulfil the criteria mentioned below:
Should secure a grade higher than 'E' (that is, at least 33% marks) in all the five subjects of external exams in the main (or compartmental exams)
For practical work-related subjects, candidates should secure 33% marks in theory and 33% marks in practical. Apart from this, aspirants should have secured at least 33% marks in aggregate
Aspirants would be given a pass certificate by the Board if they get a grade above 'E' in all subjects of internal assessment (unless he/she is exempted).
Senior School Certificate Examination (Class XII) Result 2020 Analysis
Overall Pass Percentage (Full Subjects)
Year
Registered
Appeared
passed
Pass%
Increase in pass%
2019
1218393
1205484
1005427
83.40
5.38 %
2020
1203595
1192961
1059080
88.78
CBSE 12th Revaluation/ Rechecking Result 2021
The board is giving an option to the students to appear for the exam or get their result based on their performance in past three exams. Hence, it is not confirmed if the students will get an option for revaluation or rechecking. CBSE releases class 12 revaluation/rechecking form online at the board's website. In the application, students need to fill in necessary details and submit it by paying the required amount of fee. The result for the same can be checked by logging in using details like roll number, school number, centre number, etc.
CBSE Compartment Result 2021 Class 12
Those who fail in one or two subjects, the board conducts the compartment exam for such students.  To apply for the compartment exam, students need to fill application form online an then the board issues the admit card. Once the board conducts the compartment exam, the board declare CBSE 12th compartment 2021 result online at cbseresults.nic.in. To check the compartment result, students will need to enter details like roll number, admit card id, centre code, etc.
Fees for the Application fees for the Revaluation/ Rechecking/Compartment examinations
| | |
| --- | --- |
| Verification of marks | Rs. 500 |
| Obtaining photocopy of answer books for Class 12th | Rs. 700 per subject |
| Revaluation | Rs. 100 per question |
| LOC for Compartment Form for private candidates (in india) | Rs. 300 per subject |
| LOC for Compartment Form for private candidates (outside india) | Rs. 2000 per subject |
CBSE Notification 2021
CBSE the board has also released the assessment scheme for the cancelled class 12th papers. The preparation of result for the cancelled papers will be done as follows –
Students who appeared in all papers, their result will be prepared based on performance in the examination.
Those who appeared only in 3 subjects, their marks for the pending papers will be prepared based on the average marks obtained in the best three subjects.
Candidates who have only appeared in 1 or 2 subjects, CBSE will prepare their result for the pending papers on the basis of the performance in the appeared subjects as well as the performance in the internal/practical/project assignment.
Important note: The board will also given an option to CBSE 12th students to appear for the board exam later to improve their performance.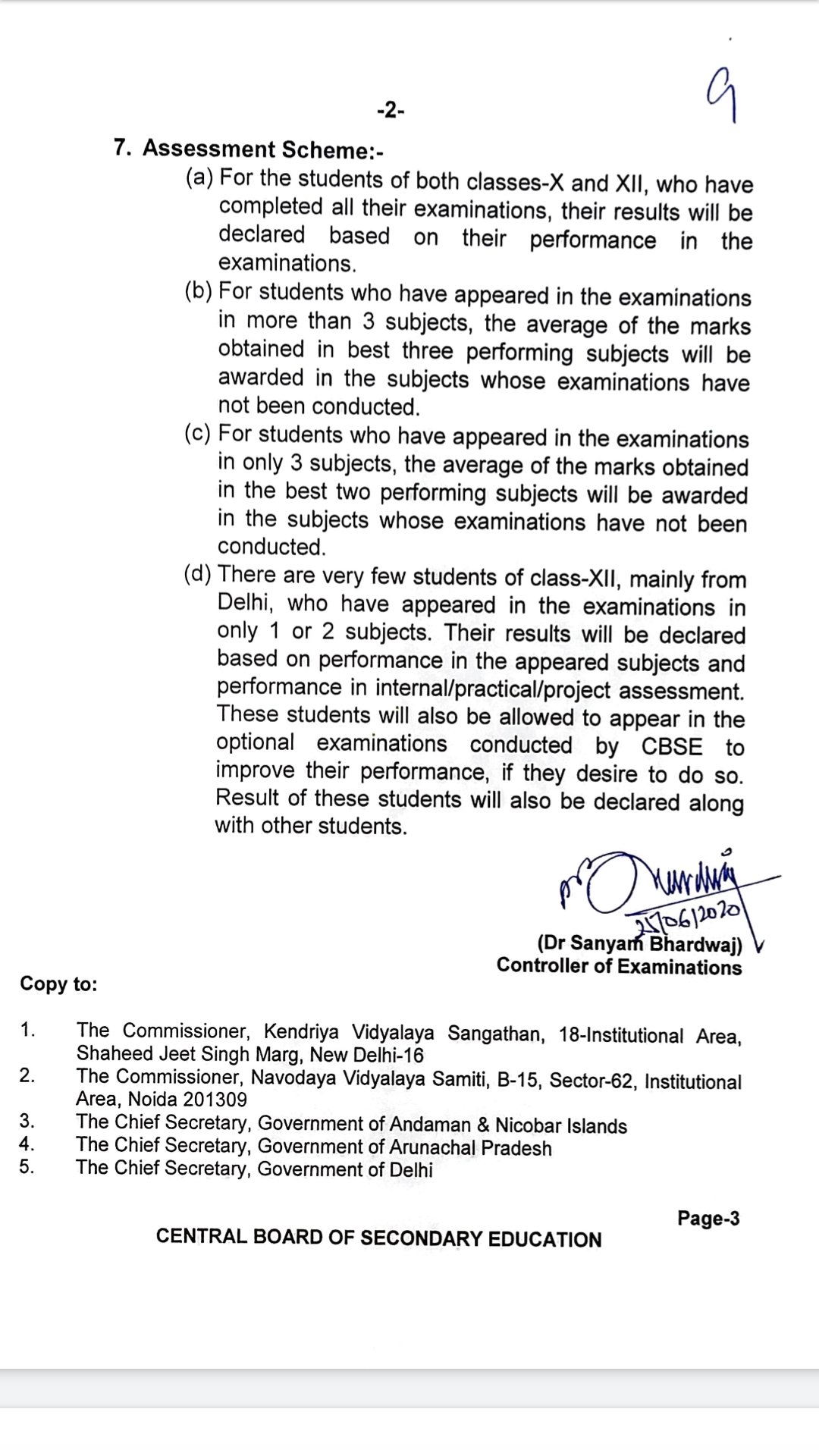 CBSE has released a notification 01 June 2020, CBSE has started the tele-counselling process from 01 July till 15 July 2020.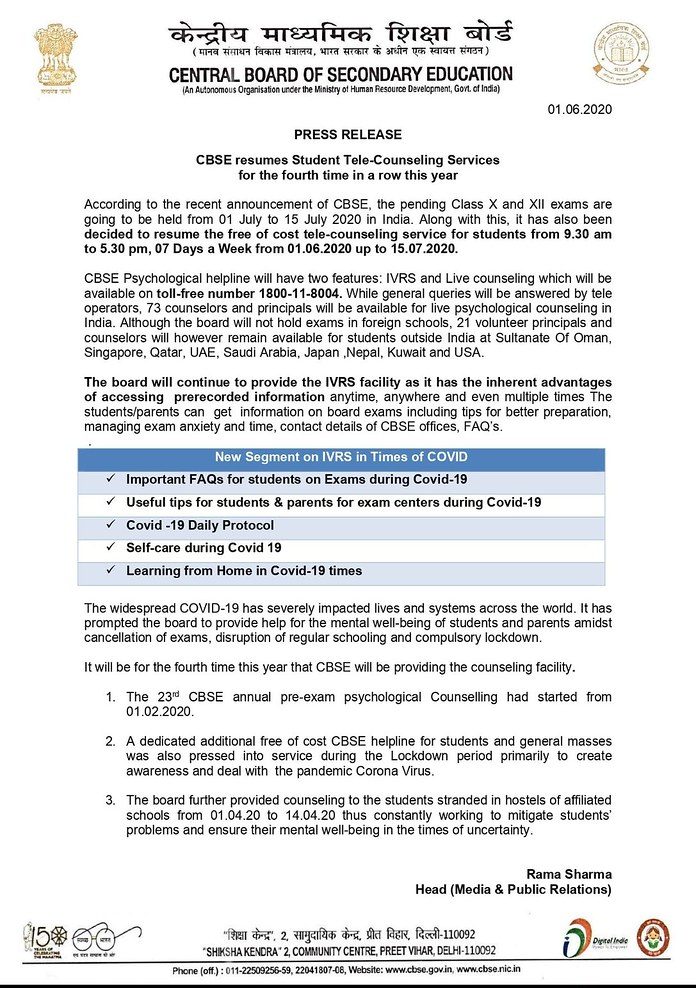 Compartments in 2020
The total number of students who got compartment was 1,03,855 (One Lakh Three Thousand Eight Hundred and Fifty-five, which is 9.73% of the total number of students appeared in boards. cbse compartment result 2021 class 12 will be announced along with main result.
Previous years of passing percentage of CBSE XII Results
The number of candidates will appear in 2017 were around 10 Lakhs, Boys and girls pass percentage, toppers of CBSE 12th class exams 2020 and other useful information as well.
CBSE Class 12th: Passing Percentage

| | | | | |
| --- | --- | --- | --- | --- |
| Year | Overall Pass Percentage | Boys % | Girls% | Number of Candidates  |
| 2019 | 83.40 | 79.40 | 88.70 | 12,05,484 |
| 2018 | 83.1 | 78.99 | 88.31 | 11,06,772 |
| 2017 | 82.02 | 78 | 87.50 | 10,20,762 |
| 2016 | 96.4 | 96.11 | 96.34 | 10,53,432 |
| 2015 | 98.9 | 98.7 | 99.1 | 8,40,228 |
Download CBSE SENIOR SCHOOL CERTIFICATE EXAMINATION (CLASS XII) RESULT 2019 ANALYSIS Here.
Information Sheet 10th and 12th Exams
The brief information regarding the exam and the result is given below.
Information Sheet 10th & 12th Exams

| | |
| --- | --- |
| Examination Conducting Body | Central Board of Secondary Education |
| Name of Result | 12th Board Results |
| Releasing Date | July 2021 (Tentative) |
| Number of Students Appearing in 2021 | 12,06,893 |
Central Board of Secondary Education
The Central Board of Secondary Education, New Delhi is a government body for secondary and senior secondary education under the central government of India. And the board is responsible for conducting various competitive examination including 10th and 12th board for schools affiliated to CBSE. The board was established on 03 November 1962 and Headquarter located in New Delhi with regional offices at Ajmer, Allahabad, Bhubaneswar, Chennai, Dehradun, Delhi, Guwahati, Panchkula, Patna, Thiruvananthapuram.
Note: Check the official website for more details here >>www.cbse.nic.in
According to recent news, the CBSE will be replaced by National Testing Agency from conducting competitive exams and will focus on secondary and senior secondary education, board exam and results only.
The High Court of Delhi in its judgment dated 11.07.2018 will direct Delhi University and CBSE to ensure from the commencing academic year, that the result of CBSE, including results of re-evaluation "are taken into account whilst determining the cut-off date for admission to colleges of the University of Delhi". The HRD Minister, Shri Prakash Javadekar, had directed CBSE and Delhi University to hold consultations and to make efforts in this direction.
CBSE
CBSE Results FAQs
How can I get CBSE result in Digilocker?
CBSE Students can also access DigiLocker on digilocker.gov.in or through UMANG app. To register on the DigiLocker, students can use their CBSE Roll Number and their Aadhaar and phone number. Upon successful registration, students will be able to check their Result and other CBSE documents.
What is the passing criteria in CBSE 12th Result 2021?
Student is required to score 33 per cent in external or theory paper as well as 33 per cent in the internal assessment. Students need to pass individually in both external (out of 80, 70) and internal (out of 20, 30) mark papers to be awarded a pass in the subject.
When will the results be announced this year for CBSE 12th exams?
The CBSE 12th Result 2021 will be out by Third week of July, 2021.
Searches related to cbse 12th class result 2021
cbse result 2021, cbseresults.nic.in 2021 class 12, cbse result 2021 class 12, cbse.nic.in 2021,  CBSE Online Results, CBSE Passing Marks, CBSE Score, cbse results, class 12 result 2021, official website cbse.nic.in, marks out of 500, 499 marks