DU Admissions 2020: The University of Delhi has released its application forms for admission in various undergraduate and postgraduate courses on 20 June 2020. The University had previously announced that candidates can fill the application form till 5 pm of 18 July 2020. But from the start of the admission forms, students have been facing and reporting lots of issues regarding the problems they are facing while submission of the forms.
Admission Open 2023
Top University & Colleges Official Links, Application & Scholarship Forms.
Considering all those problems, on 18 July 2020, the University of Delhi has extended the deadline for the forms through a press release.Now, the application form for all the Undergraduate Programs, Postgraduate Programs, Postgraduate Diploma in Cyber Security and Law and M.Phil/Ph.D. Programmes can be filled till 18 July 2020, 5 p.m. This extension will help large numbers of applicants who want to take admission at the various colleges of University of Delhi but who were not able to register on the Admission Portal due to certain complications.
This is in continuation to earlier Press Release dated 20th June, 2020 with regard to University Admissions to Under-graduate (UG), Post-graduate (PG), M.Phil., and Ph.D. programmes for the academic session 2020-2021. All eligible applicants are informed that the last date of online registration process of all UG, PG, M.Phil and Ph.D. programmes has been extended.
Subscribe to Get Updated Information about DU Admission 2020 Last Date Extended, 4 .77 Lakhs Forms Received - Admissions
​
DU Admission 2020 Last Date Extended
The extended schedule of online registration for various programmes of the University of Delhi is as under:
Extended Schedule of online Registration
S.No
Programme
Existing Last Date
(up to 5.00 p.m.)
Extended Last Date (up to 5.00 p.m.)
1.
Under-graduate (UG) Programmes
4th July, 2020
18th July, 2020
2.
Post-graduate (PG) Programmes
4th July, 2020
18th July, 2020
3.
Post Graduate Diploma in
Cyber Security & Law
4th July, 2020
18th July, 2020
4.
M.Phil. / Ph.D. Programmes
4th July, 2020
18th July, 2020
Extended Schedule of Online Registration Dates: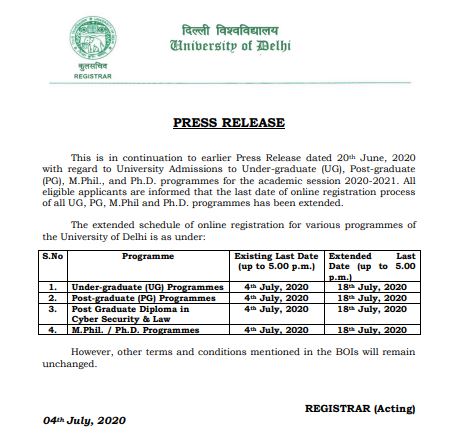 Many students wrote about various complications and issues they are facing while registration. Some of them include failure of the site to handle heavy traffic, because of which the website was loading very slowly. In some cases, students also complained that the university server was crashing every time they were filling the form. Some students faced problems while uploading the result as several results still haven't been announced.
The university claims that the last date of registration is extending because of the delay in the results of CBSE class 12 exams and postponement of JEE and NEET exams. The varsity has so far received 3,26,000 registrations for undergraduate courses alone. As many as 1,29,433 applicants have registered for admission in postgraduate courses and 22,700 registrations have been received for the admission in MPhil and PhD courses.
The Secretary of Delhi University Students' Union (DUSU), Ashish Lamba, wrote a letter to the Vice-Chancellor of University of Delhi, highlighting the above mentioned issues.
Further, few candidates from the PwD category were facing issues with the creation of certificates, which posed as a hindrance at the time of filling the registration form. Such candidates are unable to upload the disability certificates, as OPDs in most government hospitals are shut down due to the COVID19 pandemic. Some students also asked the administration whether they can upload certificates issued by private hospitals, but the varsity has not approved such certificates.
Another issue faced by candidates mainly from Jammu & Kashmir region, was regarding the Prime Minister Special Scholarship Scheme (PMSSS), whose forms had not been released by the authorities yet. Some candidates are also worried about how they were supposed to apply for admission when the forms for the scholarship hadn't been released yet.
Considering the pandemic, there was a huge reduction in the number of candidates applying for admission. Thus, to increase those numbers, the date was extended to give applicants another opportunity to fill the form.