CBSE 10th Board Time Table 2021 important information released by Central Board of Secondary Education. CBSE 10 Board exam has been cancelled by CBSE in the wake of the corona virus crisis. From academic session 2021, CBSE has replaced the term FAIL with ESSENTIAL REPEAT. CBSE to give 15% relaxation on attendance to students of classes 10, 12 appearing for board exam 2021. The board already announced "Technology in our lives and the NCERT calendar of activities" and "Digital/e-Learning Platforms provided by MHRD".
Note: Check here CBSE Class 10th 2021 Reduced Syllabus
CBSE News Updates Regarding Board Dates
Class 10th CBSE Board Exam Cancelled.
It is learnt that CBSE Class 10, 12 Board Exams question paper will be more application-based and the objective-type or MCQs could increase considerably.
Public Notice: CBSE ALERT AGAINST FRIVOLOUS INFORMATION – 10/12/2020 Here i.e. CBSE Public Notice 10.12.20
CBSE practical examinations will be conducted at students' respective schools following the COVID-19 guidelines and Standard Operating Procedures (SOPs).
CBSE board will conduct the exams in the written mode for classes 10th & 12th with all COVID-19 protocols.
Reduced the syllabus: The CBSE board reduced the syllabus up to 30 % for class 9th to 12th. Read updated CBSE syllabus notification here.
Class X Sample Question Paper & Marking Scheme for Exam 2020-21 Here.
Attendance relaxation: The 15% of relaxation on attendance will be given to students who are unable to join the online classes due to technical reason and their schools have not been able to provide them with the needed facilities.
Buy Discounted priced books here.
CBSE official Notification Regarding Board Exams 2021:
Subscribe to Get Updated Information about CBSE 10th Board Time Table 2021(Cancelled): Date Sheet @ cbse.nic.in - Admissions
​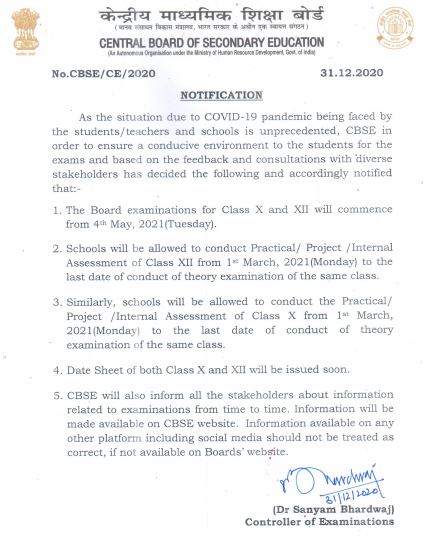 CBSE 10th Exam Time Table 2021
The examination schedule is important for appearing students. As this helps in preparing a preparation plan. And well-organized candidate plans for revision in between the examination dates also. As soon as it will be uploaded to the official website, we will update it here and subscribed candidates will get a mail regarding the same. The important dates regarding the CBSE Board exam are given below:
CBSE 10 Class Time Table 2021

| | |
| --- | --- |
| CBSE 10th Practical Exams 2021: | 01 March 2021 to 11 June 2021 |
| CBSE 10th Main Exams 2021 (start date): | 04 May 2021 |
| CBSE 10th exam 2021 end date | 07 June 2021 |
CBSE 10th Board Time Table 2021
The important dates of CBSE 10th Board time table 2021 is given below. Examinees must prepare themselves for the exam keeping in mind the following dates:
CBSE Date Sheet 2021 Class 10(Revised)
Day
Date
Time
Subject Code
Subject Name
Tuesday
4 May 2021
10.30 to 01.30 pm
013
Odia
015
Kannada
026
Lepcha
Thursday
6 May 2021
10.30 to 01.30 pm
101
English communicative
184
English LNG & LIT.
Monday
10 May 2021
10.30 to 01.30 pm
002
Hindi course-A
085
Hindi course-B
Tuesday
11 May 2021
10.30 to 01.30 pm
003
Urdu course-A
005
Bengali
006
Tamil
023
Persian
099
Bahasa Melayu
136
Thai
254
Elem Book-K & ACCY
Wednesday
12 May 2021
10.30 to 01.30 pm
018
French
020
German
Monday
17 May 2021
10.30 to 12.30 pm
049
Painting
Tuesday
18 May 2021
10.30 to 01.30 pm
076
National cadet corps
132
Gurung
10.30 to 12.30 pm
032
Carnatic music (MEL INS)
034
Hindustani music (vocal)
035
Hindustani music (MEL INS)
036
Hindustani music (INS)
Thursday
20 May 2021
10.30 to 01.30 pm
064
Home science
Friday
21 May 2021
10.30 to 01.30 pm
086
Science theory
090
Science W/O practical
Saturday
22 May 2021
10.30 to 01.30 pm
094
Japenese
154
Elem of business
10.30 to 12.30 pm
031
Carnatic music (vocal)
033
Carnatic music (PER INS)
Tuesday
25 May 2021
10.30 to 01.30 pm
007
Telugu
008
Sindhi
009
Marathi
010
Gujarati
011
Manipuri
014
Assamese
017
Tibetan
024
Nepali
025
Limboo
089
Telugu- Telangana
092
Bodo
093
Tangakhul
095
Bhutia
096
Spanish
097
Kashmiri
098
Mizo
131
Rai
133
Tamang
134
Sherpa
Thursday
27 May 2021
10.30 to 01.30 pm
087
Social science
Saturday
29 May 2021
10.30 to 12.30 pm
402
Information technology
406
Introduction to tourism
417
Artificial intelligence
Monday
31 May 2021
10.30 to 12.30 pm
401
Retail
403
Security
404
Automotive
405
Introduction to Fin. Markets
407
Beauty & wellness
408
Agriculture
409
Food office operations
410
Front office operator
411
Banking and insurance
412
Marketing and sales
413
Health care
414
Apparel
415
Media
416
Multi skill found. Course
Wednesday
2 June 2021
10.30 to 01.30 pm
041
Mathematics standard
241
Mathematics basic
Thursday
3 June 2021
10.30 to 12.30 pm
016
Arabic
122
Sanskrit
Saturday
5 June 2021
10.30 to 01.30 pm
012
Malayalam
004
Punjabi
021
Russian
303
Urdu course-B
Monday
7 June 2021
10.30 to 12.30 pm
165
Computer application
CBSE 10th Board Practical Time Table 2021
The Board will release the CBSE class 10th Board practical exam dates. As per the notification sent to all the CBSE schools that board practical examinations for class 12th and class 10th will start from 01 March 2021.
Note: Click here to download a detailed list of Internal Assessment subjects pdf.
How to download CBSE 10th Board Time Table 2021?
The candidates can follow the below-given steps to download CBSE 10th Board Time Table 2021:
Step 1 – Search for official website www.cbse.nic.in
Step 2 – Then look for Timetable announcement in the examination section and select Secondary Exam March 2021 Date sheet.
Step 3 – Now "CBSE 10th Board Timetable 2021" is available on the screen.
Step 4 – Candidates are advised to take the print out or download it for future reference.
CBSE 10th Exam Pattern 2021
The exam pattern of CBSE Class 10th theory paper of Science is briefly discussed hereby in the section:
CBSE  2021 Paper will be of 100 Marks [80 (Theory) + 20 (Practical)]. The aspirants have to solve the question paper in a time frame of 3 hours.
Also, the exam will constitute a sum of 30 Questions, which will be further divided into three sections (Section-A, Section-B & Section-C respectively).
The candidates must note that all the Sections, as well as the Questions, is compulsory. However internal choices in Question answering will be provided in every section.
Section – A: This section is popularly known as VSATQs (Very Short Answer Type Questions). All the question are in MCQ format and comprising 1 Marks for every correct response recorded. Candidates have to record their response in one word or one line.
Section – B: This section is popularly termed as SATQs (Short Answer Type Questions) which award 3 Marks for every appropriate response. In this section, Questions are of Intermediate level (in terms of difficulty). The candidate has to answer the Questions in 50 – 60 words.
Section – C: This last section of the Question paper is commonly known as LATQs (Long Answer Type Questions). Questions belonging to this section requires a detailed answer. Every appropriate response award 5 Marks to candidates. Word limit of this category is 80 – 90 words.
Click Here>> for CBSE New Pattern
CBSE 10th Preparation Tips
Preparation tips for CBSE class 10th Boards are as follow:
Stick to NCERT Books: Aspirants need to stick themselves with the NCERT books. All the questions in the exam will be solely from the NCERT book.
Contextual Reading: The candidates need to read in between the lines of every chapter of NCERT Book.
Small Notes: Make small notes of every topic, as small notes of topics led to the easy recalling of the concepts without confusing the students.
Repeated List: The candidates are advised to have a keen eye on the repeated questions (Question asked in the Examination every year).
Test Your Preparations: The candidates must check their preparation through solving the previous year question papers in a specified time frame.
CBSE Class 10th Admit Card
The candidates can check below in the given points few important points regarding Class 10th CBSE Board Exam Admit Card:
The admit card for 10th board students will be released in January onwards.
CBSE issued an advisory notice to all the affiliated schools regarding the issue of CBSE Admit card and advised all schools that not to detain any eligible candidate from appearing in practical or theory examination.
The candidates can collect the exam hall ticket from their respective schools.
CBSE Class 10th Hall Ticket Details
Admit card provided by the Central Board of Secondary Education, New Delhi contains the following details. After downloading the admit card/ hall ticket candidates must cross-check all the details mentioned on the admit card.
Roll Number
Date of Birth
Name of Examination
Candidates Name
Mothers Name
Fathers/Guardian Name
Name of Examination Centre
Category of PwD
Exemptions Provided: S=Scribe, E=Extra Time, A=Assistive Device, L=large Font, P=Adult Prompter.
Admit Card ID
Subjects in which appearing with the date of examination.
CBSE Class 10th 2021 Result
CBSE will announce the 10th Class result by 15 July 2021 as per the official announcement made by the education minister. Delhi High Court directed the CBSE and Delhi University to align the dates with the result and DU cutoff. The candidates will be able to check their result on the official website of the board by entering their exam roll number. They will have to collect their Scorecard from their respective schools.
CBSE Allows International Sports Participants to Appear in Board Exams Later
The CBSE Board allowed 9 students who are participating in international competitions to take their Board exams later. As per the recent circular issued to the schools on 26 December, The board mentioned that it had decided to make it a policy and extend such facilitation hereon to all such sports students whose CBSE board exams clash with their participation in Sports Authority of India (SAI) recognized international sports.
Such students can request/inform the CBSE regional offices in writing along with SAI recommendations by  31 January.
CBSE hikes fees: Class 10, 12 Board Exam, Migration Fees more than doubled
Central Board of Secondary Education exam registration fees for Class 10th and 12th  is increased by over 200 per cent and 40 per cent, respectively, to Rs. 1500/-.
CBSE Class X and XII Fees

| | | |
| --- | --- | --- |
| Registration fee | 2020 | 2018 |
| Class 10th | Rs 1500/- | Rs 450/- |
| Class 12th | Rs 1500/- | Rs 1050/- |
| Migration fees | Rs 350/- | Rs 150/- |
| Re-seeking Admission | Rs 5,000/- | – |
Note: For SC/ST students the fees have been hiked from Rs 50 to Rs 1,200.
CBSE 10th Board Time Table 2021 Highlights
We have provided here a few basic details about the CBSE X board exam 2021:
Class 12th CBSE Exam Routine Basic Details 2021

| | |
| --- | --- |
| CBSE Head Quarter |  New Delhi |
| Number of Schools Affiliated to CBSE | 10,000+ |
| Class 10th Board Start Date | 04 May 2021 |
| Last Date of CBSE 10th Class Board | 10 June 2021 |
| Language | Hindi & English Medium |
| CBSE Official Websites | https://cbse.nic.in/ |
Central Board of Secondary Education, Delhi
The Central Board of Secondary Education, Delhi was formed on 03 November 1962 and functions under the central government of India. More than 28 lakh students appeared for class 10th and 12th board examination in 2018 at various test centres across India and abroad. Furthermore, around 16.3 lakhs (1638464) students registered for the examination whereas 16.2 lakhs (1625967) students appeared for the examination from various Region.
CBSE Board Exam Important Links
Download CBSE Class X Revised Date Sheet 2021 Pdf 
CBSE Class 12th Model Paper 2021
NTA JEE Main 2021
The Joint Entrance Examination was conducted by CBSE every year for candidates aspiring for undergraduate engineering courses in premium institutes i.e. IIITs, NITs, CFITs etc. Around 14 lakhs students appear in this first stage exam for IITs engineering admission. From 2020 onwards National Testing Agency will conduct JEE Main in place of CBSE.
Frequently Asked Questions About CBSE Board Exams Schedule
When CBSE will release the class 10th board time table 2021? (सीबीएसई बोर्ड कक्षा 10 वीं समय सारणी 2020 कब जारी करेगा?)
CBSE 10th Board time table 2021 will be released on the 31 December 2020.
Which is the expected month of the CBSE 10th board examination? (परीक्षा का अपेक्षित महीना कौन सा है?)
The CBSE class 10th exam is going to be held in the month of May/June 2021. The exam is commencing from 4th May and will be continued until 10th June 2021.
From where we can download the Central Board of Secondary Education (CBSE ) Class 10th date sheet? कहाँ से हम केंद्रीय माध्यमिक शिक्षा बोर्ड सीबीएसई 10 डेट शीट डाउनलोड कर सकते हैं?
From the Official Website at www.cbse.nic.in.(आधिकारिक वेबसाइट cbse.nic.in से।
What are the passing marks in class 10th? (कक्षा 10 में उत्तीर्ण अंक क्या हैं?)
The new rule says the candidate has to secure 33% marks in theory (Board) and practical separately. (नए नियम का कहना है कि उम्मीदवार को थ्योरी (बोर्ड) और व्यावहारिक रूप से 33% अंक सुरक्षित करना होगा)
How CBSE will notify the students about date sheet? Will Board notify the students about date sheet through news papers also? (कैसे सीबीएसई छात्रों को डेट शीट के बारे में सूचित करेगा? बोर्ड समाचार पत्रों के माध्यम से तारीख पत्रक के बारे में छात्रों को सूचित करेगा?)
CBSE releases the Board Exam Date sheet on the official website and also It will notify via national level News Papers. (सीबीएसई आधिकारिक वेबसाइट पर बोर्ड परीक्षा दिनांक पत्र जारी करता है और यह राष्ट्रीय स्तर के समाचार पत्रों के माध्यम से भी सूचित करेगा)
Is cbse 10th date sheet going to change?
No, CBSE confirms that Exams won't be rescheduled. Since 1929, board exam dates have never been changed or rescheduled. The class X and XII board exams will commence on 4th May 2021.
Which pen to use in CBSE Board Exam 2021?
As per CBSE's guidelines, the candidate is advised to carry only BLUE/ROYAL BLUE BALLPOINT/GEL/FOUNTAIN pen.
Can we use black pen in CBSE board exam 2021?
NO, you can't use BLACK colour while writing an answer in the answer booklet.
What students can carry inside examination hall?
Royal Blue Ball Point/Gel/Fountain pen, pencil, eraser, scale, sharpener, geometry instruments, colours, brushes, admit card & Admit card etc in a transparent pouch.
Stay tuned for all the Central Board of Secondary Education Here.
Note: The Central Board of Secondary Education publishes CBSE 10th Board Time Table 2021 will be released by the Board. The exam will starts from First week of March 2021 and ends on Last week of March 2021. Download Complete schedule here.
Also, the Parents & students are advised to stay away from any rumours and keep watching CBSE official website for any updated information. Download the official date sheet attached below.
10th board exam time table 2021 cbse, 10th board exam time table 2021 cbse, 10 exam time table 2021, cbse 10th exam date 2021, cbse 10th date sheet 2021, @www.cbse.nic.in, Delhi board 10th Datesheet 2021, CBSE Exam Scheme 2021, CBSE 10th Exam Routine, CBSE exam date 2021 class 10, CBSE 10th date sheet 2021. cbse time table 2020 class 10