CBSE 12th Result 2020 will be declared by Central Board of Secondary Education, New Delhi by 15 July 2020. The remaining CBSE Class 12th exams have been cancelled. The result will be released in online mode. Students will be able to check the result from the official website i.e cbse.nic.in. The board conducts the examination for class 12th standard based on CBSE syllabus across all the regions in India. So students studying in CBSE schools may expect the results at the same time, looking to the previous years of Class 12th Results. Senior School Certificate Examination (Class XII) Compartment Results 2020. For complete details regarding the CBSE 12th result 2020, students may go through the given article.
CBSE has released the new evaluation criteria for Class 10th & 12th result 2020.
Latest Update:
Subscribe to Get Updated Information about CBSE 12th Result 2020: Class XII Board Results (Expected By 15 July) - Admissions
​
25 June 2020: CBSE has cancelled the remaining class 12th exams. CBSE class 12th result will be released by 15 July 2020.
01 June 2020: CBSE has started student tele-counselling services from 01 June – 15 June 2020.
The CBSE 12th Result 2020 is expected to be declared by 15 July 2020. The schedule, however, will only be applicable in case the examinations will resume as scheduled.
CBSE 12th Result 2020 Date
The date for the result announcement will be in June 2020 and the following result dates are confirmed. The CBSE is a competent authority to declare the CBSE 12th Result 2020 for all affiliated schools.
| Name of Exam | Examination Schedule | Result Date |
| --- | --- | --- |
| CBSE Class 12th Result 2020 | April 2020 (Postponed) | By 15 July 2020 |
| CBSE Class 10th Result 2020 | March 2020 (Postponed) | By 15 July 2020 |
Note: Students can check the all board exam results at http://results.nic.in/Examination_Body.aspx
All India Ramayana Quiz Competition
Check Now
The detailed 12th class exam time table for 167 subjects can be read here. Candidates can keep visiting this page of the latest updates.
How to Download and Print the result of CBSE 12th 2020?
The steps to check your CBSE class 12th marks is mentioned below. Candidates are advised to pay attention while filling the credentials like Roll Number, Name, Fathers Name etc very carefully.
Search for official website @ results.nic.in or cbseresults.nic.in.
Click on "Senior School Certificate Examinations (Class 12th) Results 2020 (All Regions)".
Now Enter roll number and/ or date of birth of the candidate.
Finally, the result page will appear on the screen.
Further, students must download the result and take a printout for future reference.
Also, candidates should collect the original copy with a transfer certificate from the school.
CBSE Notification 2020
CBSE release a notification regarding cancellation of 10th board exam and 12th board exam, the notification says that the class 12th students can opt for exam or marks on the basis of previous subjects.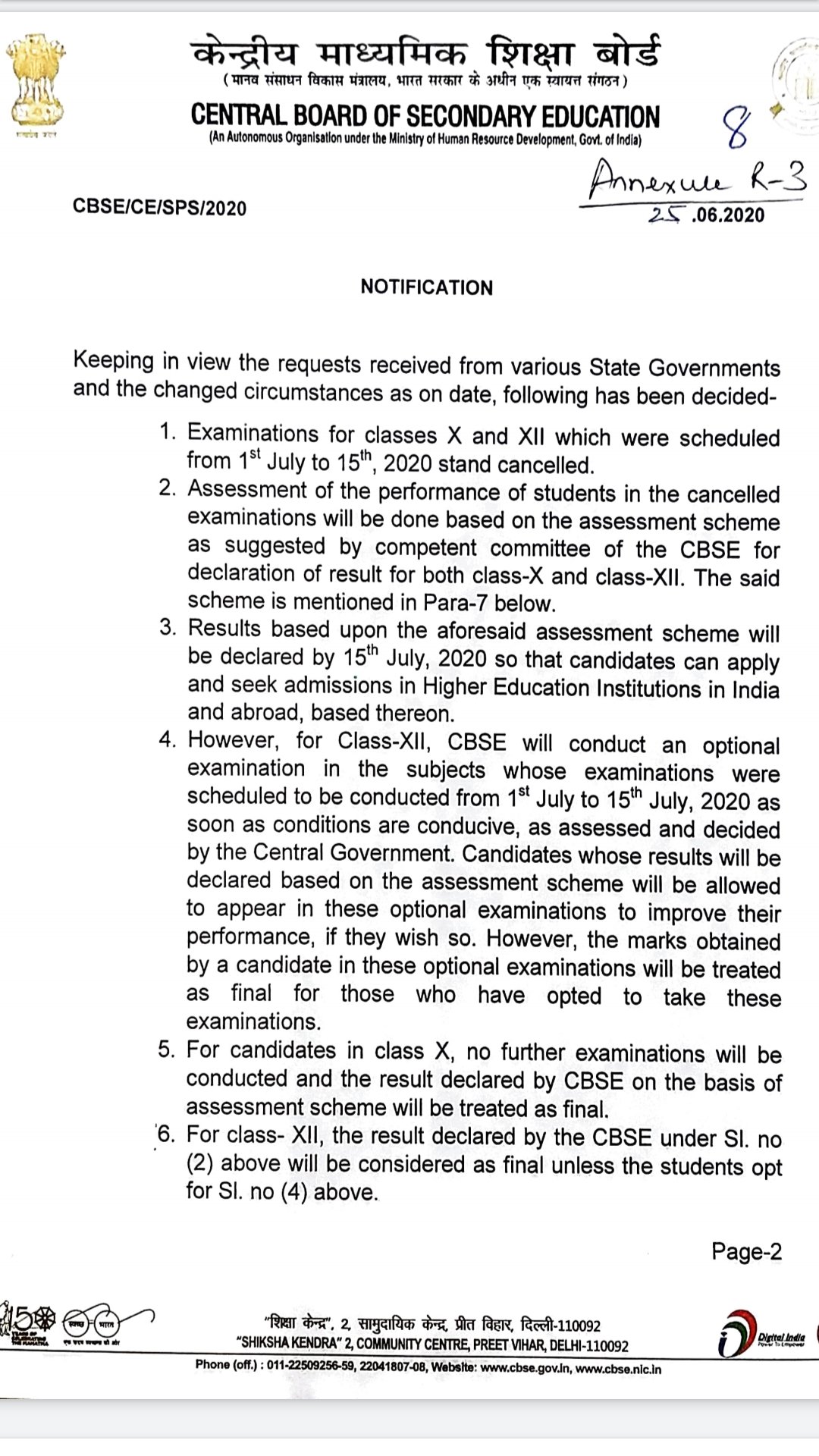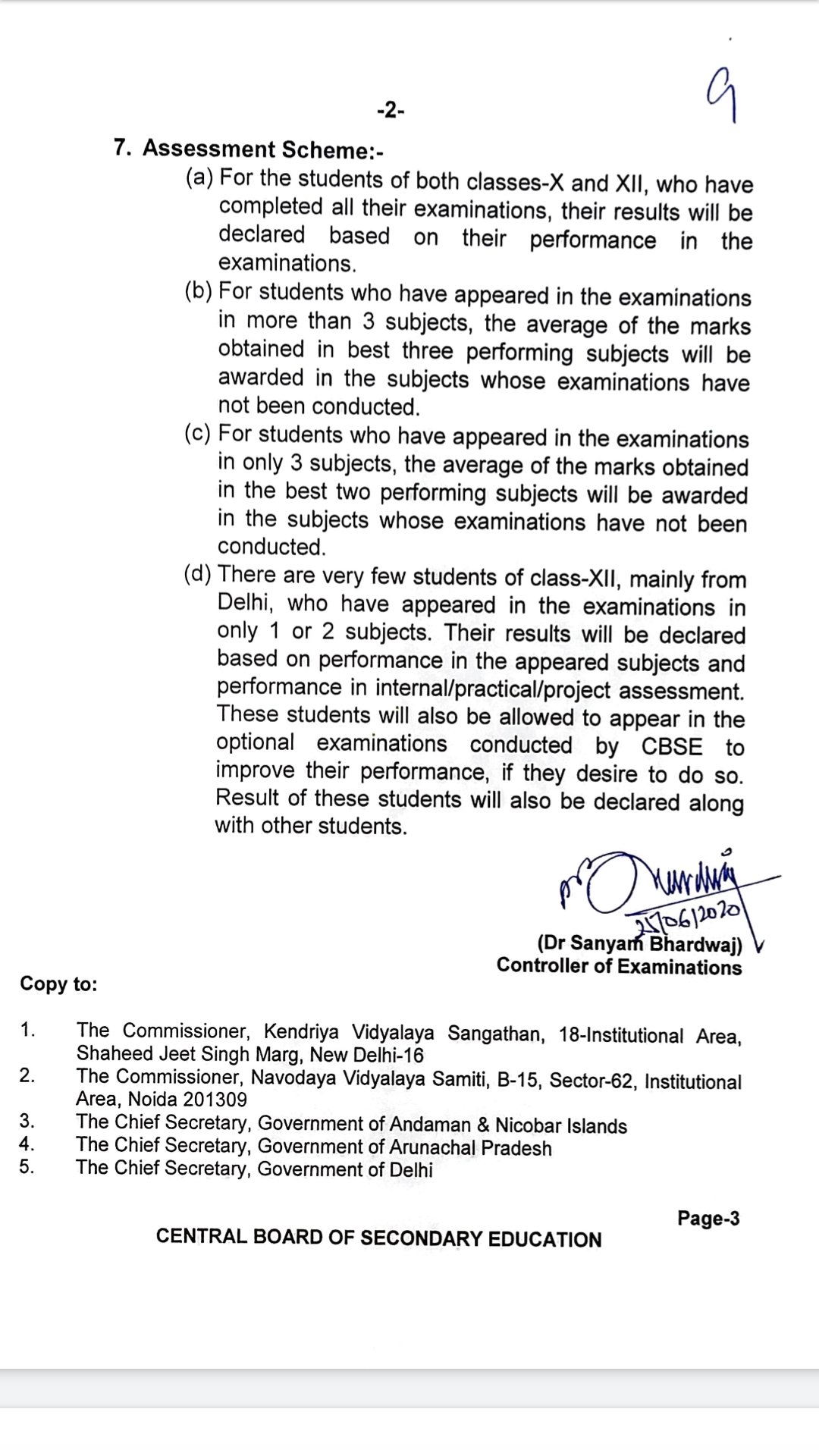 CBSE has released a notification 01 June 2020, CBSE has started the tele-counselling process from 01 July till 15 July 2020.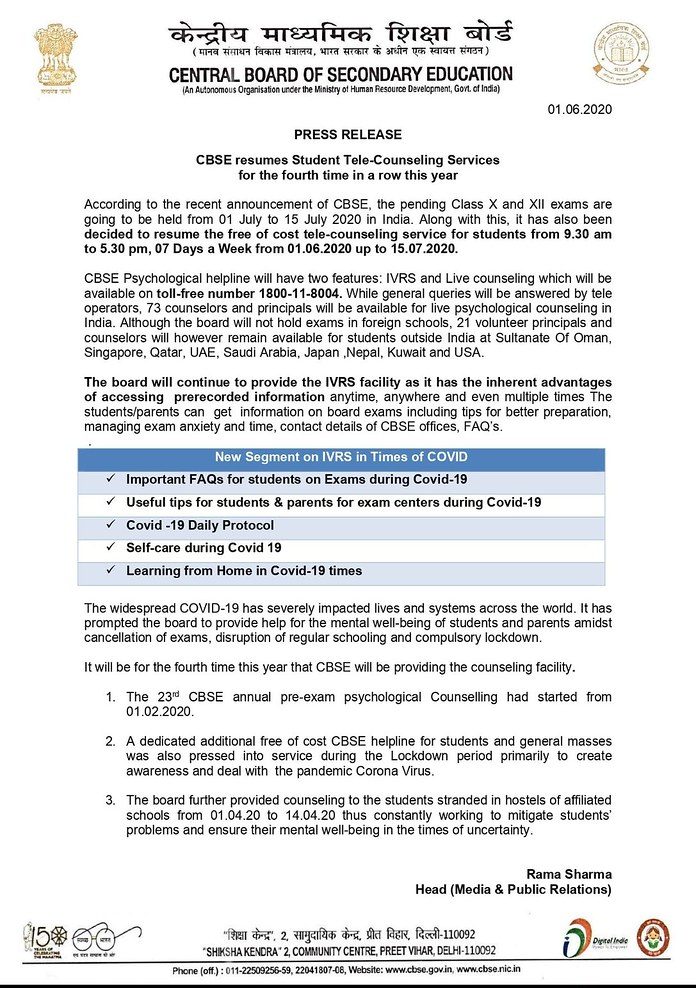 When will CBSE release the CBSE 2020 Class 12th Result?
Looking at the previous year dates the CBSE 12th Result 2020 will be announced in July 2020. This is just a speculated date. We will update the exact date and time of Results announcement by the board. Last year the result (CBSE 10th Result 2019) was published on 26 May 2019 and also, the 12th result was published in the same week. As soon as the Result released by the examination board we will made available the result on our website.
The search can be based on name wise, school wise, pass percentage and individual students can download by filling their role numbers.
Central Board of Secondary Education
The Central Board of Secondary Education, New Delhi is a government body for secondary and senior secondary education under the central government of India. And the board is responsible for conducting various competitive examination including 10th and 12th board for schools affiliated to CBSE. The board was established on 03 November 1962 and Headquarter located in New Delhi with regional offices at Ajmer, Allahabad, Bhubaneswar, Chennai, Dehradun, Delhi, Guwahati, Panchkula, Patna, Thiruvananthapuram.
Note: Check the official website for more details here >>www.cbse.nic.in
According to recent news, the CBSE will be replaced by National Testing Agency from conducting competitive exams and will focus on secondary and senior secondary education, board exam and results only.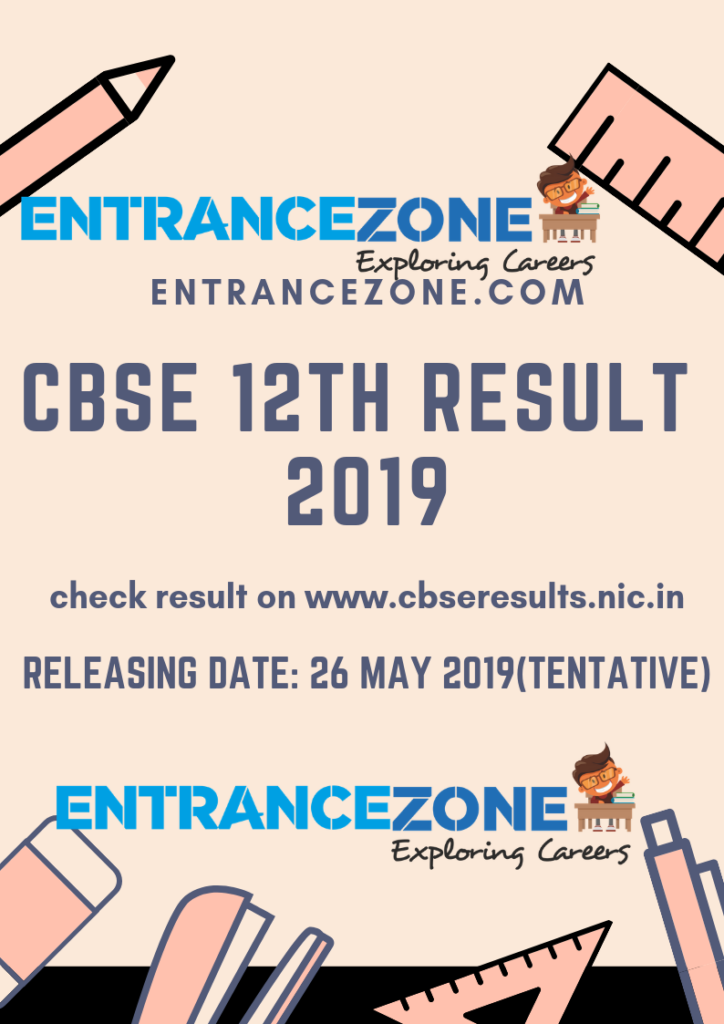 Compartments in 2020
The total number of students who got compartment was 1,03,855 (One Lakh Three Thousand Eight Hundred and Fifty-five, which is 9.73% of the total number of students appeared in boards.
Previous years of passing percentage of CBSE XII Results
The number of candidates will appear in 2017 were around 10 Lakhs, Boys and girls pass percentage, toppers of CBSE 12th class exams 2020 and other useful information as well.
CBSE Class 12th: Passing Percentage

| | | | | |
| --- | --- | --- | --- | --- |
| Year | Overall Pass Percentage | Boys % | Girls% | Number of Candidates  |
| 2019 | 83.40 | 79.40 | 88.70 | 12,05,484 |
| 2018 | 83.1 | 78.99 | 88.31 | 11,06,772 |
| 2017 | 82.02 | 78 | 87.50 | 10,20,762 |
| 2016 | 96.4 | 96.11 | 96.34 | 10,53,432 |
| 2015 | 98.9 | 98.7 | 99.1 | 8,40,228 |
Download CBSE SENIOR SCHOOL CERTIFICATE EXAMINATION (CLASS XII) RESULT 2019 ANALYSIS Here.
Information Sheet 10th and 12th Exams
The brief information regarding the exam and the result is given below.
Information Sheet 10th & 12th Exams

| | |
| --- | --- |
| Examination Conducting Body | Central Board of Secondary Education |
| Name of Result | 12th Board Results |
| Releasing Date | July 2020 (Tentative) |
| Number of Students Appearing in 2020 | 12,06,893 |
The High Court of Delhi in its judgment dated 11.07.2018 will direct Delhi University and CBSE to ensure from the commencing academic year, that the result of CBSE, including results of re-evaluation "are taken into account whilst determining the cut-off date for admission to colleges of the University of Delhi". The HRD Minister, Shri Prakash Javadekar, had directed CBSE and Delhi University to hold consultations and to make efforts in this direction.
CBSE
CBSE Online Results, CBSE Passing Marks, CBSE Score, cbse results, class 12 result 2020, official website cbse.nic.in, marks out of 500, 499 marks`