GBSHSE HSSC Results 2020: Goa Board of Secondary & Higher Secondary Education, Also Betim-Goa announced the Higher Secondary School Certificate Examination (HSSC) Result on 26 June 2020. The HSSC Board Examination was held from 26 February 2020 to 20 March 2020. The result has been declared on the official website i.e www.gbshse.info. Due to Covid 19 pandemic/Lock-down situation the examination of remaining three papers was re-scheduled from 20- 22 May 2020.
A total of 17183 candidates registered under regular category for the HSSC Examination of March 2020. Out of 17183 candidates 15339 candidates pass the HSSC Examination of March 2020 giving pass percentage of 89.27%.
A total of 938 candidates registered under repeater/ITI category for the HSSC Examination of March 2020. Out of 938 candidates 392 candidates pass HSSC Examination of March 2020 giving pass percentage of 41.79%.
Subscribe to Get Updated Information about GBSHSE HSSC Results 2020 (Declared): Goa 12th Board Result - Admissions
​
Goa Board Result 2020 Important Date
Goa Board of Secondary and Higher Secondary Education Result Dates
State
Exam Name
Exam Date
Exam Result Date
Goa Board
Goa SSC Board Exam
2 April to 6 April 2020
28 July 2020
Goa HSSC Board Exam
26 Feb to 24 March 2020
26th June, 2020
(Declared)
Goa board 12th rechecking form releases on
29 Jun – 07 Jul 2020
–
Release of Goa board 12th revaluation 2020 form
29 Jun 2020
–
Last date to submit the form
07 Jul 2020
–
Declaration of Goa board HSSC revaluation result 2020
To be notified
–
How to Check  Goa HSSC Result 2020 Online?
Search for official website of GBSHSE i.e., gbshse.gov.in or www.gbshse.info/
Click on the web link "Goa HSSC Result 2020" under the "2020" button.
Enter the seat number and Captcha as displayed on screen.
Click on "Find" to view your Goa 12th Board Result 2020.
Download the board result and save it for further reference.
Candidates may take a print out of the result.
Collect your school leaving certificate and original mark sheet from school your appeared for board examination.
Process of Checking the Result through SMS
Other than the online mode, there is an offline way by which a student can check their result. To get the class 12th result on their registered mobile phone, you may follow the instructions as provided below:
All India Ramayana Quiz Competition
Check Now
Step 1: First of all open SMS App / Text Messaging App.
Step 2: Next, you need to type the message – "GOA12<Space>SeatNumber".
Step 3: After this, send the message to 56263, 58888, 5676750 or 54242.
Step 4: Once the result is out, the same will be sent on your mobile phone via SMS.
Details Given in GBSHSE Class 10 Result
The provisional GBSHSE class 10th exam results 2020 consists of the following information:
Candidate name.
Candidate ID.
Date of birth.
School name.
Subject wise marks obtained.
Result status.
Seat Number
Father's Name
Name of Subjects
Goa Board 12th Grade-based Marking System
GBSHSE follows the grade-based marking system for all the HSSC examination results 2020. According to the grading system, students scoring the highest marks i.e. 90% and above, will be accorded A grade, whereas lowest grade will be I, which will be awarded to students scoring below 20% marks. Students can check the grading system for Goa board 12th class from the table below:
| | |
| --- | --- |
| Grade | Marks |
| A | 90% & above |
| B | 80-90% |
| C | 70-80% |
| D | 60-70% |
| E | 50-60% |
| F | 40-50% |
| G | 30-40% |
| H | 20-30% |
| I | Below 20% |
Goa Board Supplementary Exams
Students of Goa board who were not able to qualify in the examination of class HSSC  can apply for supplementary examinations. There is a chance and that is none other than the supplementary exam. Board of GBSHSE arranges the examination of supplementary exam after the declaration of result. To apply for this students have to fill an application along with a amount of fee. After this the board organizes a examination for the classes of HSSC and SSC separately. After that, the board releases the result for classes 12 and 10 at the official website. Last year the examination of class 12 was held from July 07 to 14 for class 10 it was held from Jun 14 to 21. The result for classes SSC and HSSC were released on July 01 and June 20.
GBSHSE HSSC Revaluation Result 2020
Revaluation is the process of asking the board to reevaluate the answer sheets. So, if the students are not satisfied with the marks obtained can re-evaluate their marks. To do so, desired students need to fill the application form and apply it by making the payment successfully. Board makes the availability of revaluation application forms by the month of June. The result for the same releases by the month of May – June. Students can avail the revaluation online. The board release the list of the students with their improved marks in a pdf format.
Particulars
Application Fee
Re-evaluation of answer book
Rs. 700 per subject
Verified Photocopy of the
answer-book
Rs. 350 per subject
Verification of marks in Absentia
Rs. 75 per subject
GBSHSE Class 12th Result Statistics
Goa Board of Secondary & Higher Secondary Education Statistics

| Details | Statistics |
| --- | --- |
| Total Number of Students Appeared | 16,952 |
| Total Number of Students Passed | 15,187 |
| Overall Pass Percentage | 89.59% |
| Overall Pass Percentage (Boys) | 86.91% |
| Overall Pass Percentage (Girls) | 91.97% |
Goa HSSC Performance Report 2020: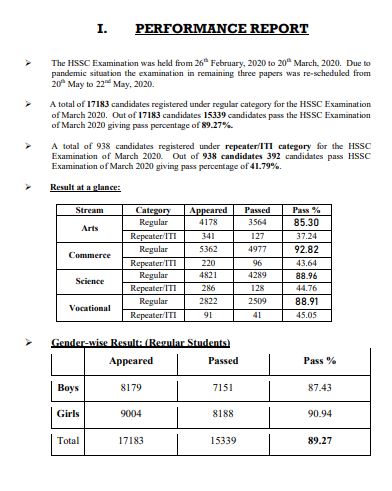 About Goa Board of Secondary and Higher Secondary Education
GBSGSE stands for Goa Board of Secondary and Higher Secondary Education. It is a state academic board conducting the secondary ( class 10th) and higher secondary ( class 12th) exams at the state level. More than 10,000 students appeared for SSC and HSSC exams annually. Goa Board conduct the examinations twice a year. One the main exams in the month of March and the other in the month of June, the supplementary exams. GBSHSE established on May 27, 1975, under Goa, Daman and Diu Secondary and Higher Secondary Education Board act 1975. The main aim of the board is to develop the social and economic needs of the government by providing the basic education at the secondary and higher secondary level.
Download Goa HSSC March 2020 Result Booklet Here.