Dr. Ashok Gupta is the founder Director of The Play House, India International School , IIS Centre for Information Technology, International College for Girls, International School of Informatics & Management & FM Radio 7, ICG Institute of Educational Research & Development, International Institute of Management, Engineering & Technology and IIS (Deemed to be University).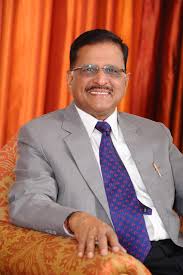 He is an eminent educationist who has made unforgettable contribution to restore the richness of educational culture and to make it more vibrant than before. His farsighted leadership, commitment to work, penchant for perfection, high concern for students and the breadth of vision has elevated the institutions to a center of learning where education is a commitment and the training of the whole person a mission.
The questions are framed in perspective of higher education after Covid-19 pandemic scenario.
Q1. Do you believe that Covid-19 has made a significant impact on the conventional education system that exists in our country? We would like to hear your thoughts on this.
A1.  COVID-19 crisis has had a deep impact on global economy, jolting almost all sectors- especially education. As per a UNESCO report, the pandemic has adversely affected millions of students worldwide due to the closure of educational Institutions in the wake of the lockdown.  We all know that extended closures will not only weaken the continuity of learning, but will also engender far-reaching economic and societal consequences like loss of human capital as well as economic opportunities in the long run.  It's impact will be more pronounced where education system is struggling with low learning outcomes and a high dropout rate.
 However, being   an optimist, I think we need to look at the other side of the picture as well. On a positive note, I would say, Covid-19 is actually an opportunity in disguise. Educators in our country had been for some time now, debating on how to educate the IT savvy current Generation and the ones to come. The pandemic has forced experts to look beyond the conventional brick & mortar mode of education. It has pushed us out of our comfort zone and has fast tracked our efforts to transform the traditional talk-chalk teaching model into one marked by digital-anchored pedagogy with a focus on skill development and a more collaborative approach. So, in a way it has proved to be a tipping point for ushering in new trends that will have a positive impact on our higher education in times to come.
Q2. What impact has Covid-19 created in education system as well as in your institution in particular? And how are you adapting to the situation?
 We, at IIS (deemed to be University), had taken a timely cognizance of the untapped potential of IT and had already started the process of systematically merging e-learning approach not only in the content of the courses but also in the pedagogy and co-curricular activities. A case in point is Integration of MOOCs in our curricula since the beginning of the last academic session. Therefore, when the classes were suspended due to pandemic sometime in Mid-March 2020, within ten days we seamlessly shifted from off line to on line classes. Our IT Department conducted workshops to help teachers to devise innovative solutions within a relatively short time. Lectures were delivered using interactive apps, asynchronous online learning tools and synchronous face-to-face video instruction. The faculty also made use of e platforms like Kahoot and Survey Monkey to assess student learning through quizzes and short tests. Remedial & revision classes were also conducted online. The teachers went beyond the syllabi and conducted value added webinars and workshops for students and faculty. Contrary to some survey results conducted in India & abroad, we were pleasantly surprised to find that not only did the attendance in these classes went up significantly but student participation also increased appreciably.
The University has also taken the initiative of conducting Semester End Examinations online under proctored conditions for all semesters across all programmes. This has also proved to be a successful exercise with the student attendance rate at these exams being 99.5% which is much higher than the traditional paper pen off line evaluation system. Further, in keeping with the guidelines issued by the UGC, the University has sensitized its faculty to be more empathetic towards the academic and emotional problems experienced by the students. They have been providing psychological support, guidance and counselling to the students online. This has further strengthened the bond between them.
Buoyed by the response, the University has procured licenses for Microsoft Team Platform for subsequent online classes and other sessions. The Faculty at the University is now undergoing training for developing online courses to be launched on our website for the benefit of our students. This will give further impetus to our efforts to streamline a more robust hybrid model of teaching-learning.
Q3. Do you think that the courses offered by educational institutions would change in the future? Share your insights on this.
 Yes, the courses offered by the Universities will have to change. We will have to design courses that will focus on capacity-building of young minds and develop skills that will drive their employability, productivity and well-being. I was recently reading a Dell Technologies report which stated that 85% of the jobs in 2030 that Generation Z and Alpha will enter into have not been invented yet! This shows that we will have to anticipate and develop courses which will cater to the needs of different sectors ten years from now like courses related to the fourth industrial revolution in emerging areas of science and technology such as genomics, data Science, robotics, AI, nanomaterials. In other faculties like Liberal arts, Commerce and Management also, the focus should shift to courses which will focus on know-how needed to build Start Ups, catalyse entrepreneurial ventures, and develop People skills and life skills like resilience and adaptability. Further, the new educational paradigm should have strong underpinning of ethical considerations, intercultural awareness and critical thinking. Further, I feel that we should also design courses on Indian traditional knowledge which has the potential to develop sustainable technologies and medicines and integrate them in the mainstream curricula. I would also like to highlight a few opportunities to focus on in future like tie ups with industries and other organizations for virtual labs, virtual internships, project-based learning, collaborative and interdisciplinary research in emerging areas for a more wholesome and futuristic academic experience.
Q4. Currently online education is being practiced as part of an adaptation strategy across the world. How effective is this type of education system? And which type of education system do you think students as well as parents would prefer after the pandemic situation?
 I personally think that we will have to go for a blended or hybrid mode of education.  A solely digitalized model seems to be a viable solution for the period of lockdown. However, it cannot completely replace the classroom model because the latter has more scope for personalized attention and face to face interactions.  Post-Covid-19, a large number of students would still prefer a full university experience as there is no substitute for the ambience of the university campus and live learning with peers in the classroom. Secondly, digital education, in its current format, is not very inclusive because of its limited reach to students in rural and remote areas as well as to differently abled sections of the society. So, while the offline model will not become obsolete post-Covid-19, it will be effectively supplemented by digital learning. We will have to judiciously blend the two. While the concept learning takes place online, classroom time can be effectively employed in guided practice, discussions and developing creative problem solving and other life skills.
Q5. Would you share certain guidelines for the students on how to cope up with the current situation as well as on how to take smart decisions on their future as well?
First of all, maintain a daily routine to structure your day, decrease your exposure to media to avoid information overload, focus on self -directed  learning and thinking, stay connected with your friends and relatives, live by your values, practice compassion, show gratitude for the pluses in your life, take up hobbies and focus on what you can control.
Since the colleges and universities have not reopened yet, you have a lot of free time. Use it creatively. Join some online course to broaden your skill repertoire, this will enhance your employability quotient. The shelf life of skills in today's fast paced world is getting to be short. Therefore, you need to continuously upgrade them. Additionally, keep exploring what are the new technologies and avenues for work which have come up in your chosen field so that you can plan accordingly. If possible, go for an online internship programme or a virtual industry-based project. This will substantially add to your resume.
Q6. A lot of online courses and skill workshops are being offered by many ed-tech companies. Would you please share on the importance of such courses as well could you highlight certain courses and skills that you feel students can learn during this period?
The concept of technology in classroom is not new. However, EdTech has now widen its scope beyond making textbooks available online. It is now data-driven and is increasingly making use of adaptive learning, video content and immersion technology to revolutionize the way people learn. It is contributing immensely towards redefining the conventional model of higher education and transforming the traditional career path. The courses driven by EdTech are not only catering to the learning needs of students but also adults, who are increasingly required to refresh their knowledge and acquire new skills. The courses offered are flexible and student centric. In fact, many of the World's top universities have integrated MOOCs in their curricula. Education, one of the sectors most resistant to change has benefitted the most from technological innovation.
Students can take up short term courses related to latest technology and global issues which will broaden their horizons and enhance their employability.  They can learn soft and social skills such as communication, career navigation, work ethic, innovation, persuasion, personality development, emotional intelligence to name a few.
Vice Chancellor, IIS (deemed to be University), Mansarovar, Jaipur 302 020, (Raj.) India