Microscopes have been a great tool used by scientists to make significant discoveries over the centuries. It's often assumed that children may lack the attention span and care needed to handle an instrument like a microscope. However, when children are encouraged to use the microscope—with the right teaching approach—it not only excites and engages them but can be used as an unparalleled introduction to science.  
Admission Open 2023
Top University & Colleges Official Links, Application & Scholarship Forms.
One of the best things about these instruments is that they are not only fun and interesting to play with, but also teach kids about the world. They can help them develop their sense of sight and encourage them to explore things in nature that interest them. Kids are naturally curious and love to see the world through different eyes. By using these devices, they can get the chance to do just that. In this article, we discuss how microscopes can encourage kids to be more enthusiastic about science later in life:
Unparalleled Introduction to Science 
Since children are curious by nature, the best way to introduce them to science is through experiential learning. This means introducing them to the plant and animal world by showing them what's going on inside it through a microscope. For a simple introduction to science, you may take the children out in nature and ask them to collect plants, insects, or flowers that they may want to examine under a microscope. This will help build their interest in science in a natural way and outside of the classroom. If you're planning to buy your child a microscope, check out the New York Microscope Company for good-quality microscopes for children.  
Subscribe to Get Updated Information about How Microscopes Can Encourage Kids into Science Later in Life? - Admissions
​
Enhances Their Exploratory Nature  
When children are encouraged to use a microscope to explore things, it enhances their exploratory nature. As children start viewing distinct patterns and movements under the microscope, they're likely to get inquisitive about how things work. This can lead to questioning and discussions and promotes active learning.  
Learning about the properties of objects and how they work is something that many kids enjoy but is usually overlooked in classrooms. When children start enjoying their explorations, they can spend hours studying an object with great interest, without being told to study. This is a great way for them to learn about the world naturally.  
As children get a chance to use a microscope as a hobby rather than reading science textbooks, it makes learning about science fun and exciting and enhances their cognitive abilities naturally. Check out the best microscopes for 10 year olds here.  
If you think that your child could use a microscope to explore science, you may want to get them one. While they may not realize it at the time, this type of gift can benefit them for many years. There are several inexpensive microscopes available in the market that are perfect for children.  
Sparks Their Curiosity and Questioning 
One of the thumb rules of learning is questioning and curiosity. When you stop asking questions, you're not learning much. A child is naturally curious and is interested in knowing the world around them and are often questioning everything.  
The one skill that's important for science enthusiast is their ability to question things. When a child is given the opportunity to explore things under a microscope, it not only sparks their curiosity but naturally nudges them to ask questions. 
Since science encourages questioning and curiosity, having these qualities from a young age will ensure that your children develop their interest in science spontaneously. A good way to help your child to develop their curiosity is to give them things of their interest like a flower or leaf to examine under a microscope or take them outdoors to watch the night sky using a microscope.  
Conclusion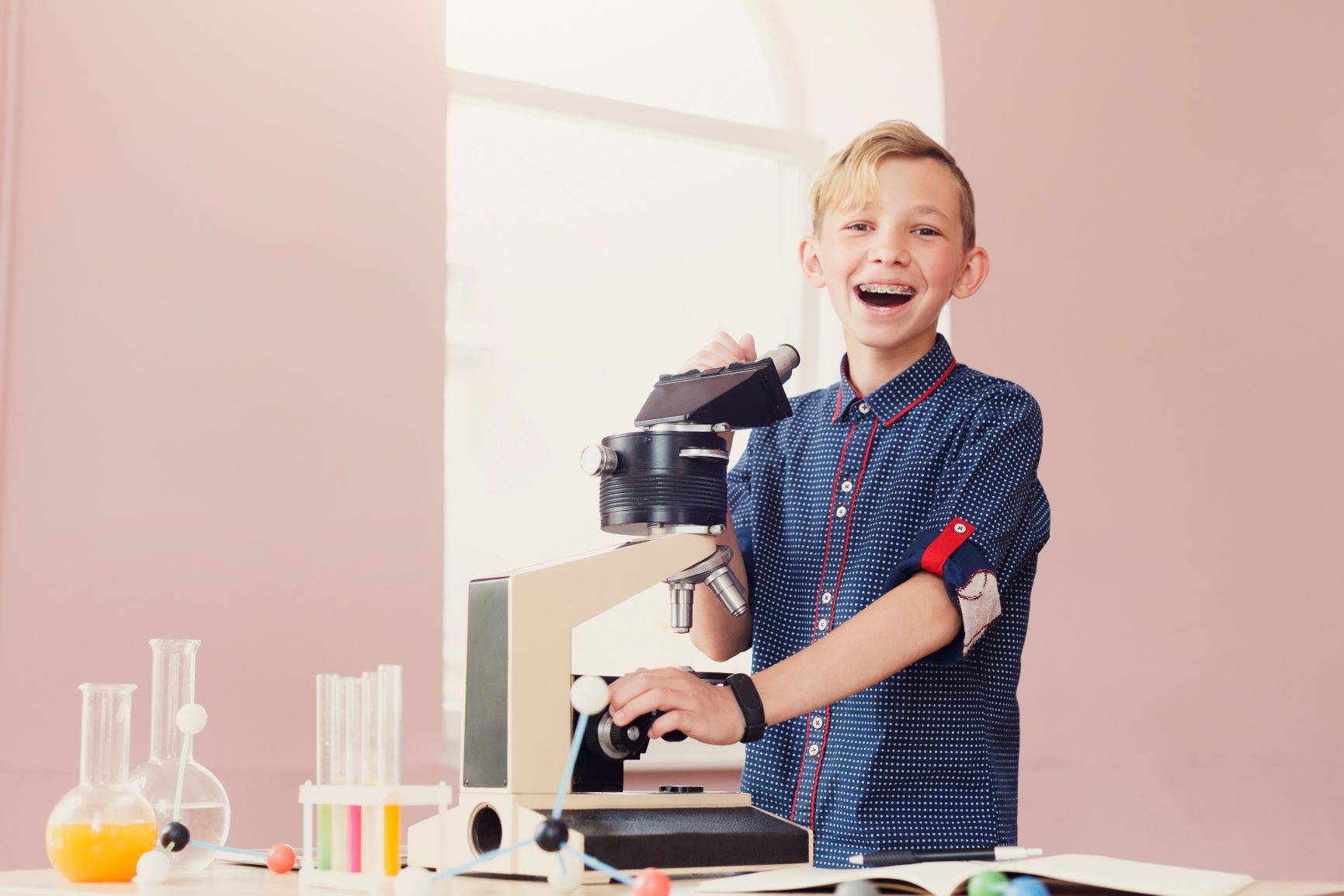 Microscopes can be great tools for introducing your children to science outside the setting of their classroom. Introducing them to science in this manner will nudge them to develop an interest in the subject naturally, through personal exploration and questioning. Using a microscope will also encourage the development of skills like curiosity, creativity, and explorative nature. Since these skills are essential for a science enthusiast, the natural development of them, through experiential learning, will ensure that their interest in science remains intact even when they grow older.  
Having an interest in science can further help your child prepare for STEM learning. However, to take the first step towards exploratory learning, consider getting your child a microscope to explore the many mysteries of the world.