Available Application Forms
Manipal University B.Tech admission 2018 Started – Apply Here
SRM University B.Tech admission 2018 Open – Apply Here
JEE Main 2018 Updates Available Now – Check Here
JEE Main 2018 Mock Test Available Now – Download Here
ICSE 10th Date Sheet 2018: Council for the Indian School Certificate Examination is going to conduct 10th Board Examination from Monday 26 February 2018 to Wednesday 28 March 2018. According to previous, ICSE Board will publish 10th Exam Time Table 2018 in the first week of January. Candidates studying in schools affiliated with CISCE board. The CISCE Board released the ICSE Timetable on 10th January 2018.
Download the ICSE 10th Date Sheet 2018 below and official link of CISCE is given here. The students are advised to check the list of the Polytechnic, engineering and other exams here.
---
ICSE 10th Date Sheet 2018:
Council for Indian School Certificate Examinations will soon upload the ICSE 10th Class Date Sheet 2018 pdf. Students can check their ICSE 10th Date Sheet 2018 on the official website in next few days. The CISE board is yet to announce the ICSE Secondary Board Exam 2018.
Students seeking admission in engineering courses should follow JEE Main 2018 page.
---
Important Information regarding ICSE 10th Examination 2018
Name of Board: Indian Certificate School Examination.
Important Exam Update
Updates Regarding JEE Main 2018
Manipal University B.Tech. Application Available Apply Now
SRM University B.Tech Admission Forms Apply Now
Examination Name: 10th Board Examination.
Exam Dates: 26 February 2018 to 28 March 2018.
Result announcement date: May 2017 (Expected)
Official site: www.cisce.org
---
ICSE exam Schedule
The board released the date sheet. They are very important for an aspirant and must be checked after every alternate time for any updates. Also, the pdf format of the same is given below for downloading purposes. The candidates should check the official website for further information. Download the ICSE examination date sheet pdf here.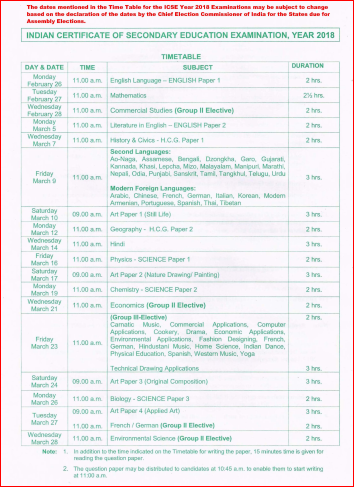 Second Languages: Ao-Naga, Assamese, Bengali, Dzongkha, Garo, Gujarati, Kannada, Khasi, Lepcha, Mizo, Malayalam, Manipuri, Marathi, Nepali, Odia, Punjabi, Sanskrit, Tamil, Tangkhul, Telugu, Urdu Modern.
Foreign Languages: Arabic, Bahasa Indonesia, Chinese, French, German, Modern Armenian, Spanish, Thai, Tibetan, Japanese.
Note: Official link to date sheet is here.
---
How to Download ICSE 10th Exam Date Sheet 2018?
Written below are the basic steps to download the ICSE 10th exam schedule. Follow them to download the pdf format.
Search for the official website i.e www.cisce.org
Click on "ICSE" Section.
Look for "ICSE 10th Exam 2018 Schedule".
click on the link.
Exam Scheme will be displayed in PDF Format.
Download it and take printout for future reference.
Read about ISC 12th Board Exam Here.
---
ICSE 10th Date Sheet 2018, www.cisce.org time table 2018, ICSE exam Schedule, ICSE board exam schedule, ICSE Exam 2018 Time Table
Available Application Forms
Manipal University B.Tech admission 2018 Started – Apply Here
SRM University B.Tech admission 2018 Open – Apply Here