BVP CET 2020 Counselling Procedure of Bharti Vidyapeeth University Admission will start from 19 – 27 June 2020 conclusion of Common Entrance Test. The BVP CET counselling is organised by the University itself so that the candidates can be admitted on the basis of the scores in their entrance test. Further, all the selected candidates will get the call for Bharati Vidyapeeth (Deemed to be University) 2020 counselling. The candidates can check their invitation for BVP CET 2020 counselling by their individual merit number and then appear for counselling.
BVP CET 2020 Counselling Dates:

For attending BVP CET 2020 counselling all the candidates will have to carry a few important documents and if they fail to do so then the authority will not allow them to appear in BVP CET counselling. So it is advised to all qualified candidates to carry all the important documents on the day of counselling. So, here in this article, all the relevant information regarding the important documents to be brought are given in details. Therefore, qualified candidates must read this article carefully. So, counselling for the session 2020 will be available below.
BVP CET Counselling 2020 Procedure:
In order to participate in counselling of BVP CET 2020, candidates will have to perform the following steps:
Step 1– BVP CET 2020 Counselling Call Letter Issue
Subscribe to Get Updated Information about BVP CET 2020 Counselling: Bharti Vidyapeeth Counselling Schedule
​
All the candidates who will clear BVP CET and whose name would appear in the merit list will be issued a counselling letter by the admission authorities. The counselling letter would be sent after the declaration of result to first 5000 candidates at their registered email address. Such candidates have to download the BVP CET 2020  counselling letter and report to the notified venue on scheduled date and time.
Step 2- Reporting to  Counselling Venue of BVP CET 2020
After downloading the counselling letter, candidates have to report in person to the notified venue- 'Bharati Vidyapeeth University College of Engineering, Pune. While reporting to the BVP CET 2020 counselling venue candidates have to carry all the requisite documents (both original and photocopy) for verification. Also, candidates, the ones who know that they are eligible, however, have not received any intimation letter, can also remain present for the counselling of BVP CET for on the spot admission. Candidates should be aware that in case they fail to report at the counselling venue on scheduled date and time, their candidature will stand to cancel.
Step 3- Filling of Choices 
During the counselling session, candidates will have to fill the choice of college and course in order of their preference. In order to get desired college and course, candidates are advised to fill as many choice as possible.
Step 4- BVP CET 2020 Seat Allotment 
Based on the merit list and preference candidates would be allotted seats. For BVP CET 2020 seat allotment the qualified candidates will be called in order of their ranking in the merit list.
BVP CET 2020 Seat Intake: Given below is the table which depicts the number of seats available in each course offered by the institute:
Seat intake and name of the B. Tech Programme Offered
| | | |
| --- | --- | --- |
| S. No | Courses Offered | Seat Intake |
| 1 | B. Tech. (Computer) | 120 |
| 2 | B.Tech. (Electronics & Telecommunication) | 120 |
| 3 | B. Tech. (Mechanical) | 120 |
| 4 | B. Tech. (Electronics) | 90 |
| 5 | B. Tech. (Information Technology) | 60 |
| 6 | B. Tech. (Civil) | 60 |
| 7 | B. Tech. (Electrical) | 60 |
| 8 | B. Tech. (Chemical) | 60 |
| 9 | B. Tech. (Production) | 60 |
Step 5- Verification of Documents
Once the seat is allotted to the candidates, they would be required to produce the requisite documents for verification. Candidates have to carry two sets of photocopies of the documents along with the originals. If a candidate will fail to produce a documents, requested by the admission authority, there might be chances that their claim for seat will be forfeited.
Counselling Dates Of BVP CET 2020:
Important dates of the counselling.
| Events | Dates (Tentative) |
| --- | --- |
| Declaration of result | 08 June 2020 |
| Release of merit list | Second week of June 2020 |
| Commencement of BVP CET 2020 Counselling | 19 – 27 June 2020 |
| Start of classes | First week of July 2020 |
Regular Category of BVP CET :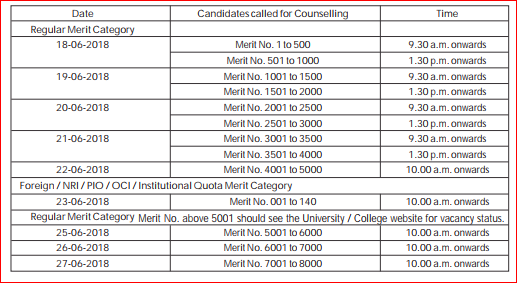 Date
Candidate Rank
Time
June 2020
Rank 1 to 500
9:30 a.m. onwards
Rank 501 to 1000
1:30 p.m. onwards
Rank 1001 to 1500
9:30 a.m. onwards
Rank 1501 to 2000
1:30 p.m. onwards
Rank 2001 to 2500
9:30 a.m. onwards
Rank 2501 to 3000
1:30 p.m. onwards
Rank 3001 to 3500
9:30 a.m. onwards
Rank 3501 to 4000
1:30 p.m. onwards
Rank 4001 to 5000
10:00 a.m. onwards
Rank 5001 to 6000
10:00 a.m. onwards
Rank 6001 to 7000
10:00 a.m. onwards
Rank 7001 to 8000
10:00 a.m. onwards
Foreign/NRI/PIO/OCI/Institutional Quota Merit Category
| | | |
| --- | --- | --- |
| Date | Candidate Rank | Time |
| June 2020 | Rank 1 to 140 | 10:00 a.m. onwards |
Documents that are necessary during counselling:
Class 12thmark sheet
Migration Certificate
Caste certificate if applicable
Transfer Certificate
Identity proof
Character certificate
Six recent passport size photographs
Class 10th certificate stating the date of birth
Domicile Certificate
Certificate of medical fitness
School leaving certificate
Authority letter
Required admission and hostel fees
An affidavit (as per Annexure-II), on a judicial stamp Rs. 100-/- which is countersigned by your guardian or parent in the person of Notary public.
Bharti Vidyapeeth (Deemed to be University)
bharati vidyapeeth, bharati vidyapeeth delhi, bvp cet counselling 2018, bvp cet result 2018, bvp counselling procedure, bvp law counselling 2018, bvp cet 2018, bvp cet law counselling 2018, bvp counselling 2018 bba, bvp cet cutoff.
List of Engineering Entrance Examination 2020