JEE Main 2020 Answer Key for January session has been released by NTA. From 2019, NATIONAL TESTING AGENCY (NTA) will conduct the JEE MAIN examination as per the announcement made by MHRD (Ministry of Human Resource Development). The official answer keys are only released by the NTA. Candidates can easily download official answer keys from this website and match their answers with the actual one. After cross-checking the answer keys with the released one, Candidates can easily predict their chance of qualifying the exam. From the Rank predictor below candidates can also easily predict their rank by following simple steps. Find below on this page various important information about the JEE Main 2020 Answer key.
Upcoming Application Form
Latest Update: JEE Main 2020 Online Application Form of April session has been released on 07 February 2020. Click here>> Application Form.

JEE Main 2020 official Answer Key has been released by the NTA on 13 January 2020.
Check your JEE Main Eligibility Here. Join & Refer your Friends to Earn Paytm Cashback
Check Now & Refer
JEE Main 2020 Answer Key
Candidates can download the official answer key in two ways.
JEE Main Answer Key direct link: Through Application Number and Password
JEE Main Answer Key direct link: Through Application Number and Date of Birth
Final Answer Keys are released by National Testing Agency.
22 Questions were marked incorrect and candidates got full marks for these 22 questions wrongly asked in JEE Main January Session.
The NTA indicated "NB:-'—–5—–' under Correct Option_ID: Question dropped. Candidate awarded full marks" in Final Answer Keys.
Check or Download JEE Main Final Answer Key Paper 1 B.tech Here.
Check your JEE Main Rank Here:
Subscribe to Get Updated Information about JEE Main 2020 Answer Key: NTA Official JEE Main Solutions
​

JEE Main January 2020 Official Answer Key And Question Papers (January Session)
How to Challenge the JEE Main Answer Key?
The process of Challenging the Answer Key of JEE Main is announced. Please follow below-given steps to challenge the answer keys.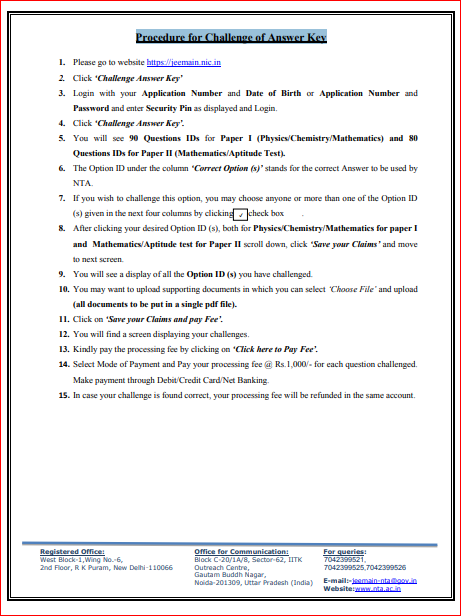 How to View JEE Main Question Paper and Responses?
The JEE(Main) January-2020 has been conducted throughout the country and abroad from 06 January 2020 to 09 January 2020 through the Computer Based Test (CBT) mode in which 934828 candidates were registered.
The National Testing Agency (NTA) has displayed Candidate Question Paper and the responses attempted thereon by each candidate on the website- https://jeemain.nta.nic.in/webinfo/public/home.aspx.
The link is available on the JEE Main Official website and candidates need to click on it to view their respective question paper and responses.
Students need to "log in and click the link for the display of the question papers and the responses."
Whereas, Candidates can check their response sheet from 13 January 2020 to 15 January 2020 (05:00 PM) only.
Furthermore, the candidates are advised to save their question papers and responses for future reference.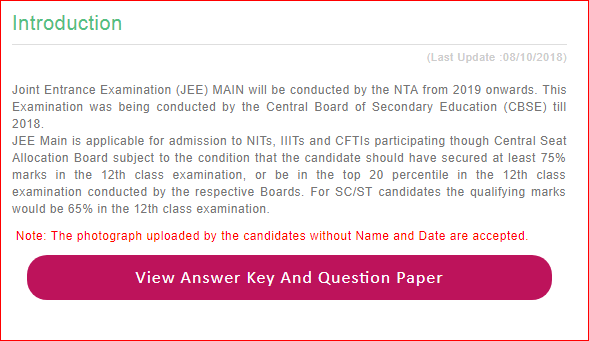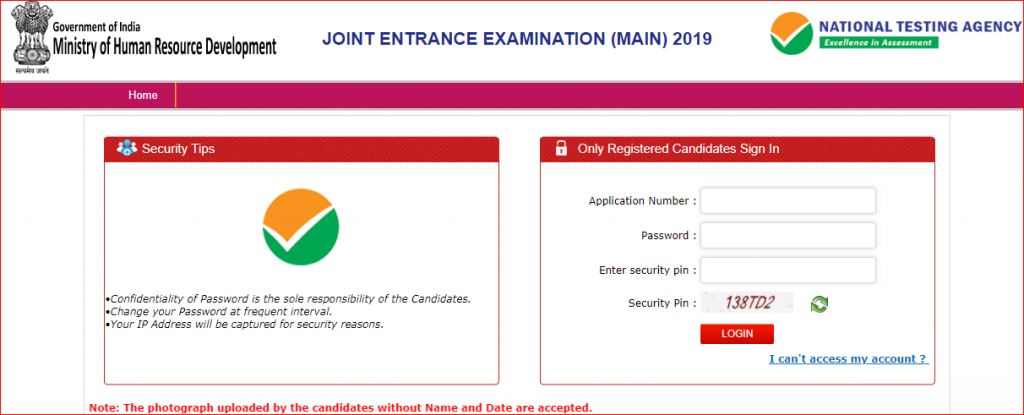 JEE Main Response Sheet 2020 Released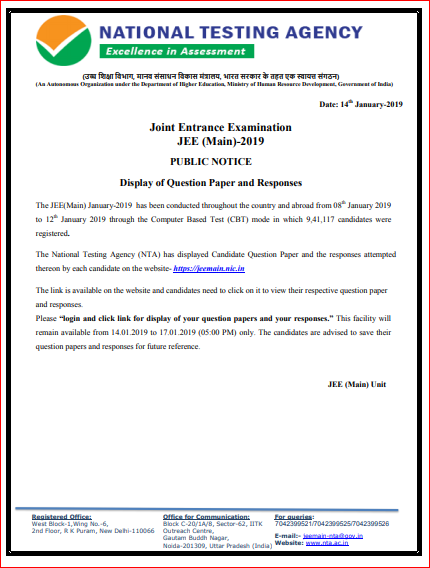 JEE Main 2020 Answer Key for online Exam Releasing Today
After completing the online exam, Candidate can get the question paper along with their marked answer sheet in their respective e-mail id's. Unofficial Answer Key has been released today after the examination gets over.
| | | | |
| --- | --- | --- | --- |
| Code A | Code B | Code C | Code D |
| Set A-Answer key | Set B-Answer Key | Set C-Answer Key | Set D-Answer Key |
JEE MAIN January 2020 exam Answer Key Important Dates
JEE MAIN 2020
Dates
JEE Main 2020 Exam

Paper 1 – 07 – 09 January 2020

Paper 2 – 06 January 2020 (in two slots)

Declaration of Answer Key
13 January 2020
JEE MAIN April 2020 Exam Answer Key Important Dates
| | |
| --- | --- |
| JEE MAIN 2020 | Dates |
| JEE Main 2020 Exam | 05 – 11 April 2020 |
| Declaration of Answer Key | To be Announced |
JEE Main 2020 Answer Key

JEE Main 2020 answer key will help the candidates to predict their respective score. Moreover, the Applicants can check their response with the given official Answer Key.
Few premium coaching institutes will also release the answer key on their own on exam day. Also, the candidate can challenge the JEE Main Answer key and the response recorded in the Exam. It may take 3-4 days for this process.

How to Download JEE Main 2020 Answer Key or JEE Main 2019 Solutions
Firstly, the candidates should download the appropriate answer key by checking the Question booklet code. But if the candidates download the different code booklet answers key, also create confusion and the candidate will not be able to calculate the right score.
As of now, NTA has declared the 2020 Answer key but the below PDF will give the candidate an idea about the previous years answer key.
JEE Main 2018 Answer Key Pdf
| | | |
| --- | --- | --- |
| JEE Main Paper | Paper Code | Question Papers |
| Paper, I | Set A |   |
| | Set B |   |
| | Set C |   |
| | Set D |   |
| Paper-II | Set X |   |
There will be a different set of Question paper for each candidate. Moreover, the applicants have to download the booklet for their code only. For previous year the code for JEE Main Question Paper was E, F, G. for Paper I and H, T, S for Paper-II.
JEE Main Answer Key: Challenging the Response
Any candidate who is not satisfied with the Official answer key of JEE main authority. Then the student may challenge the response after the release of answer key. Candidates can file the objection within 3-4 days of answer key publication.
Further, the applicant has to pay 1000 rupees per question and fill out an application form for the same. One should do the payment via credit/debit or e-challan.
The fee will not be refundable in any case. Only online application with required fee for challenge-response will acknowledge by NTA. Also, the NTA decision shall be final and no communication will be entertained further.
JEE Main Rank Calculation:
The applicants can also find the probable JEE Rank by their score. To do this, applicants simply need to fill the score in JEE Main 2020 Online Rank Predictor. The Online Rank Predictor will calculate and display the candidate's probable JEE Main 2020 Rank. The Cutoff for Joint Entrance Examination is decreasing every year.
In the calculation of JEE (Main) rank, 12th marks/score will not get calculated. Only performance in the Joint Entrance Exam 2019 will decide the rank of the students. The students can also check the expected rank by using the answer keys and predict their score based on that.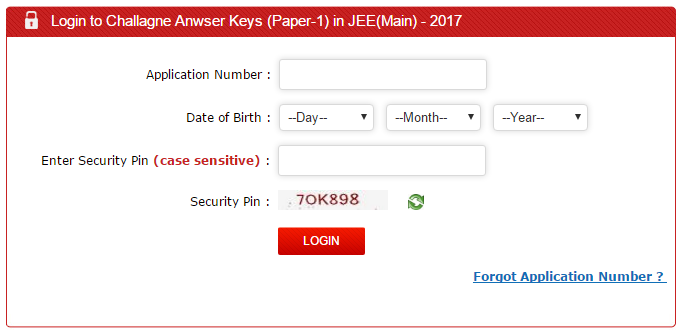 Stay Tuned for New Changes and Updated Information about JEE MAIN 2020.
jee main 2020 answer key resonance, jee main 2020 answer key allen, jee main answer key 2019, jee main 2019 answer key allen, jee main 2019 answer key resonance,nta jee main 2019 answer key, nta jee main answer key 2019 april.