KIITEE 2020 Paper Pattern is set by the Kalinga University i.e. Kalinga Institute of Industrial Technology (KIIT) deemed to be a university. Candidates can fill the Application Form till April 2020. Also, the university released the test scheme along with entrance examination, subjects and syllabus for the same.
B.Tech.(4 years) /B.Arch.(Science Group) / B.Sc.Nursing / Biotechnology Dual Degree(5 years), B.Tech.(4 years) / B.Arch.(Science Group) / Biotechnology Dual Degree(5 years), B.Sc.Nursing/Biotechnology Dual Degree(5 years), B.Tech.(Lateral Entry) (3 years), BBA/BCA/ Bachelor of Design (Fashion/Textile)/ Bachelor of Film & Television Production/BA.LLB/ BBA.LLB/BSc.LLB/ Master of Mass Communication(Integrated )/B.Arch.(Other Group), MCA/MCA( Lateral Entry), M.Tech.(2 years), LLM, M.Sc.(Biotechnology) & M.Sc.(Applied Microbiology)(2 years), M.Sc Nursing,  MBA/MBA(RM)/Master of Public Health(2 years) /Master of Hospital Administration(2 years) and Phd.
KIITEE 2020 Paper Pattern Details

Candidates must make sure they are eligible to fill the application form:
Firstly, candidates must be Indian nationalists
Also, candidates birth date should lie on or after June 1996.
Further, candidates must secure not less than 60% in their qualifying exam.
Also, to make candidates familiar with the paper pattern we have provided the paper pattern below.
Subscribe to Get Updated Information about KIITEE 2020 Paper Pattern: Kalinga University Entrance Scheme
​
Moreover, this will help the candidate to become aware of the type of questions, the important parts of the subjects and how they require to manage time.
This will also ensure students maximum marks.
KIITEE 2020 Paper Pattern: Kalinga University Entrance Exam Pattern
The scheme for examination is mention below.
Firstly, the question paper will be divided into three subjects namely Physics, Chemistry, and Mathematics.
Also, the candidates would be separately tested for each subject.
Then, each section will have 40 questions
Further, the total number of questions will be 120.
Moreover, all the questions will be multiple choice questions.
So, the candidates will have to select the correct answer from the given options
Also, the applicants will get 3 hours to solve the paper
However, the candidates will be rewarded with 4 marks for each correct answer.
But, there is negative marking scheme applicable therefore 1 marks would be deducted for every incorrect answer.
Also, there would be no Marks deducted or added for not attempting the question.
Finally, the examination would be online mode i.e, computer-based test.
Scheme for KIIT Entrance Exam
Subject
Questions Asked
Marks Allotted
Time Allotted
Physics
40 questions
160 marks
180 minutes
Chemistry
40 questions
160 marks
Mathematics
40 questions
160 marks
Total
120 questions
480 marks
KIIT Courses, Subjects and Number of Question in Entrance Examination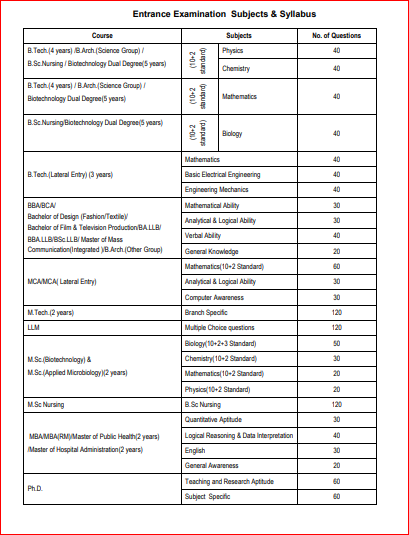 Download KIIT Examination Subjects & Syllabus Pdf.
Syllabus for KIITEE 2020
Physics
Units and Measurement
One-Dimensional Motion
Two-Dimensional and Three-Dimensional Motion
Laws of Motion
Work, Energy, and Power
Rotational Motion and Moment of Inertia
Gravitation
Solids and Fluids
Oscillations
Waves
Heat and Thermodynamics
Transference of Heat
Electrostatics
Current Electricity
Thermal and Chemical Effects of Current
Magnetic Effects of Current
Magnetostatics
Electromagnetic Induction and Alternating Currents
Ray Optics
Wave Optics
Electromagnetic Waves
Electrons and Photons
Atoms, Molecules, and Nuclei
Solids and Semi-Conductors
Chemistry
Some Basic Concepts
The States of Matter
Atomic Structure
Solutions
Chemical Energetics and Thermodynamics
Chemical Equilibrium
Redox Reactions and Electrochemistry
Rates of Chemical Reactions and Chemical Kinetics
Surface Chemistry
Chemical Families and Periodic Properties
Chemical Bonding and Molecular Structure
Chemistry of Non-Metals – 1
Chemistry of Non-metals – 2
Lighter Metals, Heavy Metals Chemistry
Chemistry of Representative Elements
Transition Metals Including Lanthanides
Coordination Chemistry and Organo-Metallics
Nuclear Chemistry
Purification and Characterization of Organic Compounds
Some Basic Principles
Hydrocarbons
Organic Compound Containing Halogens
Oxygen Organic Compounds
Organic Compounds Containing Nitrogen
Synthetic and Natural Polymers
Bio-Molecules and Biological Processes
Chemistry In Action
Environmental Chemistry
Mathematics
Sets, Relations, and Functions
Complex Numbers
Matrices and Determinants
Quadratic Equations
Permutations and Combinations
Binomial Theorem and Its Applications
Sequences and Series
Differential Calculus
Integral Calculus
Differential Equations
Two-Dimensional Geometry
Three-Dimensional Geometry
Vector Algebra
Measures of Central Tendency and Dispersion
Probability
Trigonometry
Moreover, the official website of KIITEE 2020 is http://www.kiit.ac.in/
Kalinga University Exam Details:
kiitee previous year question papers with solutions pdf, kiitee exam date 2020, kiitee 2018 exam date, kiitee marks vs rank, kiit sample paper 2018.