NMIMS's National Test for Programs After Twelfth is also known as NPAT 2020 will be conducted by constituent schools of SVKM's Narsee Monjee Institute of Management Studies in March 2020. The Entrance exam is conducted for selection in various Undergraduate and Integrated Degree Programs. Also, there will be a 02 Hour paper to check the Proficiency of English Language, Logical Reasoning, and General Intelligence and Mathematical Reasoning of the aspirant. Therefore, the candidates seeking admission in NPAT 2020 should thoroughly prepare for an examination like the SAT. So, for more details regarding the NPAT 2020 Paper Pattern.
Upcoming Application Form
NPAT 2020 Paper Pattern
NPAT 2020 will be conducted in the month of May 2020 in various cities of India.

It will be a Multiple Choice Question (MCQ) type papers. There will be the division into three major sections.

There will be a total of 150 questions which the candidate will have to answer in 120 minutes (2 Hours).
Mukesh Patel School of Technology Management & Engineering (MPSTME) New Test Structure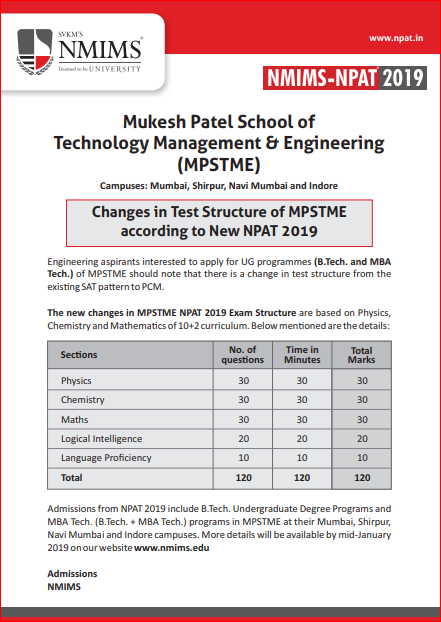 Number of Sections in NPAT 2020
Proficiency in the English Language.

Quantitative and Numerical Ability.

Reasoning and General Intelligence.

Each section will have 50 Questions each.

Candidates should expect the difficulty level to be similar to the SAT exam.

There is the provision of negative marking as well. The candidate will get 4 marks for every correct answer. Every incorrect answer will result in the deduction of 1 mark.

Any answer with more than one option will be invalid and the candidate won't get any marks for that.

There will be various sessions of examination in the two days, in which the exam will take place. So, scores along all these sessions will be equated to adjust for the differences in the difficulty level of different test question used across the section.
Moreover, the official website of NMIMS University is http://www.nmims.edu/
Candidates can visit EntranceZone frequently for more details regarding the NPAT 2020 Paper Pattern.
All India Ramayana Quiz Competition
Check Now
Subscribe to Get Updated Information about NPAT 2020 Paper Pattern - Exam Pattern for NMIMS
​