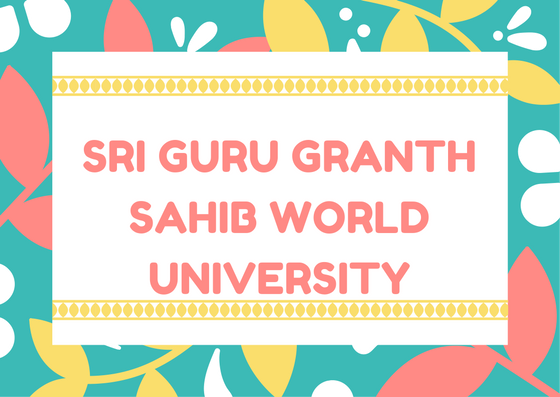 Sri Guru Granth Sahib World University Admission 2019: SGGSWU is located in FATEHGARH SAHIB. It is one of the competent universities in engineering, management, law, and sciences. The Sri Guru Granth Sahib World University is one of the major Engineering Colleges in India and is preferred for research. SGGSWU has released notification for admission to the various UG, PG, PhD programmes for the academic year 2019-2020.
SGGSWU has received an 'A' grade NAAC accreditation certificate. It is widely known for its quality education in the field of science, commerce, and arts.
The University also includes areas for various sports such as football, basketball, cricket, tennis, table tennis, etc. It was established in the year 2004. And in the month of March and was approved and inaugurated by the state government of Punjab.
LATEST UPDATE: The JEE Main 2020 Application Form for the January session will be released soon by the National Testing Agency(NTA) in the first week of September 2019.
Subscribe to Get Updated Information about Sri Guru Granth Sahib World University Admission 2019: SGGSWU
​
For Under Graduate & Post Graduate Programmes:
| | |
| --- | --- |
| EVENTS | DATES |
| Admission begin | 01 April 2019 |
| Admission in Under Graduate Courses (last date) | 14 August 2019 |
| Admission in Post Graduate Courses (last date) | 30 August 2019 |
For PhD Programme:
| | |
| --- | --- |
| EVENTS | DATES |
| Submission of application fees without late fee | 08 July 2019 |
| Submission of application fees with late fee of Rs. 500/- | 22 July 2019 |
| Entrance Exam | 26 July 2019 |
| Result Declaration | 02 August 2019 |
| Interview Sessions | 07 – 09 August 2019 |
| Released of list of selected candidates | 13 August 2019 |
| Payment of Fee | 19 – 20 August 2019 |
SGGSWU Application/Admission Procedure:
The students are supposed to report or register themselves on the day the session begins
The students are required to carry the documents along with some self-attested photocopies of the same on the day of admission including-
Date of birth proof
Mark sheet of passing certificate issued by the qualifying board
Migration certificate and TC from the school or university from where the candidate passed the qualifying exam
Cast and residence certificate
Original admission letters with the receipt of the fees
Registration and enrollment form filled with photograph pasted on it which needs to be attested by a gazetted officer
The form to issue the identity card should be filled in capital letters only
Admission of candidates who report late unreasonably will be denied admission
The students whose results have not been declared by their date of reporting will be offered provisional admission for which the below-given conditions need to be fulfilled:
In case the original certificates, as well as mark sheets of the students, have been submitted for the previous years
If the mark sheets of the previous years have been submitted and if the candidate has passed the cut off the examination with the percentage required.
MISSION, VISION, AND POLICY Sri Guru Granth Sahib World University

Mission:
Creating Curriculum or syllabus to match up to the level of international standards along with comprehensive training with the implementation of Human and Ethical values to meet the needs of industrial needs and needs of the civil society.
Promote interdisciplinary projects and programs to explore new frontiers of knowledge. It focuses on spreading good values and ethics along with conceptual and practical knowledge. Because of the predetermined institutional values, it is continuously developing and proving to be one of the best higher education systems.
Improve academic and physical infrastructure in order to excel in education.
Apart from the specified curriculum, The University also aims at promoting entrepreneurship and socially relevant programs.
Creating a scientific, impartial and Transparent Exam and its Evaluation system to ensure an ideal certification.
The vision is to be globally recognized and regarded as a Centre of Excellence for Research and Entrepreneurship and imparting knowledge by providing an inspirational learning experience to develop world-class leaders.
Accreditation, recognition, and awards
It was ranked as the best private University in Delhi/NCR and Haryana Region and secured an overall rank of 77 in NIRF University Ranking by MHRD, Government of India.
It secured 8th rank in AAA category in March 2016. Sri Guru Granth Sahib World University  University is recognized by UGC, an independent body of the Government of India established for maintaining the standards of campus and education system of university education in the country.
It was ranked 8th in the country for Research Productivity among category 'A' Private Universities.
In Higher Education Review – April 2015, they were awarded the best Emerging University in the country.
It has also received accreditation from the Department of Scientific and Industrial Research (DSIR). That is from the Ministry of Science and Technology as one of the Research Institutes under the various Research Programs.
IEEE is the world's largest and most premiere professional association working for and dedicated for the  advance and latest technological invention or innovation and excellence for the benefit of Sri Guru Granth Sahib World University  has stepped up and enjoyed a best sought the ranking ladder from Asia's Fastest Growing University to now Asia's Best & Fastest Growing University recognized and awarded by WCRC society in general, students and humanity and for the advancements. University enjoys high standing and higher ranks among many national rating or evaluating services that evaluate the quality of education, research activity, athletic excellence, and affordability.
SGGSWU Course Overview
Sri Guru Granth Sahib World University  University offers a number of courses in the fields of Arts, Science and Commerce. It has many Graduation and Post-graduation courses for the candidates. It will prescribe a set of rules or eligibility criterion. The students who fulfil that criterion, only they will be allowed to take admission in the University. Following are the Undergraduate courses available at the University. They will last for a duration of 2 years.
Sri Guru Granth Sahib World University offers courses in the field of science and technology, management, animation, film production etc. University offers BE/BTECH courses in the engineering branches. And duration for all the branches of engineering will be for four years.
 Research / seminars
Sri Guru Granth Sahib World University expose their students to various kinds of seminars and workshops. Which of course improves the quality of their education and also is the vital attribute for skill development. There is a wide variety of multidisciplinary research options in the branch of engineering, humanities, management and also offers PhD options. The entire list of seminars and research options can be viewed at the official website of the university by accessing the following link. 
Sri Guru Granth Sahib World University Campus Address & Website
Sri Guru Granth Sahib World University
Fatehgarh Sahib (Punjab), India
Contact Number:01763-232300.
Official Website: www.sggswu.edu.in