XAT 2021 or Xavier Aptitude Test 2021 is an Entrance Exam that is conducted by XLRI (Xavier Labour Relation Institute) on the behalf of XAMI (Xavier Association of Management Institutes). It is a national level exam which is conducted every year to select candidates for admission in management Institutes that accept the XAT score. Some of the top-notch Management Institutes of India apart from XLRI accepts the Xavier Aptitude Test Score. The exam will be held in January 2021 in online mode(Computer Based Test). Candidates can refer to the whole article for complete details regarding the XAT 2021.
Upcoming Application Form
XAT 2021 Important Dates
The important dates regarding the XAT 2021 exam are given in the table below:
| | |
| --- | --- |
| Events | Dates (Tentative) |
| Starting of application form | 3rd week of August 2020 |
| Last date of application | Last week of November 2020 |
| Releasing of admit card | 3rd week of December 2020 |
| Exam Date | 1st week of January 2021 |
| Publication of result | Last week of January 2021 |
The dates will be updated as soon as the authority releases on the official website.
All India Ramayana Quiz Competition
Check Now
XAT 2021 Application Form
The details regarding the XAT 2021 application form are given below:
Subscribe to Get Updated Information about XAT 2021: Application Form, Eligibility Criteria, Exam Dates
​
XAT 2021 application form will be released in August 2020.
The application form will be released in online mode.
candidates can fill the application form through the official website.
The last date to submit the application form will be in November 2020.
Candidates may fill the application form correctly as no application correction window is available.
Moreover, Candidates may keep a copy of the filled application form for further use.
How to Fill the XAT 2021 Application Form?
Candidates can follow the given steps to fill the Application form of XAT exam.
Visit the official website of the authority.
Then register on the official XAT website which is by creating a unique XAT ID and Password.
Candidates need to fill-up the form with the correct details, such as their original name, Nationality, parents name etc.
Candidates will have to indicate their choice for the management institutions in which they would like to study.
Candidates need to select the name of the course which they want to study upon selection such as Global Business Management, Human Resource Management etc. Candidates who do not want to study at XLRI may choose to skip this step.
Aspirants will have to provide their mail address for correspondence and other such basic details that are necessary for the application form.
Candidates will have to fill up all the details about their educational qualifications and will also have to furnish all the details about their matriculation degree to all the degrees till their graduation degree which is the minimum qualification to apply for this examination.
Candidates must also fill in all the details of the work experience if they have any.
Candidates interested in the Global Management Program must have at least 5 years of experience.
XAT 2021 Registration Fees
The XAT examination fee can be paid via Credit card/Debit card/Online banking. The Registration fee details are mentioned below:
XAT 2021 Registration Fees
Courses/Exams
Fee
Without Late Fee
XAT 2021
Rs. 1700/-
XLRI Courses (If Interested)
Rs. 1700/- + Rs. 300/- each course (Additional fee)
Indian Candidates applying for GMP through GMAT
Rs. 2500/-
NRI/Foreign Candidates applying for one or more programmes through GMAT
Rs. 5000/-
With Late fee
XAT Fee
Rs. 2000/-
XLRI Courses (If Interested)
Rs. 2000/- + Rs. 500/- each course (Additional fee)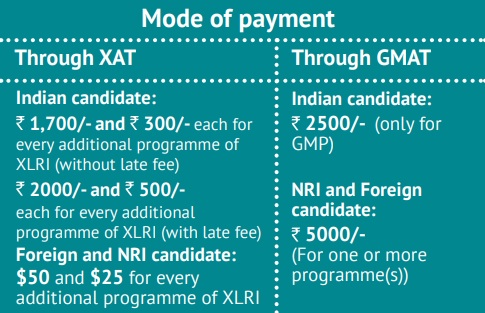 Mode of Payment
 Candidates can pay the application fee through online as well as offline mode.
Online mode: 

Through Online Payment Gateway, i.e., payment through your Debit or Credit card.

Offline mode:

Payment in cash which can be done by taking out a printout of the XAT payslip. And the fee can then be paid at any IDBI Bank branch.
Payment can also be paid through a Demand Draft. For this, candidates will have to make a Demand Draft in favour of 'XLRI Jamshedpur A/C XAT' that should be payable at Jamshedpur.

A point to note here is that American Express card transactions are not acceptable.
Important instruction for the candidates who decide to pay either through Cash or Demand Draft is that they should not forget to update the information on the official XAT website once they have completed the payment procedure.
In case a candidate fails to update this vital information, applications will be marked as incomplete and therefore, rejected.
Candidates, those who made payment through DD, they have to send the application along with DD in the given address:
The Chairperson, Admissions,
XLRI, Circuit House Area (East),
Jamshedpur – 831001
XAT 2021 Eligibility Criteria
The vital information regarding the XAT 2021 eligibility criteria is given below:
Nationality: To appear in the XAT exam a candidate must be a citizen of India or of NRI origin or from a Foreign country who has a Recognised Degree from Government of India.
Qualification: A candidate must at least have a Bachelor's Degree from a Recognised University in India or an equivalent Degree from an Institution Abroad that is HRD Ministry, Government of India Recognised and accepted as a valid institution.
Appearing Candidates: Candidates who are in their final year of the Degree course and are expecting their results latest by June 2021 can also apply.
Minimum Marks: Candidates who have a score not lower than 50% in their Bachelor's Degree exam are also eligible to write the exam. However, such candidates will have to submit their aggregate marks by June 2021.
Relaxation criteria: There is no relaxation for the candidates on the basis of caste, religion or creed.
XAT 2021 Selection Criteria
The details regarding the XAT 2021 selection criteria is given below:
XAT offers the candidates to apply for multiple programmes at once, those who apply for multiple programmes may be called for Multiple interviews and GD's depending upon the nature of the programme.
XAT online programme has many components and one has to perform really well in each section.
XAT encourages students from diverse backgrounds to apply and for the process of shortlisting the candidates for the interview, weightage is given to the academic background and the relevant work experience. Besides the performance of the personal interview XAT performance, academic background, extracurricular activities are considered for the final selection.
XAT 2021 Paper Pattern
The details regarding the XAT 2021 exam pattern is given below:
Mode of Examination: Exam will be conducted in Online mode.
Pattern: XAT 2021 will take place according to the new pattern.
Sections: The Xavier Aptitude Test will consist of two parts, namely Part 1 and Part 2.
Questions:

In part 1 candidate will have to answer any 65 questions, they can leave a maximum of 13 questions unanswered.
Part 2 of the exam consists of questions based on General Knowledge and Essay. There is no negative marking scheme for this section. It is very important to perform well in this section as poor performance in this section will slim the chances of admission call from good institutes.

Negative marking: If candidates exceed the maximum number of questions that are available for not answering then marks will be deducted i.e. 0.05 marks for every question that the candidate leaves unanswered.

For every question that the candidates incorrectly answers, then it will result in the deduction of 0.25 of the total marks.
Exam Structure: The examination consists of the following sections:
Quantitative Ability
English Language & Logical Reasoning
Decision Making
General Knowledge
Essay
XAT 2021 Syllabus
The details regarding the XAT 2021 Syllabus are given below:
XAT 2021 Syllabus
English Language and Logical Reasoning Section
Para Completion
Grammar
Vocabulary
Para Jumble
Reading Comprehensions
Logical Completion of idea
Critical Reasoning
Poem based question
–
Decision-Making
Situational Sets
Semi-Quantitative Topics
Analytical Reasoning
Analytical Reasoning
Data Arrangement Sets
–
Quantitative Ability
Arithmetic
Probability
Trigonometry
Geometry
Inequalities
Profit & Loss
Percentage
Algebra Functions
Table
Heights & Distance
Ratio & Proportion
Permutation & Combination
Mensuration – 2D, 3D
Direction Sense
Mixtures & Allegation
Linear and Quadratic Equations
Calendar & Clocks
Time, Speed & Distance
Stocks & Shares
Logarithm
Sequence & Series
Set Theory
Functions
Averages
Partnerships
–
–
General Knowledge 
Current Affairs
(Last 12 months)
History
Politics
Nation and States
Sports
International Relations
Awards and Recognition
Economics
Merger and Acquisitions
Science & Technology
Literature
Business
Committees
–
–
XAT Important Books
Candidates can refer these books tabulated below, for scoring good marks in XAT 2021.
List of Important Books for XAT 2021

| Book | Author |
| --- | --- |
| Target XAT Simplified | Disha Experts |
| Jabbing the XAT with solved papers | R.K Jha |
| XAT XLRI – MBA Entrance exam A/4 | Chandresh Agarwal |
| Koncepts of number for XAT and other quantitative exams | Gajendra Kumar |
| XAT entrance test for MBA examination | Gautam Puri |
| The hand on guide to analytical reasoning and logical reasoning: Resource for the aspirants of XAT | Peeyush Bhardwaj |
| Data Interpretation | Arun Sharma |
| Quantitative aptitude for XAT | Arun Sharma |
| The verbal ability for XAT | Ajay Singh |
| Verbal Ability and Reading Comprehension | Arun Sharma and Meenakshi Upadhyaya |
| General Knowledge | Manohar Panday |
How To Prepare For XAT 2021?
The tips to prepare for the XAT 2021 Exam are given below:
Firstly, know the complete details about the Examination such as exam pattern & syllabus.
Solve previous year's question paper which is available on the official website of XAT.
Take good books and study materials for preparing for the exam.
Make a proper timetable and try to solve each and every question in a particular time period so that you can complete your exam on time.
At last, candidates may keep their mind fresh and calm for better preparation.
XAT 2021 Admit Card
The details regarding the XAT 2021 admit card is given below:
XLRI will release XAT admit card in December 2020.
The admit card will release the admit card in online mode.
Candidates will be Bale to download the admit card from the official website.
Candidates will be able to download the admit card until January 2021.
Applicants must carry the admit card to the exam centre.
No candidate will be allowed to write the exam without the admit card.
How To Download XAT Admit Card 2021?
Visit the XAT official website.
Enter the XAT ID & Password at the Login page.
Admit card will be displayed on the screen.
Download the admit card and take multiple copies of it.
Paste your recent passport size photograph.
Do sign in the mentioned column of 'Signature'.
Key Details to check in the Admit Card
The details mentioned in the admit card are listed below:
XAT Registration number.
Your Name, Date of birth, should be same as you entered at the time of XAT application form submission.
Name & Address of allotted exam centre, time & date of XAT 2021 examination.
Important exam day instructions.
Documents required at exam centre like your photo id proof in original, affixing photo on XAT Admit card among others.
XAT 2021 Result
the details regarding the XAT 2021 result is given below:
XAT 2021 result will be available on 16 January 2021.
The result will be available in online mode.
Candidates will able to check the result from the official website.
The result contains the individual and combined percentiles.
The list of candidates shortlisted for XLRI's second round of admission will be announced soon.
After the XAT 2021 results, candidates will be called for the selection for the next round of admission process that is, Group Discussion and Personal Interview.
Furthermore, the colleges that may or may not shortlist the candidates for the next round are the same colleges that the candidates had indicated an interest in, at the time of filling up the application form.
How to Download Xaviers Aptitude Test 2021 Result?
Guidelines to download the XAT 2021 Result is given below:
Visit the official website of XAT.
Click on the link 'XAT 2021 Result'.
Enter your XAT Registration number & password and click on 'Log In'.
Download the result and keep the copies of the result for future use.
XAT 2021 Scorecard
The details regarding the XAT 2021 scorecard is given below:
XAT 2021 Scorecards will be made available to download online from January 2021.
Candidates can download their scorecards only after a few days of the result announcement by entering their Registration no. & Date of birth.
XAT Score Vs Percentile
A question that bothers many of the candidates is 'what is the relation between XAT scores & Percentile?'
For an idea, the score of 34 in XAT 2021 is enough to get a 95+ percentile.
Basically, the score is the total marks that a candidate obtains.
Whereas the percentile means the percentage of candidates scored marks.
So, in last it is the percentile which will matter.
Moreover, it depends on the difficulty level of the exam, the number of test-takers etc.
Guidelines For Uploadable Documents
Photographs:
The photograph of the Applicant must be a recent passport-sized colour picture.
The picture should be in colour, against a light-coloured, preferably white, background.
Look straight at the camera with a relaxed face.
If the picture is taken on a sunny day, have the sun behind you, or place yourself in the shade, so that you are not squinting and there are no harsh shadows.
If the aspirant has to use flash, ensure there's no "Red-Eye".
If the candidate wears glasses make sure that there are no reflections and the eyes must be clearly visible.
Caps, hats and dark glasses are not permitted. Religious headwear is allowed but it must not cover the candidate's face.
Dimensions of photograph should be 200*230px (preferred).
Size of the file should be ranging between 20Kb-50Kb.
Ensure that the size of the scanned image should not be more than 50Kb. If the size of the file is more than 50Kb, then adjust the settings of the scanner(such as the DPI Resolution, No. of colours etc.) as per the requirement.
Signature:
The Applicant has to sign on white paper with Black Ink.
The Signature must be signed only by the applicant and not by any other person.
The Signature will be used to put on the ADMIT CARD and wherever necessary.
The Applicant's signature obtained on the ADMIT CARD and attendance sheet at the time of the examination should match the uploaded signature. In case of mismatch, the candidate may be disqualified.
Dimensions of the Signature should be 140*60px (preferred).
Size of the file should be ranging between 10Kb-20Kb.
Ensure that the size of the scanned image is not more than 20Kb.
Scanning the Photograph & Signature:
Set the scanner resolution to a minimum of 200dpi (dots per inch).
Set Color to True Color mode.
File Size must be as specified above.
Crop the image in the scanner to the edge of the photograph/signature, then use the upload editor to crop the image to the final size (as specified above).
The image file should be in JPG or JPEG format. An example file name is: image01.jpg or image01.jpeg Image dimensions can be checked by listing the folder files or moving the mouse over the file image icon. Candidates using MS Windows/MS Office can easily obtain photo and signature in .jpeg format not exceeding 50Kb & 20Kb respectively by using MS Paint or MS Office Picture Manager. Scanned photograph and signature in any format can be saved in .jpg format by using 'Save As' option in the File menu and size can be reduced below 50Kb (Photograph) & 20Kb (Signature) by using crop and then resize option.

Guidelines for Uploadable file
If the file size and format are not as in prescribed format, an error message will be shown. While filling in the Online Registration form the candidate will be given a link to upload his Photograph and Signature. Method for Uploading the Photograph and Signature is as follows:
There will be two separate links for uploading Photograph and Signature.
Click on the respective link "Upload Photograph / Signature".
Browse & Select the location where the Scanned Photo/ Signature file has been stored.
Select the desired file by clicking on it.
Click on the 'Upload' button.
XAT 2021 Answer Key

The details regarding the XAT 2021 Answer keys are given below:
Candidates can check the answer keys from 11 January 2021.
Answer key of XAT 2021 will be available online in a PDF format.
It will help candidates to estimate their total scoring marks.
Candidates need to login through their XAT id and password.
Download XAT Answer key pdf here.
How to Download the XAT 2021 Answer Key
To download the XAT answer key 2021 candidates can follow the given below procedure.
Visit the official website of XAT.
Click on the 'Answer Key' link.
Enter your Login credentials like XAT ID and Password.
After entering the details click on the 'Login' button.
The answer key along with responses will be opened on the screen.
Download the answer key & take a printout of it.
XAT & XLRI Counselling 2021
The details regarding the XAT 2021 and XLRI 2021 Counselling details are given below:
The counselling procedure usually begins in the month of February 2021.
XAT selection round is done on the basis of the marks scored by the candidates and will be called for Counselling.
The process of counselling is usually done through online mode. Steps involved in the procedure are given below:
Registration For Counselling: Before appearing for XAT counselling, candidates need to register themselves. It can be done through the Official website of the selected college. Candidates are required to pay Fee online and Fee can vary according to college and courses.
Fee Payment: Candidate must pay the fee for the selected course. If failed to pay Counselling Fee Admission will be cancelled. For candidates belonging to India, the Registration Fee is Rs. 1700/- and Rs. 300/- for each additional course. Whereas, Fee for the Foreign and NRI candidates is $50 and $25 for every Additional course. Candidates need to pay the fee through Debit card/ Credit card/ Net banking or Demand Draft. DD made in favour of 'XLRI Programmes' payable at Jamshedpur.
Selection of Course: After successful Fee payment, Candidates need to select one course and lock it.
Seat Allotment: The final selection will be done on the basis of the course selected by the candidates and as well as on the basis of the merit list.
Documents Required at the time of Counselling
Following are the required documents to bring while appearing for XAT 2021 Counselling:
Counselling Letter (both Original and Xerox).
Admit card (both original and Xerox).
Academic Certificates (10, 12 and Bachelor's Degree).
XAT rank card.
Caste Certificate.
Medical documents.
4-5 Passport size photographs (coloured and black & white).
How To Register For XAT 2021 & XLRI?
The Xavier Aptitude Test 2021 & XLRI – Xavier School of Management Registration Procedure is given below.
Search for the official website of XAT and click on 'New Registration'.
Candidates should enter their credentials like Name, E-mail Id etc. After that system will generate a XAT provisional registration ID and a password which each candidate has to keep safe for future use.
The form once filled and submitted online will not be liable for any change to fill in each detail very carefully and review it once again before pressing the submit button.
Ensure your personal information like your Name, Father's name or Spouse name etc is rightly spelt as per mentioned in your mark sheets or any other identity proof you hold.
Candidature can be disqualified in case of any discrepancy.
By clicking on 'Validate your details' and 'Save & Next' button your application will be saved.
Following further instructions upload the photo & signature as per the given specifications.
Next step is to proceed further to fill other information as mentioned in the Application form.
Before final submission, please ensure that the information you provided is correct. It is strongly recommended to preview and verify the full application once again.
Press 'Final Submit' button after any alteration if required for example in the photograph or signature etc.
For Payment click on 'Payment' tab for further processing. (For online payment of application fees the candidate has to bear the bank charges or any other intimation charges).
Next step is to select the mode of payment among three modes i-e online gateway, cash payment or through DD.
Those candidates appearing for XAT may download the e-bulletin or e-brochure 2020 for further knowledge and details from www.xatonline.net.in / www.xlri.ac.in
Candidates can download the Admit Card from the official website www.xatonline.net.in from 20 December 2020.
Those candidates who are applying through GMAT can do the same by following the instructions on acad.xlri.ac.in /GMAT admission.
Examination Centres
Candidates will need to choose the city in which they would like to write the XAT 2021 exam.
In the last step, candidates need to submit digital copies of their signature and a passport size photograph. Both the signature and the photograph should be less than 1 MB in size.
List of all the exam centres for XAT 2021 is mentioned in the table hereby.
XAT 2021 Exam Centres

Ahmedabad

Cuttack

Jamshedpur

Ranchi

Dehradun

Kanpur

Rourkela

Allahabad

Delhi

Kolkata

Sambalpur

Amritsar

Goa

Lucknow

Surat

Bengaluru

Greater Noida

Mangalore

Tiruchirapalli

Berhampur

Gurgaon

Mumbai

Trivandrum

Bhopal

Guwahati

Nagpur

Udaipur

Bhubaneshwar

Hyderabad

Nasik

Vadodara

Chandigarh

Indore

Noida

Varanasi

Chennai

Jabalpur

Patna

Vijayawada

Cochin

Jaipur

Pune

Visakhapatnam

Coimbatore

Jammu

Raipur
GENERAL INSTRUCTIONS:
Candidates may apply for more than one programme.
Admission to full-time HRM/BM programme is based only on XAT scores.
NRI candidates, however, may choose GMAT.
GMP candidates may apply either through XAT or GMAT.
XAT 2021 Cut Off
Cut Off marks will be available online on the website. Students can check they're cut off marks by entering their registration no. & DOB. XAT Cut Off varies from different Programmes and Institutes. Expected percentile required for XAT 2021 is given below:
Academic Session 2021 (Expected)
| | | | |
| --- | --- | --- | --- |
| XAT Exam | BM | HR | GMP |
| VA | 75-79 | 75-76 | – |
| DM | 75-76 | 70-71 | – |
| QA | 80-88 | 65-70 | – |
| OA | 94-96 | 92-94 | 68-70 |
Academic Session 2018-19
| | | | |
| --- | --- | --- | --- |
| XAT Exam | BM (Male/Female) | HR | GMP |
| VA | 79.46/ 75 | 76.6/ 75 | – |
| DM | 76.84/ 75 | 71.628/ 70 | – |
| QA | 88.7/ 80 | 70.07/ 65 | – |
| OA | 94 | 92 | 68 |
Academic session 2017-18
| | | | |
| --- | --- | --- | --- |
| XAT Exam (%ile) | BM | HR | GMP |
| VA | 79.46 | 76.69 | 5 |
| DM | 76.84 | 71.628 | 5 |
| QA | 88.7 | 70.07 | 6 |
| OA | 96 | 92.55 | 22 |
Academic session 2016-18
| | | | |
| --- | --- | --- | --- |
| XAT Exam (%ile) | BM | HR | GMP |
| VA | 77.47 | 69.128 | – |
| DM | 78.042 | 68.978 | – |
| QA | 88.6 | 69 | – |
| OA | 96 | 94.4 | 69 |
Academic session 2015-17, 2014-16, 2013-15 
| | | | |
| --- | --- | --- | --- |
| XAT Exam(in %ile) | BM | HR | GMP |
| 2015 OA cutoff | 94.23 | 90.04 | 67.98 |
| 2014 OA cutoff | 94 | 88 | 90 |
| 2013 OA cutoff | 94 | 88 | 88 |
XAT Login
XAT Login can be used by candidates for many purposes. So, candidates can keep track of upcoming events and access the student's Dashboard.
What are the uses of XAT 2021 Login?
Various purposes of XAT Login are given below:
To fill or Complete the XAT Application Form
Download the Admit Card
To check the result
Download XAT 2021 Answer Key/ Response sheet
Download the scorecard
GD, PI Schedule
Final Result
How to Create a XAT 2021 Login?
Candidates can create the XAT Login by following the steps given below.
First of all, open the official XAT website to start the XAT 2021 Registration process.
Fill the basic information and contact details etc. in the form.
Once Registration is completed, candidates will receive the mail on the registered E-mail Id.
Keep the login credentials for future use.
PROGRAMMES OFFERED AT XLRI
FULL-TIME RESIDENTIAL PROGRAMMES
PGDM: HRM: two-year post-graduate programme in human resource management
PGDM BM – Two-year Postgraduate Programme in Business Management
PGDM GMP – 15-month General Management Programme for the executives with five or more years of experience
FPM – Four-year Fellow Programme in Management. 
PART-TIME PROGRAMMES FOR WORKING PROFESSIONALS:
BM (Part-Time) – Three-year Programme for the working executives.
Exec-FPM – Executive Fellow Programme in Management.
EDHRM – Executive Diploma in Human Resource Management spread over 16 months.
VIRTUAL INTERACTIVE LEARNING:
PGCBM – 12-month Postgraduate Certificate in Business Management
PGCHRM – 12-month Postgraduate Certificate in Human Resource Management Entrepreneurship Programme
PGP- CEM (full-time, 6-month Post Graduate Programme for Certificate in Entrepreneurship Management)
CORPORATE PROGRAMMES:
Management Development Programmes
In-Company Training Programmes
Virtual Customised In-company Programmes
Consultancy Services
Executive Coaching
Research and Innovation Cell
CERTIFICATE PROGRAMMES:
Agri-Business Management Programme
XLRI Fees
The XLRI announced their fees along with application form at the official website.
XLRI 2021 Course Fees

| | |
| --- | --- |
| Management Courses | Fees  |
| PGDM (BM)  | Rs. 10 lac per annum |
| PGDM (HRM) | Rs. 10 lac per annum |
| PGDM (GM) | Rs. 18.5 lac |
| EXE-FPM | Rs. 8.5 lac |
XLRI Orientation Programme
In June 2021, an orientation programme will be conducted at XLRI. The main objective of the Programme is to introduce new students to the culture and work ethics of the college. It will guide students as to how to identify their profile and how to explore their area of self-development. Above all this orientation programme will make their stay successful at Xavier School of Management.
Institutes Using XAT Score for Admission: XAT Participating Institutes 2021
The list of XAT Associate Institutes using XAT Score for shortlisting candidates for their admission. The list contains XAMI Members Institutes name and Institutes using XAT score.
Download the XAT Participating Institutes 2021 Here.
XLRI Address and Official Link
XLRI,
Jharkhand, India XLRI, C. H. Area (East)
The Chairperson Admission
Jamshedpur – 831001
Xavier Aptitude Test Important Information
Candidates must register their working/current email and contact number while registering for XAT exam. As information will be passed through email and SMS only.
Applicants are advised to add [email protected] and white-list the email id to get all the important emails in their inbox rather than spam folders. Also, keep watching the emails for all further updates from XAT.
XAT ID is very important identification for the candidate, as XAT ID & Email ID must be quoted while communicating with XLRI (Examination Conduction Body)
XAT 2021 Entrance Exam Highlights
XAT 2021 Entrance Exam important details are mentioned in the table below.
XAT 2021 Highlights

| | |
| --- | --- |
| Name of Examination | Xavier Aptitude Test aka XAT |
| Acronym | XAT |
| Exam Conducting Body | XLRI Jamshedpur |
| Examination Level | National Level Post-Graduate exam |
| Category | PG Entrance |
| XAT 2021 Registration Fee | Without late fee – Rs. 1700/- and with late fee – Rs. 2000/- |
| Purpose of Exam | Admissions in Management courses |
| Mode of Examination | Online |
| Duration | 3 Hours |
| Total Marks | 400 Marks |
XAT Related Resources:
FAQs
How many times XAT is conducted in a year?
XAT is conducted once in a year. The XAT exam usually happens in the first week of January.
XAT is for which institute?
XAT is accepted by all the Management institutes of India accept XLRI.
What is a good XAT score?
The minimum score which is considered to be good is 95 percentile for the XAT exam.
How to prepare for xat?
Candidate must prepare for the exam with full efforts as XAT is accepted by almost all management institutes. Candidates must go through the complete exam pattern and syllabus. Revise the previous chapters on weekly basis. Solve Previous Year papers and give Mock Tests. Make notes and follow them. Also. keep your mind calm and fresh for better preparation.
How to fill XAT form?
Candidates can fill the XAT application form in online mode through the official website.
Finally, for more updates and information related to XAT 2021, stay tuned with EntranceZone.
List of Engineering Entrance Examination 2021
xat 2021 registration, xat 2021 registration last date, xat registration last date, xat colleges