Are you a top 20 percentile scorer in CBSE, ISCE or other boards and want to apply for JEE Main? Find out how the 75 percent eligibility criteria has been scrapped now!. Good news for those seeking admission to India's premier engineering colleges via the Joint Entrance Examination (JEE) Main. The National Testing Agency (NTA) has scrapped the 75 per cent eligibility criteria for top 20 percentile scorers of each board in JEE Main, making it easier for students to apply and compete.
Admission Open 2023
Top University & Colleges Official Links, Application & Scholarship Forms.
Check Which Boards Exempted From the 75 Percent Criteria.
The NTA has exempted CBSE, ISCE, and twenty-two other state education boards from the 75 percent eligibility criteria for top 20 percentile scorers. This means that such students need only clear the JEE Main examination with a minimum score to become eligible for admission to engineering colleges around the country.
Reviewing the Eligibility Conditions for Admission to NITs, IIITs, and CFTIs participating through Central Seat Allocation Board (CSAB).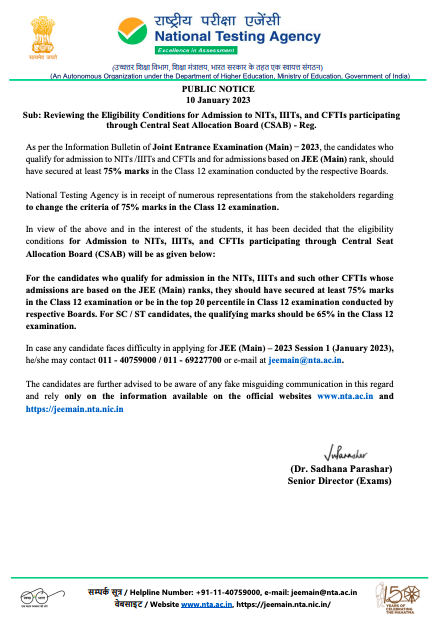 Subscribe to Get Updated Information about Eligibility Criteria for JEE Main Scrapped for Top 20 Percentile Scorers of Each Board - Admissions
​
Scoring Requirements for the Top 20 Percentile Category.
To be eligible under the Top 20 Percentile Category, students must secure a percentile score equal or higher than that of the top 20 percentile in their respective boards. This score will then be considered for admission in JEE Main-eligible institutions and universities. The percentile scores obtained by students need to be verified with the boards' official website to ensure accuracy before applying for JEE Main.
Validity of Board Marksheets for JEE Main Registration and Entrance Exam Dates to Know.
It is important to note that marksheets obtained from the respective boards may be required for JEE Main registration. Students need to make sure they have printed out and obtained a copy of the marksheet, issued by their board, before applying for JEE Main. Also, it is important to keep an eye on official JEE Main entrance exam dates which usually take place during April-May and December-January sessions.
Details of Important Documents Needed for Applying in Top 20 Percentile Category.
Students applying in the top 20 percentile category need to submit a copy of their marksheet issued by their respective board. Additionally, they will need to submit a valid photo ID, such as passport, Aadhar card or PAN card, along with the application form. All documents must be submitted online during the registration process. Furthermore, applicants also need to take into account age restrictions for JEE Main and The National Testing Agency's rules for making applications.