List of Entrance Exams Postponed Due to Corona Virus, checklist here. Several examination and admission tests have been postponed across the country as coronavirus outbreak, taking the number of corona virus-linked deaths tolls in the country to three. The total number of virus-infected people reached 142 today. Barring the ongoing board examinations conducted by both national boards i.e CBSE, ISCE and state-level education boards, the school level examinations stand cancelled in most of the states of India.
Find updated status of examinations here.
JEE Main April 2020 Exam Postponed, Application Correction Extended
JEE Mains April 2020 exam has been postponed due to COVID19 and lockdown of the nation till 03 May 2020. Exam is excepted to be to conducting in the month of June 2020. But according to official notification exam will be conducted in the last week of May 2020. JEE is CBT exam, held for admission in B.Tech / B.E, and B.Arch / B.Plan courses.
Subscribe to Get Updated Information about List of Entrance Exams Postponed Due to Corona Virus: Live Status - Admissions
​
NIMHANS Entrance Exam 2020 Postponed, New Dates Release soon
National Institute of Mental Health and Neuro Sciences has postponed UG entrance exam. Earlier the exam has to conducted on 19 April 2020. NIMHANS entrance exam is conducted at the national level for admission in PhD, super-speciality, postgraduate medical courses, post-non-medical courses, and undergraduate courses. It is held twice a year. The new exam dates will be announced soon.
JEECUP 2020 Postponed, New Dates Released
Uttar Pradesh Joint Entrance Examination 2020 for Polytechnic has been postponed. Earlier, the exam for all the groups was supposed to take place on April 26, 2020. Due to coronavirus breakdown conducting body decided to postponed the exam. JEE Council has also announced revised dates for the exam. Now, the exam will be conducted on 31 May 2020.
AP EAMCET 2020 Postponed; Online Registration Extended Until 17 April
Jawaharlal Nehru Technological University, Kakinada, has postponed AP EAMCET 2020. Andhra Pradesh Engineering, Agriculture and Medical Common Entrance Test (AP EAMCET) 2020 has to be conducted on 20 – 24 April 2020. But due to outbreak of COVID19 and lockdown of nation application form dates has been extended till 17 April 2020.
HSEE 2020 Postponed Due to COVID-19; Admit Card Releasing Soon
Humanities and Social Sciences Entrance Examination (HSEE) 2020 has been postponed due to COVID-19 and lockdown of the nation. Earlier, HSEE was supposed to take place on 19 April 2020. New exam dates for HSEE will be announced soon. This exam is one of the national level exam. Admit card will be released soon.
JKCET 2020 Postponed Until Further Notice
Jammu & Kashmir Board of Professional Entrance Examination (JAKBOPEE) has postponed the JK Common Entrance Test 2020. The exam was supposed to be held on 26 April 2020. But due to lockdown in the nation and the safety of the students, the board has decided to postpone the exam.
NERIST NEE 2020 Exam Postponed; Issuance of Admit Card Delayed
North Eastern Regional Institute of Science and Technology (NERIST) has postponed NERIST Entrance Examination (NEE) 2020. It has been postponed due to coronavirus and lockdown in India. Earlier, the exam was supposed to take place on April 18 and 19, 2020. Due to the lockdown, the institute is also not working. The new exam date will be announced after 03 May 2020.
18 March 2020: The Ministry has also notified the Central Board of Secondary Education (CBSE), National Institute of Open Schooling (NIOS) and universities to postpone their ongoing exams and reschedule them after 31 March and now countrywide lockdown until 03 May 2020.
CSIR UGC NET JUNE 2020
The NTA will conduct the next Joint CSIR-UGC NET for Junior Research Fellowship and Eligibility for Lectureship (LS)/ Assistant Professor on 21 June 2020 for following subjects:
Life Sciences
Physical Sciences
Chemical Sciences
Earth, Atmospheric, Ocean and Planetary Sciences
Mathematical Sciences
UGC NATIONAL ELIGIBILITY TEST (UGC-NET) JUNE- 2020
The NTA will conduct the next UGC-NET for Junior Research Fellowship and eligibility for Assistant Professor between 15 June – 20 June 2020.
Joint Entrance Examination (Main) April-2020 Postponed
JEE Main 2020 April examination is postponed until further notification as informed by exam conducting body i.e National Testing Agency (NTA). Whereas, The New dates of JEE (Main) examinations will be announced on the 31 March 2020 or 15 April 2020 by now.
NEET UG May 2020 Postponement Notification by National Eligibility cum Entrance Test
The National Testing Agency has postponed the upcoming NEET (UG) May 2020 examination scheduled to be held on the 3rd May 2020. Whereas NTA would keep students updated about the latest developments and would inform about changes with ample time.
Accordingly, the Admit Cards for the Examination which were to be issued on 27th March 2020 will now be issued later on after assessing the situation after 15th April 2020 only.
West Bengal 12th Board Exam Postponed
The West Bengal Council of Higher Secondary Education (WBCHSE) has postponed the Class 12th Board Exam till 31 March 2020. The board examination between 23 – 27 March 2020 will be conducted in the month of April 2020. Parents and students are advised to keep themselves updated and refer this article.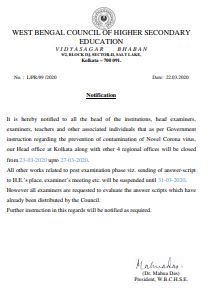 Read more: WB Class 12th Time Table
PSEB Revised Timetable for Class 10th and Class 12th
Punjab State Education Board released the revised date sheet for Class 10th Board and Class 12th Board exam. All the Board exam has been postponed because of the outbreak of the coronavirus.
According to the revised timetable of PSEB, Class 10th and 12th exam will start from 03 April 2020. Students are advised to stay updated.
Read more: Punjab 10th Timetable  
Read more: Punjab 12th Timetable  
Kerala University Exams and Boards Postponed
Chief Minister Pinarayi Vijayan currently announced that the ongoing Kerala SSLC and Plus two Board exam has been postponed till 31 March 2020 due to outbreak of coronavirus. There will be no exam for the Class 8 and 9.
Maharashtra Govt Cancels Classes 1 to 8 Final Exams, But no change in 10th Board Exam
State Education Minister of Maharashtra Varsha Gaikwad, has cancelled the exam of class 1 to 8. The students of class 1 and 8 will be directly promoted to the next class.
There is no change in the Board Exam of the Class 10th. The last exam of the Maharashtra Board SSC will be conducted on 23 March 2020.
Karnataka SSLC Exam 2020, PUC Board Exams Postponed
According to the latest notification, Govt. of Karnataka has postponed the SSLC Board Exam and PUC Board Exam which have to conducted from 27 March 2020 and 23 March 2020 respectively.
The government of Karnataka has also decide to drop or cancel the exam of Class 8th and 9th. This decision of the cancellation of the exam has been taking by the high-level meeting, chaired by Chief Minister Pinarayi Vijayan.
Telangana SSC Exams Postponed; But no change for tomorrow's Exam
The Telangana High court has postponed Telangana SSC Exam due to outbreak of COVID-19. The board exam between the 23 March 2020 to 31 March 2020 will be rescheduled after 31 March 2020. But the exam of tomorrow will be held as per schedule.
Bihar DElEd Exam 2020 Postponed due to COVID-19
The Bihar School Examination Board (BSEB) has announced to postpone Bihar DElEd Exam 2020 to a later date due to rising concerns around COVID-19 infection. Whereas the Bihar DElEd Entrance Exam was scheduled to be held on 28th March, but the same has now been postponed indefinitely, until further notice. Around 1.81 lakh candidates have registered for the Bihar Diploma Elementary Education 2020 Entrance Test.
GUJCET 2020 Exam Postponed
Gujarat Secondary Education Board (GSEB) has released a notification regarding postponed the GUJCET 2020 examination due to the rising number of cases of COVID-19. The Gujarat Common Entrance Test 2020 is a state-level entrance exam which was to be held on 31st March 2020 to screen candidates for admission to engineering and pharmacy programmes. As of now the exam has been postponed and will now be held after 15th April 2020.
AMU Admission Tests Suspended
Sixth and ninth class entrance examinations in Aligarh Muslim University have been postponed due to Coronavirus. Now, these entrance examinations will be later. Its dates will be announced later by the university.
According to 17 March notification issued by University, entrance exams for schools, which was scheduled to be conducted on 22 March and 29 March 2020, will now be conducted according to a "new schedule" to be announced later. In these school entrance examination, more than 25,000 students were to appear.
Nagpur University Exams Postponed
Rashtrasant Tukadoji Maharaj Nagpur University on 16 March 2020 postponed all its summer exams due to the novel coronavirus outbreak.
Registrar of Nagpur University told that 187 examinations which were supposed to start from 19 March have been postponed till further notice. However, This decision will affect around 90000 students.
COVID-19: IIM Indore Suspends Classes, Exams
In the wake of the coronavirus outbreak, IIM Indore has decided to suspend all the classes and exams with immediate effect. The Institute also advised all the students to vacate their hostel rooms and return to their homes. According to a statement released by the Indian Institute of Management (IIM) Indore, the classes will now be conducted in online mode until further orders.
'There have been concerns expressed about the uncertainty of the coming days as well as anxiety of the extended families of the students. We appreciate the fact that extraordinary times call for extraordinary steps to ensure that we face problems such as these calmly, together', said Professor Himanshu Rai, Director, IIM Indore.
At IIM Indore, everyone's safety and well being comes before everything else, he said.
'Reach home safely, stay safe and ensure taking care of your family members, especially the elders', he said.
Director, Programme Chairs and Deans have had meetings throughout the day yesterday, starting very early today followed by an extraordinary Academic Council Meeting called by the Director to eventually reach this decision.
A mail was circulated by the Director regarding suspension of the classes and exams.
The respective programme offices will get in touch with the students about the conduct of classes and exams; and the issue of placements and internships in the next few days, the IIM Indore statement said.
Students Till Class 8 To Be Promoted Without Exams In UP
The state government has also postponed the evaluation of answer sheets for the 2020 high school and intermediate examinations till April 2. The decision came after groups of teachers stayed away from evaluation centres due to the corona scare.
IIT Bombay Announces Closure Of Activities
An IIT Bombay official said while the total intake of students is 11,000, many of them have already left the campus for various reasons.
Exams Till Class 8 Cancelled In Goa
A circular issued by Goa Education Director Vandana Rao informed that exams for Classes 9 to 12 will be held as per schedule with schools asked to seat students one metre apart.