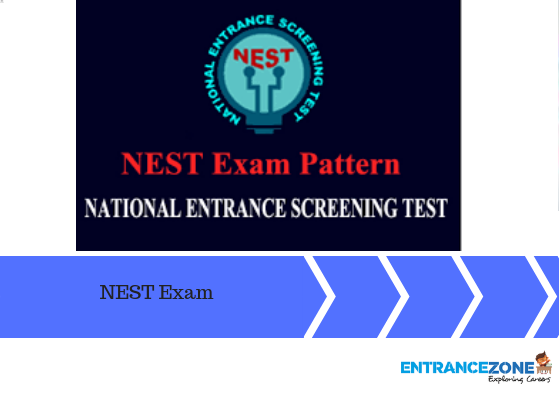 NEST 2021 is scheduled to be held on 14 June 2021. The application form can be filled until 30 April 2021. The admit card can be released on 20 May 2021. National Entrance Screening Test is conducted by NISER, Bhubaneshwar & UM-DAE CEBS (Mumbai) jointly at the national level once in a year. This entrance exam offer admission into a 5-year Integrated M.Sc course in basic sciences – Biology, Chemistry, Mathematics and Physics at National Institute of Science Education and Research (NISER), Bhubaneswar and the University of Mumbai – Department of Atomic Energy Center for Excellence in Basic Sciences (UM–DAE CEBS), Mumbai. Interested candidates can go through the following article for detailed information regarding NEST exam 2021.
NEST 2021 Status
| | |
| --- | --- |
| Exam Date | Announced |
| Application form window | Open |
Latest Updates
NEST 2021 Application window will close on 30 April 2021.
NEST 2021 will be held on 14 June 2021.
The candidates can download the admit card from 20 May 2021.
NEST 2021 Important Dates
The important dates of the NEST 2021 exam is given below.
| | |
| --- | --- |
| Events | Dates(Announced) |
| Release of Online Application Form | 24 February 2021 |
| Last date to fill the application form | 30 April 2021 |
| Release of Admit card | 20 May 2021 |
| NEST 2021 Exam | 14 June 2021 |
| Announcement of Result | 30 June 2021 |
These are the official dates announced by the officials
NEST 2021 Application Form
The detailed information regarding NEST Application form is given below.
Subscribe to Get Updated Information about NEST 2021(14 Jun): Application Form(Ongoing), Admit Card - Admissions
​
The application form has been released on 24 February 2021
The last date of filling the form is 30 April 2021.
Candidate can fill the form online mode on the official website.
The applicant has to fill the complete form because an incomplete fill form will be rejected by the conducting body.
Multiple forms of a single candidate will be rejected by the officials.
NEST 2021 Application Fee
The category wise NEST application fee is given below.
NEST 2021 Exam Fee

| Category | Fees |
| --- | --- |
| General/OBC | Rs.1200/- |
| SC/ST and PWD | Rs.600/- |
Mode of Payment: Candidate has to pay their fee through online mode by credit card, debit card or net banking.
How to fill the NEST 2021 Application Form?
The procedure for filling the application form is given below.
Step 1 – Visit the official website. i.e. www.nestexam.in Click on 'Registration'.
Step 2 – Click on 'Login'.
Step 3 – Applicants have to fill the academic and personal details.
Step 4 – Applicants have to enter the exam city preference while filling the NEST application form.
Step 5 – Also, upload the copy of the passport size photo and scanned image of the signature in .jpeg or .jpg format (size limit: 100 kb).
Step 6 – Take the copy after the submission of the application fee.
NOTE: No request for refund will be entertained by the conducting body.
NEST 2021 Eligibility Criteria
Applicants must satisfy the eligibility criteria given below to be eligible to sit in the NEST 2021 examination.
Qualifying Exam: Applicants must have passed the 12th or equivalent exam from any recognized Board in the years 2018 or 2019 or be appearing in 2020.
Subjects: Applicant should be from regular science stream with the only combination of minimum 3 subjects among Biology, Chemistry, Mathematics and Physics in classes 11th and 12th.
Minimum Marks: Applicants must secure minimum 60% marks in aggregate in class 12th exam. For applicants from SCPWD/PWD categories, the minimum required marks is relaxed to 55% in aggregate.
Age Limit:

General and OBC category applicants should born on or after 01 August 2000.
The age limit is relaxed by 5 yrs. for SC/ST/PWD applicants.
NEST 2021 Exam Pattern
The detailed information regarding NEST Exam Pattern is given below.
NEST Exam Pattern

| | |
| --- | --- |
| Exam Mode | Online(CBT) |
| Duration | 3 hours |
| Type of Questions | Objective (MCQ) type questions |
| Total Marks | 230 marks |
| Language | English only |
| Sections | 5 sections |
| Negative Marking | No negative marking |
NEST Paper Pattern

| | | |
| --- | --- | --- |
| Sections | Subjects | Max. Marks |
| Section 1 | General section | 30 |
| Section 2 | Biology | 50 |
| Section 3 | Chemistry | 50 |
| Section 4 | Mathematics | 50 |
| Section 5 | Physics | 50 |
| Total | | 230 |
NEST 2021 Admit Card
The detailed information regarding the NEST 2021 Admit card is given below.
The NEST admit will be available from 20 May 2021.
It can be downloaded from the official portal.
Applicants must bring the admit card along with school photo ID card or ID issued by Government to the examination hall.
It is advised to take a copy of admit card because aspirants need to show the admit card during admission.
NEST 2021 Syllabus
The vital information regarding NEST Syllabus is given below.
#1. Biology
Cell Biology
Ecology
Genetics and Evolution
Humans and Environment
Biotechnology
Biology of Animal Systems – Digestive system, Circulatory system, Excretory system, Nervous system, Reproductive system, Developmental Biology, Immunology
Biology of Plant Systems
Systematics
#3. Mathematics
Algebra
Logarithms and their Properties
Analytical Geometry
Trigonometry
Differential Calculus
Integral Calculus
Vectors
#4. Physics
General topics like Units and Dimensions, Dimensional Analysis, Least Count, Significant Figures etc
Mechanics
System of Particles
Gravitation
Sound and Mechanical Waves
Thermal Physics
Electricity and Magnetism
Optics
Modern Physics
#2. Chemistry
Physical Chemistry
Measurements in Chemistry
Mole Concept
Gaseous and Liquid States
Atomic Structure and Chemical Bonding
Thermodynamic – Thermodynamic States
Chemical Equilibrium
Electrochemistry
Solid State
Solutions
Solid Chemistry: Adsorption and Collidal State
Classification of Elements and Periodicity in Properties
s-block elements (Group 1 and 2)
p-block elements (Group 13, 14, 15, 16, 17 and 18)
d-block elements (Mainly 3D elements)
f-block elements (Mainly Lanthanides)
Coordination Compounds
Metals and Metallurgy
Organic Chemistry
Basic Elements
Reactive Intermediates
Nomenclature
Alkenes and Alkynes
Aromatic Compounds
Haloalkanes
Haloarenes
Alcohols
Phenols
Ethers
Aldehydes and Ketones
Carboxylic Acids
Amines
Carbohydrate
Amino Acids and Proteins
Polymers
NEST 2021 Answer Key
The NEST Answer key is sent to the registered email address of candidates. Also, the information regarding the keys is available on the official website of NEST. Candidates can use the answer key to calculate their probable score. Candidates can count the total number of correct and wrong answers using the answer key and can accordingly have an estimate of their score.
Additionally, if the candidates find any error in the answer key, they can challenge it. To do so, challenges have to be sent to the email id specified by the official authority. While submitting the challenge, the candidates must mention their roll number and the question id of the questions. Then, after reviewing the errors, a final answer key is released.
NEST 2021 Result
The detailed information regarding the NEST Result is given below.
NEST result has been declared through online mode after the completion of the written exam.
The result will be announced on 30 June 2021.
A merit list of the applicants has been made after the declaration of result and released on NEST 2021 official website.
NEST 2021 Scoring System
The exam pattern and merit list preparation are listed here.
In NEST 2021 examination, there would be a general section of 30 marks and four
subject sections of 50 marks each.
And Aspirants can attempt 'as many' from the subject sections.
Also, while preparing the merit list for admission, the score for the general section would be considered along with three best scores from the remaining subject sections. In other words, the worst score among sections 2 through 5 would be discarded during merit list calculation.
As merit list calculation will be performed on marks obtained in the general section and
in (best) three subject sections, the 'total' marks for NEST 2021 becomes 180 (30 + 50 x
3 = 180).
NEST Exam 2021 Ranking

NEST 2021 Test Centers
There are approx 91 Test Centers for NEST 2021 examination. Given below is the list of exam centres with Code:
Guntur [AP] 01

Mangaluru (Mangalore) [KA] 25

Angul [OD] 49

Tirunelveli [TN] 73

Kurnool [AP] 02

Mysuru [KA] 26

Balasore [OD] 50

Hyderabad [TS] 74

Rajahmundry [AP] 03

Alappuzha [KL] 27

Bargarh [OD] 51

Karimnagar [TS] 75

Tirupathi [AP] 04

Ernakulam [KL] 28

Baripada [OD] 52

Warangal [TS] 76

Vijayawada [AP] 05

Idukki [KL] 29

Berhampur-Ganjam [OD] 53

Agartala [TR] 77

Visakhapatnam [AP] 06

Kannur [KL] 30

Bhubaneswar [OD] 54

Allahabad [UP] 78

Vizianagaram [AP] 07

Kasaragod [KL] 31

Cuttack [OD] 55

Kanpur [UP] 79

Guwahati [AS] 08

Kollam [KL] 32

Dhenkanal [OD] 56

Lucknow [UP] 80

Patna [BR] 09

Kottayam [KL] 33

Jharsuguda [OD] 57

Noida [UP] 81

Chandigarh [CH] 10

Kozhikode [KL] 34

Khurda [OD] 58

Varanasi [UP] 82

Bhilai Nagar [CG] 11

Malappuram [KL] 35

Rayagada [OD] 59

Dehradun [UK] 83

Raipur [CG] 12

Palakkad [KL] 36

Rourkela [OD] 60

Haldwani [UK] 84

New Delhi [DL] 13

Pathanamthitta [KL] 37

Sambalpur [OD] 61

Roorkee [UK] 85

Ahmedabad [GJ] 14

Thiruvananthapuram [KL] 38

Bhatinda [PB] 62

Asansol [WB] 86

Hamirpur [HP] 15

Thrissur [KL] 39

Jalandhar [PB] 63

Burdwan [WB] 87

Shimla [HP] 16

Bhopal [MP] 40

Mohali [PB] 64

Durgapur [WB] 88

Jammu [JK] 17

Gwalior [MP] 41

Jaipur [RJ] 65

Hooghly [WB] 89

Srinagar [JK] 18

Indore [MP] 42

Jodhpur [RJ] 66

Kolkata [WB] 90

Bokaro [JH] 19

Jabalpur [MP] 43

Udaipur [RJ] 67

Siliguri [WB] 91

Dhanbad [JH] 20

Mumbai [MH] 44

Chennai [TN] 68

Jamshedpur [JH] 21

Nagpur [MH] 45

Coimbatore [TN] 69 

Ranchi [JH] 22

Pune [MH] 46

Madurai [TN] 70 

Bengaluru [KA] 23

Imphal [MN] 47

Salem [TN] 71 

Hubballi [KA] 24

Shillong [ML] 48

Tiruchirappalli [TN] 72

NEST 2021 Important Links
NEST 2021 Highlights
Aspirants can check hereunder; short details of NEST 2021:
| | |
| --- | --- |
| Name of Examination | National Entrance Screening Test (NEST). |
| Exam Conducting Body  | National Institute of Science Education and Research (NISER). |
| Institutes | National Institute of Science Education and Research (NISER), Bhubaneswar and the University of Mumbai – Department of Atomic Energy Center for Excellence in Basic Sciences (UM–DAE CEBS), Mumbai. |
| Courses | 5 years of Integrated M.Sc course. |
| Official Website | www.nestexam.in |
Direct Admission to Five Year Integrated M.Sc. Course at UM DAE CEBS
In addition to admission through NEST examination, UM-DAE CEBS will also admit students through the following routes:
A. Through Kishore Vaigyanik Protsahan Yojana – KVPY
B. Through National Science Olympiads (Supernumery)