Available Application Forms
Manipal University B.Tech admission 2018 Started – Apply Here
SRM University B.Tech admission 2018 Open – Apply Here
JEE Main 2018 Updates Available Now – Check Here
JEE Main 2018 Mock Test Available Now – Download Here
S P Jain School of Global Management GMBA Admissions 2018: The aspirants seeking admission in Global Master Of Business Administration (G MBA) have to take one of the following aptitude tests*: GMAT, GRE, CAT or (SP Jain Aptitude Test). The S P Jain School also consider candidates who have exceptional academic records/overall profiles, but may have aptitude test scores below the cut-offs, this is beacause of there policy of bringing up a classroom with students from diverse backgrounds, industries, cultures, experiences and nationalities.
S P Jain School of Global Management GMBA Admissions 2018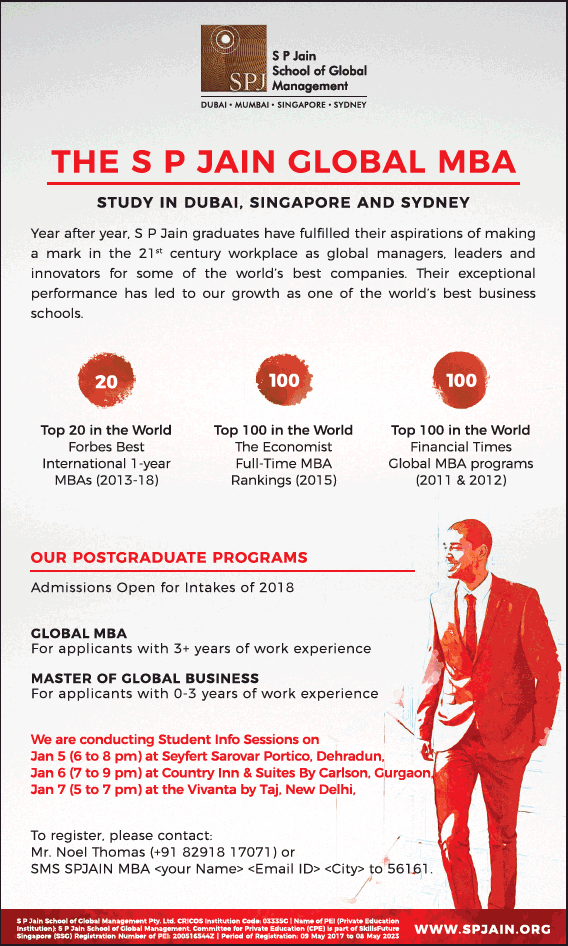 S P Jain School of Global Management Eligibility Criteria
Academic Qualification
Bachelor Degree: As GMBA is Postgraduate program, so candidates must have graduate degree or appearing in final year of graduation from recognised university.
Work Experience
The applicant must have a minimum of three plus years of full-time work experience.
Important Exam Update
Updates Regarding JEE Main 2018
Manipal University B.Tech. Application Available Apply Now
SRM University B.Tech Admission Forms Apply Now
English language proficiency
The students who did not opted English launguage in their secondary education +2, then they must have an English Language Proficiency Score (ELPS) to enrol into the GMBA.
Whereas, An applicant is not required to show an ELPS while applying for Global Master Of Business Administration at S P Jain School of Global Management. However, before the admission and course commencement, students are required to show an English Language Proficiency Score. The last date to submit the score for the May 2018 intake is 30th March 2018.
English Language Proficiency Score Exams score for SP Jain MBA
The following ELPS Exams score are acceptable. And test scores obtained in the last 2 years are valid.
| | | |
| --- | --- | --- |
| ELPS Exams | Minimum Score | Remarks |
| IELTS | 6.5 | students may opt to appear for the Academic or General IELTS test |
| TOEFL iBT | 70 | – |
| Pearson Test of English | 60 | |
Note: this is also a mandatory requirement for a student to obtain an Australian visa.
PROGRAM FEES FOR MAY 2018 INTAKE
GMBA
MAY 2018
AED
USD
A. Payable by all students
Registration Fee
18,500
5,000 $
Tuition Fees
1,05,080
28,400
B. Payable by students requiring a student visa charges
Dubai
3,520
950
Singapore
610
165
C. Payable towards hostel accommodation (Compulsory)
Hostel accommodation (Inclusive of transport to campus – Dubai only and Student Life and Activities – all campuses)
53,320
14,410
D. Books, course materials, cases and simulations
4,810
1,300
E. Medical Insurance (Compulsory)
2,780
750
TOTAL
1,88,620
50,975
SP Jain PG Information Session Schedule January 2018
The schedule for PG programs is given below.
| Dates | Day | Location | Venue | Time |
| --- | --- | --- | --- | --- |
| 05th January 2018 | Friday | Chandigarh | JW Marriott Chandigarh, Sector 35B Dakshin Marg, Chandigarh. | 7:00 PM to 9:00 PM |
| 05th January 2018 | Friday | Dehradun | Seyfert Sarovar Portico, Dehradun, Haridwar Bypass Road, Near ISBT, Dehradun. | 6:00 PM to 8:00 PM |
| 06th January 2018 | Saturday | Chennai | Taj Club House, No. 2, Club House Road, Chennai. | 6:00 PM to 8:00 PM |
| 06th January 2018 | Saturday | Gurgaon | Country Inn & Suites By Carlson- Sector 29, Gurgaon. | 7:00 PM to 9:00 PM |
| 07th January 2018 | Sunday | Bangalore | The Gateway Hotel Residency Road Bangalore, 66 Residency Road, Bangalore. | 6:00 PM to 8:00 PM |
| 07th January 2018 | Sunday | Hyderabad | Taj Banjara Road No. 1, Banjara Hills, Hyderabad. | 11:00 AM to 1:00 PM |
| 07th January 2018 | Sunday | Delhi | Vivanta by Taj – Ambassador, Sujan Singh Park, Subramania Bharti Marg, New Delhi. | 5:00 PM to 7:00 PM |
| 12th January 2018 | Friday | Agra | The Grand Imperial M.G Road, Agra, U.P. | 6:00 PM to 8:00 PM |
| 12th January 2018 | Friday | Lucknow | Sarovar Portico 6, Shahnajaf Road, Hazratganj, Lucknow. | 7:00 PM to 9:00 PM |
| 13th January 2018 | Saturday | Bhopal | Courtyard by Marriott Bhopal DB City, Arera Hills Bhopal. | 6:00 PM to 8:00 PM |
| 13th January 2018 | Saturday | Vashi | The Regenza By Tunga Plot no. 37, Sector 30-A, Vashi, Navi Mumbai. | 7:00 PM to 9:00 PM |
| 13th January 2018 | Saturday | Thane | Hotel Satkar Residency, Pokhran Rd No 01, Next to Cadbury, Opp. Singhania High School, Thane. | 7:00 PM to 9:00 PM |
| 14th January 2018 | Sunday | Indore | Sayaji Hotels Ltd. H/1, Scheme No.54, Vijay Nagar, Indore. | 11:00 AM to 1:00 PM |
| 14th January 2018 | Sunday | Churchgate | InterContinental Marine Drive, 135, Marine Drive, Mumbai. | 5:00 PM to 7:00 PM |
| 14th January 2018 | Sunday | Andheri | The Club Mumbai Khanna Hotels Pvt. Ltd 197 D.N Nagar, Andheri. | 11:00 AM to 1:00 PM |
Available Application Forms
Manipal University B.Tech admission 2018 Started – Apply Here
SRM University B.Tech admission 2018 Open – Apply Here