The 10 Ultimate tips Crack IIT JEE 2021 are here will help students in strategic planning and preparation of IIT JEE 2021: The exam dates are announced for JEE Main & Advanced. And successful candidates will get 40 days to prepare for the Advanced exam. According to new changes JEE Main will be conducted twice in a year and NTA will conduct the Joint Entrance Examination (Main) insist on CBSE. This article also answers how to prepare for NTA JEE Mains and Advance.
Latest Update: The Application Form for JEE Main 2021 February Session is released.
10 Ultimate tips Crack IIT JEE 2021
The following tips are considered as best tips for jee mains preparation.
Commitment and Motivation: First and foremost requirement for achieving your target is commitment and devotion. You should ask yourself "how much commitment you are going to deliver and how you going to act in this regard".You may have lots of thoughts, fear, and insecurity running through your mind at this point in time. So you need to gather a positive attitude and motivation to excel in the path of success.

Subscribe to Get Updated Information about 10 Ultimate tips Crack IIT JEE 2021 Mains & Advance

​
Proper planning and a clear strategy is a must for students who aspire to get through the IIT JEE. You should chart a timetable for study. You should map a plan to give equal time for all the subjects. Set up the challenges for the whole day in the morning and try to achieve it by the end of the day. Try to do your best and put 100% effort in preparation.
Choosing the Right Coach: In addition to motivation and well-planned preparation, choice of the right mentor is equally important. One must focus on having the basics clear right from the beginning then go for problem-solving. For this, you need guidance from an expert with adequate knowledge and professional mentoring experience in preparing students for IIT JEE. For a constructive study plan, you should take help from the premier coaching institute in the form of study materials and attend mock test series. These resources are available online and offline.

Time management: Students should manage the preparation time effectively. You must use a timetable in order to divide the time for each subject. All the subjects must get equal time. Problem-solving will be at the end. If you study or solve the problems of a single subject such as Maths in a day this will cause burnout and boredom thus give equal time for Maths Physics and Chemistry.
Focus on the Aim: You must focus on your aim without being distracted by any means. You need to accept the fact failure is a part of learning the process and one must learn from their mistakes. This attitude is very helpful in a student's growth and development. Do not let the fear of failure hinder your path instead use it as a stepping stone to fulfil your desire.
Emotional Wellness: You may face certain up and down during the preparation phase and sometimes you will have low confidence due to the pressure of performing well and due to comparison with your peer group. At such times you need to be calm and composed and go on with the study keeping eyes on your goal. Share your feelings with your parents and family and seek their support. The optimistic approach will help you through the tough times.
Balanced lifestyle: Falling ill on the D-Day will be the worst nightmare for an aspiring student. So you must take care of your health as well. To do so you should eat nutritious food and do some or other form of exercise. It will help you in focusing better and better memory retention. The duration of exercise must be short maybe 30-45 mins a day, as it will exhausting your energy. Please stay away from junk food during this time.
Revision Plan: Should also have a proper revision time slot in your timetable. It is as important as studying. Revising the concepts will help in building a strong foundation for the exam and retaining the topics studied in past. Revise the previous topics daily and solve a few problems related to them. It will be beneficial for clearing the doubts also if any.
Self Feedback: The Feedback for the recently studied topic is really helpful in finding the problem area. You can solve a few problems from each topic and then check them yourself. This will help you in finding your mistakes and you can work on a particular problem with the help of your mentor.
Like-Minded Companion: As they say company matters, so it's essential in order to crack the IIT JEE to have a motivated peer group. You will be more optimistic and charged to secure top rank(ALL India Rank) if your friend circle is as committed as you are to clear JEE MAIN 2021 Peer group plays a pivotal role as it keeps you updated and informed about latest concepts and problem-solving tips and tricks.
How To Score 250+ Marks in JEE MAIN 2021 | Best Tips For JEE Mains 2021 Infographic: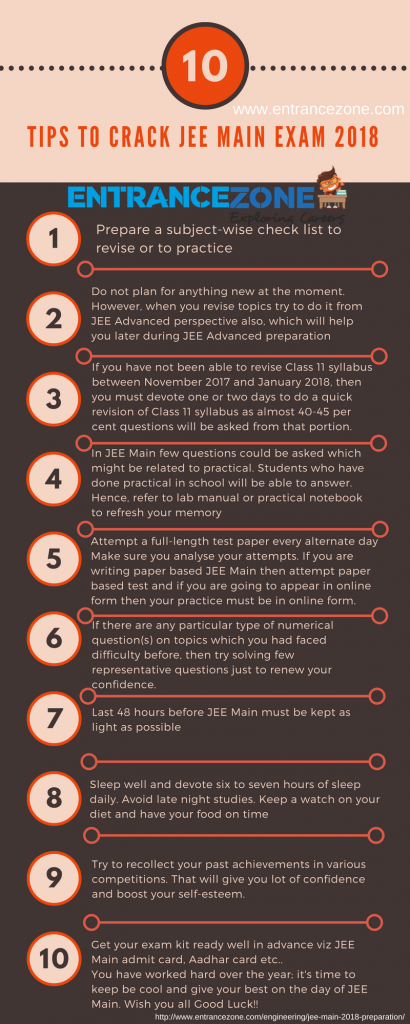 The official website of NTA JEE Main 2021 is www.nta.ac.in.
"Stay informed about EntranceZone Latest updates and feature articles regarding 10 Ultimate tips Crack IIT JEE 2021"