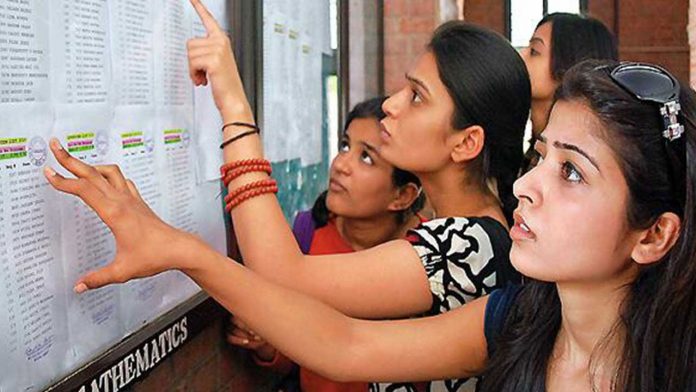 Delhi University Final Cut-off 2016, The 8th cut-off list for admissions into various undergraduate programmes offered by the Delhi University, for the academic session 2016-17, has been issued by different colleges of DU on Monday, 28th August 2016.
Delhi University (DU) has declared the 8th and last rank list on DU's official website. Students can check the cutoff list by visiting DU's official site  i.e., www.du.ac.in
Prior, the seventh cut-off for the new academic session was issued on August 24, 016.
Points of interest in the 8th cut-off:
Subscribe to Get Updated Information about Delhi University Final Cut-off 2016-17 The 8th cut-off list for DU entrance
​
Most of the general category seats have been filled for the upcoming academic session 2016-17
Nonetheless, Other students still have the opportunity to take admission through different category quotas.
BA Hons (English): Daulat Ram College is putting forth admission at 92 percent, Kalindi College at 86 percent.
BA (Hons) Political Science: It is accessible at Shivaji College at 87 percent, 86 percent at Dyal Singh College.
BA (Hons) History: Seats are still on offer at IP College at 92.50 percent
B.Com (Hons): Admissions are accessible at Kalindi College at 92.75 percent and Daulat Ram College at 95 percent or higher.
Prior, the college had chosen to issue just five cut-off lists but still there were empty seats available thus DU authorities changed its decision.
In contrast with the fourth cut-off list, the cut-off marks declined in the scope of 0.25 to 5.0 rate focuses on the last rank list with admission opportunity in B.Sc (Hons) Maths available for general category students at Ramjas, Hindu, Kirori Mal, and Hansraj colleges in the cut-off range 94.5-96 percent.
Delhi university Admission procedure:
Admission procedure for the 8th cut-off  list will be completed by August 30
In the meantime, the candidates who are now enrolled need to apply again for empty seats,  after which, a college will generate a merit list of the qualified students.
Also, this year regardless of low interest showed by the students, a few applicants showed up to take admission in the remaining courses.
Details regarding the minimum cut-off percentage marks(8th list) at which admissions to different courses have been offered by different colleges can be accessed using the following links for Arts&Commerce and Science subjects respectively.
Official Website: