New Changes: JEE Main is now conducted by National Testing Agency Insist of CBSE. The candidate who wants to get admission into prestigious engineering colleges in India needs to be aware of Changes JEE Main 2021 & JEE Advanced 2021. IIT JEE Main and IIT JEE Advanced are two of the most illustrious entrance exams in India. Admission to the prestigious colleges such as IIT's, NIT's, IIIT's, etc. is through these two examinations. The Main exam will be conducted twice in a year, first in January and second in April 2021, whereas JEE Advanced 2021 will take place on 17 May 2021. Also, around 13 Lakhs aspirants appear for the JEE Main Entrance Exam and out of these only 2.24 Lakhs Students will qualify for JEE Advanced. Therefore, candidates can see the Changes in JEE Main 2021 and JEE Advanced 2021 in the article below.
Latest Update: JEE Main 2021 Application Form for February Session is released.
The New changes according to National Testing Agency has been updated.
A decision has been taken at the level of the IIT Council to, inter alia, improve the gender balance in the undergraduate programs at the IITs from the current (approximately) 8% to 14% in 2021-21 by creating supernumerary seats specifically for female candidates, without any reduction in the number of seats that was made available to non-female candidates in the previous academic year (i.e the academic year 2019-2021).
JEE Advanced
Subscribe to Get Updated Information about Changes in JEE Main 2020 and JEE Advanced 2021
​
Changes JEE Main 2021 & JEE Advanced 2021
The changes in JEE Main 2021 & JEE Advanced 2021 are given below. Please read these changes for admission into the prestigious colleges in India.
JEE Main 2021
The changes in JEE Main exam is given below:
General changes:
Aadhar is not mandatory to document for JEE Main Exam registration.
Candidates with diabetes can take a water bottle, fruits and sugar tablets inside the exam centre.
NTA has set up more than 3400 Practice centres in the country for the preparation of the exam.
Eligibility criteria:
Age Limit: There is no age limit to appear in the examination.
No weightage of Class 12th Marks. 
No weightage to the performance of the candidate in the (10+2) or equivalent qualifying examinations.
Candidates will have to score 75% marks in the qualifying examination or be in the top 20 percentile in their board in order to be eligible for appearing in JEE Main 2021.
Earlier, there was 40% weightage of marks scored in boards and 60% weightage of performance in Joint Entrance Examination (Main).
For reserved category
Candidates who belong to SC/ Category will have to score a minimum aggregate of 65% in boards or be in the top 20 percentile.
Exam pattern:
The NTA is conducting different exams for the B.Plan and B.Arch courses rather than a single exam.
The number of question in the exam paper has been decreased to 25 questions (per subject) on comparison to last year (30 questions).
Also, besides the MCQs in the paper, there will also be questions whose answers are to be filled as numerical values.
Application Fee:
The application fee has been increased as compared to last year.
Fee can be paid through online mode.
Following are the changes in Joint Entrance Examination Advanced:
General changes:
The JEE Exam will be held in five countries and the USA is added in the list.
The conducting body is changed every year by the authority.
Paper timings:
Paper 1 will be conducted from 9 AM to 12 PM.
Also, Paper 2 will be conducted from 2:30 PM to 5:30 PM.
Application fee:
The application fee for the Indian candidates has been increased and have been decreased for the foreign candidates.
Qualification Criteria
A total of 2.24 Lakhs Aspirants will qualify for writing JEE Advanced. Last year, 2 Lakhs students qualified for writing JEE Advanced (2021).
Type of questions: As per the new format type of questions will be more descriptive.
Category-wise distribution of the above mentioned 2.2 Lakhs students is given below.
| | | |
| --- | --- | --- |
| Category | Candidates | Division |
| General | 1,11,100 | 107,767 |
| General – PwD | | 3,333 |
| OBC-NCL | 59,400 | 57,618 |
| OBC-NCL-PwD | | 1,782 |
| SC | 33,000 | 32,010 |
| SC-PwD | | 990 |
| ST | 16,500 | 16,005 |
| ST-PwD | | 495 |
Last year cutoffs for the same were:
| | |
| --- | --- |
| Category | Score (Out of 360) |
| General | 100 |
| OBC | 70 |
| SC | 52 |
| ST | 48 |
Jee Main Information Brochure 2021
Note: Candidates can see the other details regarding JEE Main 2021 and JEE Advanced 2021 on our website EntranceZone. Check your JEE Main Rank Prediction Here.
JEE Main 2021 New Rule
Aadhar is not compulsory for registration in JEE Main & Advanced 2021.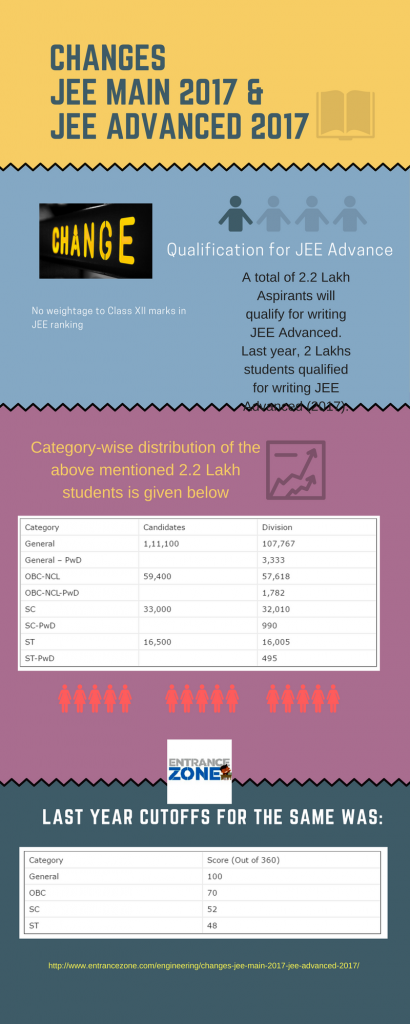 Important Information regarding IIT JEE changes
The important changes in IIT JEE are mentioned below:
Conducting body for JEE Main: National Testing Agency.
Conducting body for JEE Advanced: IIT Roorkee.
Resource: Information brochure.
Test Mode: Computer-based Exam.
Level of exam: National level.
Admission Board: Joint Admission Board (JAB), JoSAA, CSAB.
Short form: JEE adv, JEE Main
Official website: www.nta.nic.in
jee main 2021 application form, jee main 2021 exam date, jee main april 2021, jee main 2021 registration, jee main january 2021 syllabus, jee main january 2021 paper 1 syllabus, nta jee main jee main 2021 registration form