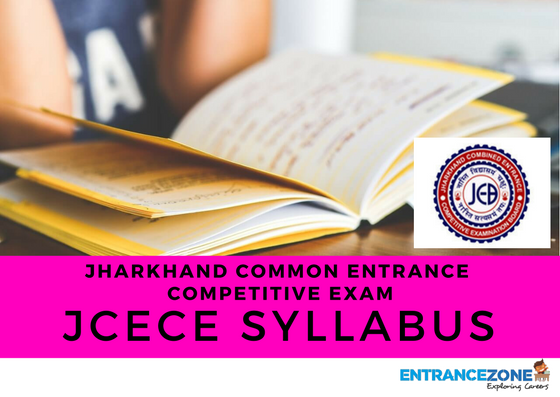 JCECE 2020 Syllabus contains all the information related to the topics which appear in the entrance examination. It covers almost all the topics of class XI and XII. The subjects included are Physics, Chemistry, Mathematics and Biology/ Biotechnology. It is important for the candidates to get an idea about the syllabus of the examination as it boosts the preparation.
JCECE 2020 Syllabus
The questions will be based on three subject groups as mentioned above namely PCM (150 questions), PCB (150 questions) and PCMB (200 questions).
PHYSICS: Topics asked in the exam include kinematics, laws of motion, work, energy and power, physical world and measurement, gravitation, current electricity, properties of bulk matter, optics, electromagnetic waves, dual nature of matter and radiation, atoms and nuclei, electronic devices, thermodynamics.
CHEMISTRY: Topics asked in the exam include solid state, electrochemistry, basic concepts of chemistry, solution, chemical kinetics, structure of atoms, states of matter, equilibrium, surface chemistry, hydrogen, redox reactions, P-block elements, D and F-block elements, alcohols, phenols and ethers, biomolecules, halo-alkanes and halo-arenes.
Subscribe to Get Updated Information about JCECE 2020 Syllabus: Download Complete Syllabus PDF
​
MATHEMATICS: Topics asked in the exam include limits and derivatives, complex numbers and quadratic equations, straight lines, binomial theorem, mathematical reasoning, statistics, relations and functions, matrices, determinants, application of derivatives, integrals, 3D geometry, probability.
BIOLOGY: Topics asked in the exam include human physiology, plant physiology, cell, ecology and environment, genetics and evolution, sexual reproduction, diversity in living world, biotechnology and its applications.
Jharkhand Engineering Entrance Competetive Examination 2020
According to the syllabus, the respective sample papers of previous years must be solved to get an idea about the type of questions asked in the examination. The tougher topics must be dealt with first and practiced thoroughly.
All the other information related to the upcoming updates of JCECE 2020 will be uploaded on the website as well.
How to download the Syllabus PDF Of JCECE 2020
Here, Candidate can easily find the Procedure to download the Syllabus for JCECE 2020
Initially, the candidate has to visit the official site of JCECE 2020
Check the website properly and go into the section of Entrance examination, admission etc and scroll for the syllabus.
After that click on the syllabus PDF if they have and the file will automatically download on your device.
Follow this procedure for website having syllabus PDF, else stay updated With entrancezone.com
So keep following EntranceZone to keep yourself updated about JCECE 2020 Syllabus. And check the JCECE official website regularly.
jharkhand combined syllabus 2020, jcece 2020 exam date,jcece Polytechnic 2020, jeece 2020, jcece syllabus 2020 pdf.