JEE Main 2019 Application Form will be released on 01 September 2018. Admission Notification along with information brochure will now be published by NTA on JEE Main website.  Also, now it has been mandatory for all the aspirants to have a valid Aadhaar card. Candidates whose Aadhaar details match the UIDAI database can fill the application form for JEE 2019. Download the JEE Main Information Booklet here. (PDF link is given below). The last date to fill the online application form will be in January 2018 and last day to pay the fees will be 02 January 2019.
There are high chances of that NTA will conduct JEE Main twice in the year and first JEE Main exam in December 2018 and again in May / June 2019.
Candidates must go through the instructions carefully before they start to fill up the JEE Main 2019 application form. Accordingly, it's better to read the information bulletin for JEE Main before proceeding with application form filling. Further, candidates must ensure that they meet all the eligibility requirements before filling the application form. Also, applicants need to submit their Aadhaar Number, Name, DOB and Gender for registration. Hence, the candidates are advised to check this website and newspaper regularly to know the appointed dates for the corrections or making modifications in the application form for JEE Main 2018. Go through the article to get a complete idea regarding the important dates for filling up the JEE Main 2019 Application Form.
New Changes: The JEE Main Registration window has changed, UIDAI Aadhar card and state code of eligibility is compulsory to complete the application process. 75% in the qualifying examination is not required to fill the application form.
JEE Main 2019 Application Form
Following are steps to fill the online application form for Joint Entrance Examination (Main). the application process is very simple for jee main application form.
JEE Main Application form Official Link – Apply Now
First of all, candidates need to register online and follow the registration process.
Also, Candidates need the Aadhaar Card Number for JEE Main Registration. However, the applicants who don't have Aadhaar Number and have enrolled for the same can provide the  Aadhaar acknowledgement Number.
Moreover, the candidates can get the adhaar registration number from authorized facilitation centres if they are unable to access Adhaar enrollment facility.
Also, the above-mentioned provision is applicable to all the candidates except Candidates from J&K, Meghalaya, and Assam.
Further, candidates from J&K, Meghalaya, and Assam may enter their Bank account number, passport number, ration card no. or any other valid Govt ID proof if they opted for exam city in these states only.
However, PIO and OCI candidates can provide their Passport Number.
Thumb impression need not be uploaded.
Moreover, SBI Buddy Wallet and PayTM can be used to pay the application fee.
Also, e-challan of only HDFC/Syndicate/Canara/ICICI bank can be used to pay the fee offline.
JEE Main 2019 Important Dates:
Exam dates regarding JEE MAIN 2019 are as follows:
| | |
| --- | --- |
| Events | Dates |
| Application release | 01 September 2018 |
| Last date of submission | 1st week of January 2019 |
| Application Correction | 2nd & 4th week of January 2019 |
| Admit card release | 2nd week of March 2019 |
| Exam date (online & offline) | 2nd & 3rd week of April 2019 |
| Result declaration | April 2019 |
| Counseling | 3rd week of June 2019 |
Important Checkpoints for Application form of JEE Main 2019
The Application Form main points are given below. candidates should follow these points and fill the form carefully.
Firstly, Aadhaar is a compulsory requirement for filling the JEE Main 2018 Application Form.
Then, the candidates should read the JEE Main information bulletin properly. And, eligibility criteria should be checked prior to filing the online application for JEE Main 2018.
Further, Only one application form from a candidate is acceptable. If any candidate tries to do otherwise, his or her application will be immediately cancelled.
Also, the details required to be filled in JEE Main 2019 application form must be checked properly before submission. No editing can be possible after the payment of application fee.
However, some important particulars can be corrected during a specified time period allotted by the exam authorities. But candidates should keep in mind that this provision is not applicable for all the details entered.
Candidate should exercise utmost precaution while filling the JEE Main 2018 Application Form.
In the case of any difficulty, the candidates can contact the facilitation centres authorized by the board. Finally, the list of facilitation centre is available online as well as in the information bulletin. And, the assistance is free for all the candidates.
What is the required procedure to fill the JEE Main Application Form 2019 and How to fill the JEE Main Online Application Form?
The Essential Requirements Before Online Registration are given below.  
First of all, JEE Main candidates need to register online. The candidates need to have the following details ready for the registration process:
Valid Email Id.
Candidate's Mobile Number.
Recent B/W Passport Size Photograph.
Scanned Signature.
The photograph must have candidate's name and date on it.
Also, Candidates should keep the details of qualifying exam (XIIth) handy.
Also, applicants should be ready with the debit/credit card details or e-challan details.
While registering, candidates should choose a password according to the specified rules.
And, the password must contain the 8-13 character, at least one upper and lower case, the numeric value and special character must be there.
Finally, Choose the Security question as per your convenience which can be remembered easily.
Guideline for  Scanned Photograph and Signature Upload for JEE Main Online Application Form
Applicants need to follow the guidelines regarding the particulars of the scanned photograph and signature. Go to the table for the format and exact size, dimensions required at the time of online application: 
| | | | |
| --- | --- | --- | --- |
| Particulars Name | Format | File-Size(in KB) | Dimension (in cm) |
| Photograph of Candidate | JPEG | 4KB-100KB | 3.5cm x 4.5cm |
| Signature of Candidate | JPEG  | 1KB-30KB | 3.5cm x 1.5cm |
Candidates should check for the given specifications for Photograph and signature so that they can easily fill the details without any errors. It will save the time as well.
How to Fill the JEE Main Application Form Online?
Following are the Application filling Procedure for Examination. And, Candidates need to enter the following details in the JEE 2018 Main Application Form:
Qualifying Examination Details
State from where candidate appeared in the Qualifying Exam.

YOP(Year of passing) XIIth class/Qualifying Examination

Qualifying Examination Board Name

XIIth Board Roll Number
Note: The candidates who have appeared in XIIth boards in 2018 need not enter their roll number at the time of registration. It is required at the time of Admit card download.
Personal Details
Name of the Candidate
Father's Name
Mother's Name
The State of Eligibility
DOB
Gender
If Candidate is a female state if you are the only child of your parent
Category
Person with Disability
If PwD, Mention percentage of Disability
Scribe/reader required?
Nationality
Residence(Rural/Urban)
Address for Correspondance
Pincode
Aadhaar Card Details(if Available)
Academic Details
Year of Passing Xth Standard.
XIIth Schooling done from(village/town/city).
Year of Passing/Appearing in Qualifying Examination.
Board Name of Qualifying Examination.
Roll Number of 12th Class Qualifying Exam.
Name of Qualifying Examination.
Institution Type(Govt/Private).
Percentage of Marks in XIIth.
If appearing for improvement then provide XIIth class Roll Number(Passed Exam).
Mode of Preparation(Self-Study/Tuition/Coaching/Others).
Name of School/College from where the candidate has passed or appearing for the Qualifying Exam.
Contact Details
Valid Email Id
Mobile Number
Landline Number or any other alternate contact number
Guardian Details
Father's Qualification
Mother's Qualification
Declaration by the Candidate
All the candidates need to declare that they have provided correct details. Also, they have read all the terms and conditions for JEE Main and Advanced and will follow the rules without fail.
Uploading Photograph and Signature
The candidates should upload the scanned B/W photograph, signature as per required format and have the exact size and dimensions.
Acknowledgement Slip and Application Number 
Finally, Candidates will get an Acknowledgement Page and Application Number after successful submission of all the details. And, the applicants must keep the acknowledgement slip properly for future reference. However, it should NOT be sent to JEE main authorities by post.
Application form correction
The organising authority will open the website for limited correction once before releasing the admit card. candidates are advised to fill the form carefully. The application form correction may give limited access to form sections like uploading pictures, choice of papers, correction in the address.
JEE Main 2019 Application Form Fee

After filling the details in the  JEE Main 2019 online application form, the candidates have to pay the required application fee.
The fee for JEE Main 2019 Application Form can be paid in the following ways:
Online mode using credit or Debit card or E-wallet (SBI Buddy or Paytm)
Offline Mode through e-challan generated while applying online.
And, Candidates can pay the fee in cash at Syndicate/ICICI/HDFC/Canara bank branches using the E-Challan.
Moreover, the CBSE the exam authority will not accept the application fee in form of Demand draft/ Money Order.
And, the candidates should note that the application fee is non-refundable. Once paid it cannot be refunded under any circumstances.
How to check the status of Application Fee?
Candidates can check the status of the fees paid at the JEE official website managed by CBSE – http://jeemain.nic.in/webinfo/Public/Home.aspx.
Then, upon successful fee transaction, an Acknowledgement Page will be generated. Also, the Applicants need to take a printout of the same.
Further, If the applicant has done the fee payment using credit/debit card and the status is not OK.
But, in such case, the transaction failed and applicants need to make the payment again.
Also, In case, of payment using E-challan, if the confirmation page is not generated then the candidate must ask the bank official to update the FEE status on the website.
JEE Main 2019 Examination Fee:
The official application fees are updated on the jeemain website.
Paper(s)

 

               Offline exam

                           Online exam

  

 Center opted in India

 

General/OBC
SC/ST/PWD
General/OBC
SC/ST/PWD

Either JEE Main Paper 1 or Paper 2

1000 (Boys) 500 (Girls)

500(Boys) 500(Girls)

500(Boys) 250(Girls)

250 (Boys) 250 (Girls)

Both JEE Main Paper 1 and 2

1800 (Boys) 900 (Girls)

900 (Boys) 900 (Girls)

1300 (Boys) 650 (Girls)

650 (Boys) 650 (Girls)

Center opted in Foreign Country

 

Either JEE Main Paper 1 or 2

2500(Boys) 1250(Girls)

1250(Boys)  1250(Girls)

2500(Boys) 1250(Girls)

1250(Boys) 1250(Girls)

Both JEE Main Paper     

3800 (Boys) 1900 (Girls)

1900(Boys) 1900(Girls)    

3800(Boys) 1900 (Girls)

1900(Boys) 1900(Girls)
Note: Candidates paying through Credit/Debit card will need to pay the additional processing charge. Credit Card:- 1.20% of the exam fee+ service tax. Debit Card:- 0.75% + taxes for exam fee up to Rs.2000 and 1% + taxes for exam fee  for more than Rs.2000. SBI Buddy Wallet: – Rs.20/- per transaction+service tax. Paytm:- 1.50% of the exam fee+service tax.
JEE Main Fees Calculation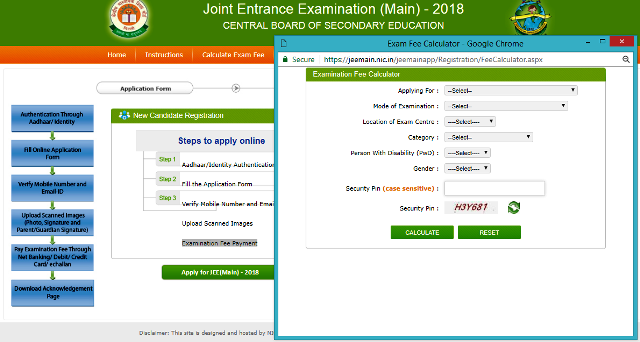 Important Information Regarding JEE Main Form
The jee main form date is released by CBSE & JAB, Furthermore, exam dates are announced on JEE Mains website i.e. offline exam on 08 April 2018 and online on 15-16 April 2018.
| | |
| --- | --- |
| Paper Choice | Courses |
| jee main paper 1 (Online & Offline) | Engineering/B.tech. |
| jee main paper 2 (offline only) | B.arch. (Architecture) & B. Planning |
jee mains dd amount is 1000 rupees and jee mains dd payable at anywhere is not acceptable and details are given above. Payment is accepted through online and challans only.
Download JEE Main Application Format pdf Here. Keep Watching this page for Jee Main 2019 updates and latest information.
National Testing Agency
The National Testing Agency (NTA) is a self-sustained organisation which conducts exams for higher studies. NTA  will be conducting various which were conducted by CBSE including JEE MAIN, NEET, UGC NET, CTET, JNV so that CBSE can be relieved from the burden and can concentrate on Boards.  JEE MAIN 2019 will now be conducted under the guidance of NTA.