JoSAA 2019 or the Joint Seat Allocation Authority is responsible for Joint Seat Allocation process for admissions to 22 IITs, 31 NITs, 20 IIITs, ISM and 18 other Government Funded Technical Colleges. this is organized by the MHRD. Based on the current rules, JoSAA has various representatives from the Joint Admission Board (JAB) and the Central Seat Allocation Board (CSAB). To know more about the JoSAA 2019, Candidates can read the article on Revision in JoSAA 2019 by MHRD below.
Latest News: JEE Main Online Application Form 2021 for February session is released.
QWill there be any changes in the JoSSA counselling process?
Answer: No, there is no change in JoSSA counselling process.
Subscribe to Get Updated Information about Revision in JoSAA 2021 by MHRD for JEE Main and JEE Advanced
​
Revision in JoSAA 2019 by MHRD
JoSAA mainly focuses on providing a single convenient online platform for all the selected candidates to apply in the Participating Institutes. Admissions to all the major Government owned technical colleges take place through JoSAA.
Candidates who successfully qualify in JEE Main 2020 will be eligible to apply for seat allocation in the NIT+ System. They cannot apply for IITs & ISM.
Aspirants who have qualified JEE Advanced 2019 will be eligible to register in all the Participating Institutes.
Institute will offer 6 rounds of Seat Allocation for Academic Courses (tentatively) offered.
There will be separate seat allocation round for the North Eastern States. These states include Arunachal Pradesh, Meghalaya, Assam, Manipur, Mizoram, Nagaland, Tripura, and Sikkim. This also includes the Union Territories after the first six common rounds of seat allocation process.)
The choice filling option will start in the 4th week of June and will go on until the 3rd week of July.
JEE MAIN Counselling Process
Students will have to follow the steps given below in order to register through JoSAA 2019.
Register Online on the official website
Course Choice Selection.
Seat Allotment.
Payment of Fees.
Reporting at the specified centre.
Freeze, Float and Slide
Candidates who get a seat can take one of the following steps:
Freeze: Candidate is satisfied with the allotted seat and does not want to be considered in the next round of counselling. In this case, the allotted seat will be final.
Float: In this case, Candidate will be floated to a higher preference course in the case of a vacancy in the subsequent round. Also, candidates can move to any institute based on their preference list if they choose to float.
Slide: In this case, after getting a seat, if a vacancy is available in the same institute in a higher preference course in the subsequent rounds, the candidate can slide up. Else, the allocated seat will be final.
JEE Main 2019 Changes in JoSAA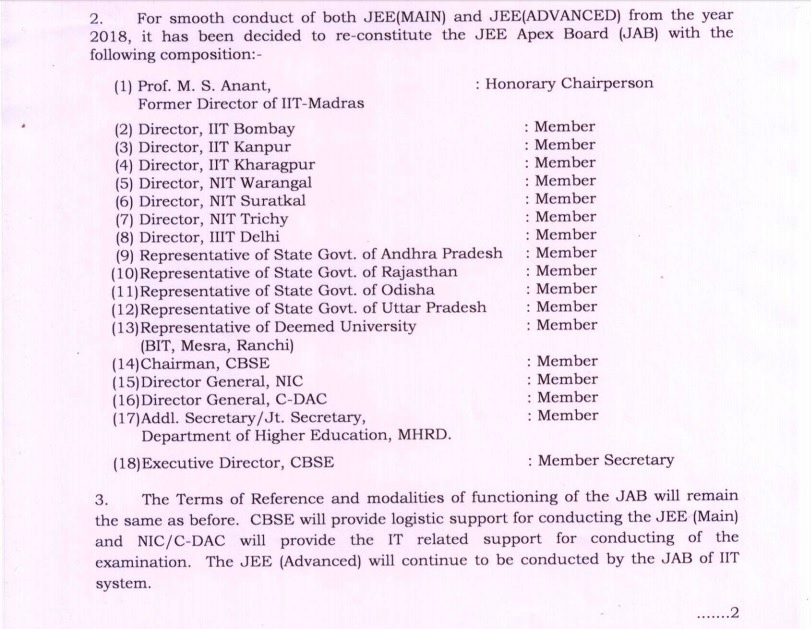 The official website of JEE Main 2019 is http://jeemain.nic.in/webinfo/Public/Home.aspx
More details about JEE Main 2019 and JEE Advanced 2019.
CSAB: Central Seat Allocation Board (CSAB)
Closing and opening rank with seat allotment statistics
The josaa official website released last year (2018) Closing and opening rank with seat allotment statistics.
Check Here: https://josaa.nic.in/webinfocms/Public/View.aspx?page=71