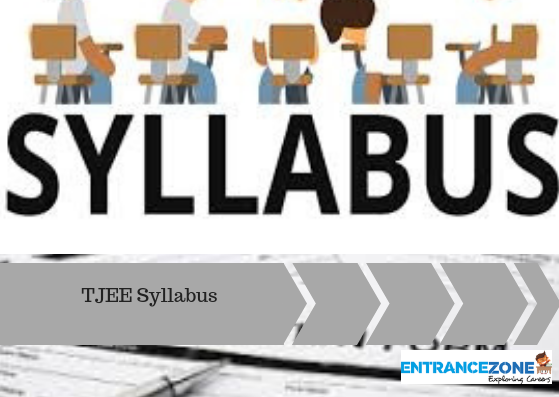 The TJEE 2020 Syllabus covers the topics from class 11th and 12th. The subjects from which questions are asked are Physics, Chemistry, Mathematics, and Biology. Candidates should go through the detailed syllabus before beginning the exam preparation. The Tripura Board of Joint Entrance Examination (TBJEE) will conduct the Tripura Joint Entrance Examination (TJEE) 2020 on the basis of syllabus updated in 2015. Tripura JEE offers admission into Engineering, Technological, Veterinary, Agriculture, Fisheries and other professional undergraduate courses. The exam will be conducted at:
Dharmanagar

Kailasahar

Ambassa

Udaipur and

Agartala only.
TJEE 2020 Syllabus
JEE 2020 Joint Entrance Examination (TJEE) 2020 Syllabus
Candidates can go through the list of subject-wise topics here and also find full syllabus copy attached below:
1. PHYSICS
Units and Measurement

Kinematics

Work, Energy, and Power

Laws of Motion, Rotational Motion

Gravitation and Satellite

Mechanics of Solids and Fluids

Heat and Thermodynamics

Electrostatics

Current electricity

Heating and magnetic effect of current

Optics

Atomic and Nuclear Physics

Semiconductor Physics

Electromagnetic Induction

Alternating Currents.

Oscillations and Waves
2. CHEMISTRY
The States of Matter

Atomic Structure

Chemical Bonding and Molecular Structure

Solutions

Chemical Thermodynamics

Equilibrium

Redox Reactions and Electrochemistry

Chemical Kinetics

Classification of elements and periodicity in properties

S-block elements

P-block elements

D and f-block elements

Coordination compounds

Nomenclature

Basic principles of organic chemistry

Hydrocarbons

Organic compounds containing halogen, oxygen, nitrogen

Stereochemistry

Bio-molecules

Polymers
3. MATHEMATICS
Algebra

Matrices and determinants

Trigonometry

2D coordinate geometry

3D coordinate geometry

Vectors

Differential calculus

Integral calculus

Differential equations

Probability

Statistics

Linear programming.
4. BIOLOGY
Living world and diversity of life

Cell and cell division

Morphology of plants and animals

Genetics

Biology in human welfare and ecology

Physiology of plants and animals

Environment
Candidate can easily Download the Syllabus PDF HERE
How To Download The Syllabus PDf of 
Tripura Joint Entrance
Here, Candidate can easily find the Procedure to download the Syllabus for Tripura Joint Entrance 2020.
Initially, a candidate has to visit the official site.
Check the website properly and go into the section of the Entrance examination, admission etc and scroll for the syllabus.
After that click on the syllabus PDF if they have and the file will automatically download on your device.
Follow this procedure for website having syllabus PDF, else stay updated With entrancezone.com
Candidates should visit the official website to find the updated Tripura JEE 2020 syllabus and list of all the topics included. Moreover,  the syllabus is also present in the prospectus available with the application form.
Click here to download Tripura Joint Entrance syllabus.
Proper knowledge of syllabus is helpful in the timely preparation of all the subjects.
Tripura Joint Entrance 2020-TBJEE