CBSE Board Examination Postponed: The Central Board of Secondary Education (CBSE) on 18 March, late evening published a notification regarding postponed of exam due to coronavirus, CBSE added that taking precautionary measure and in compliance of the instructions received from secretary Higher Education/School Education and Literacy, Government of India. Board Examination are rescheduled class 12th and 10th all across the country and abroad.
CBSE notification released on 18th March mention that all board examination dates falling between 19 March to 31 March (Both Dates Inclusive) shall be rescheduled after 31 March 2020. New Dates will be announced after 31 March only.
As quoted before, re-examination for North East Delhi 86 Schools candidates will also be further rescheduled.
Subscribe to Get Updated Information about CBSE Board Examination Postponed: CBSE 12th and 10th Board New Dates - Admissions
​
CBSE Official Notification Regarding Postpone of Board Examination
The CBSE announcement regarding CBSE Board Examination Postponed came after they receive a directive from HRD ministry saying exams are important but the safety and security of students and teachers are equally important.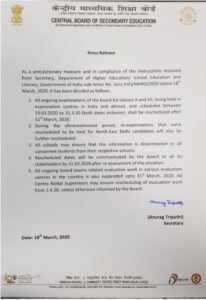 Download CBSE Exam Postpone 2020 Official Notification PDF.
Evaluation of Sheets Postponed
All the ongoing board examination related evaluation work in various evaluation centres in the country is also suspended up to 31 March 2020. All Centre Nodal Supervisors may ensure of rescheduling of evaluation work from 1st April 2020 unless otherwise informed by the Board.
CBSE Board Exam Time Table
The Central Board of Secondary Education time table can be checked here:
Note: The board notification regarding postponement of exam came after HRD ministry letter.
CBSE 12th and 10th Board New Dates
The board yet is announced any new dates, as per notification of national-level board mention that announcement regarding new dates will be published on 1st April or wait for further notification. The student are advised to check the above link of board time table for updated information.