CBSE Class 12 Economics 2022: The Central Board of Secondary Education (CBSE) conducted class 12 Economic (Code No. 030) examination at various centres across the country and abroad. The exam commenced at 10.30 am.
Admission Open 2023
Top University & Colleges Official Links, Application & Scholarship Forms.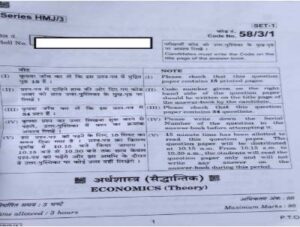 To help students with their exam preparation, CBSE had released the class 12  Economics sample papers and answer sheets of previous year exam toppers on its official website.
Subscribe to Get Updated Information about CBSE Class 12 Economics 2022: Exam Paper & Paper Analysis - Admissions
​
NOTE: Click here to view and download the Class 12th Economics Paper.
CBSE Class 12 Economics 2022: Students Feedback
Most of the students opined that the Economics paper was easy while some students found the questions tricky. Students also said the time was sufficient for them.
"Paper was a bit tricky. Numericals were expected but theory came. Macroeconomics theory part was easiest while Indian economic development was tough. Time was okay. I expect a moderate result." — Errol Besterwitch, St Vincent Pallotti School.
"The paper was very generalised, like the problems we face in India. The paper was a bit ambiguous but managed to finish it before time. It was also easy because we had more than enough days to prepare." — Roma Ramname, CPS.
"It was nice. Paper was quite easier than expected. No section was tough. I enjoyed writing paper. I finished my paper in two hours. I am expecting 65 plus marks.— Ishita Subramanyam, CPS.
"Paper was easier than expected. One marker was easiest.No section was tough. I was able to finish it in time. I expect a good score above 70."— Saman Zaidi, CPS.
"The paper was easy but I don't know a lot of people found it very tricky. We had enough days to prepare so it went well. I'm keeping my fingers crossed and expecting good marks."—Sifat Singh Arora, CPS
Read more: CBSE Class 12th Timetable 2022