CBSE New Dates: The New dates for class 10 Mathematics (code 041) and class 12 Economics paper (code 0390) will be announced soon by the Central Board of Secondary Education (CBSE). According to CBSE Notification, Class 10th Mathematics Paper exam having been compromised. And the circumstances that arose during the conduct of Class 12th Economics Paper, The CBSE decided to re-conduct both the papers. Finally, the dates are announced by CBSE 12th Economics is 25 April 2018 and Mathematics 10th class board is yet to be announced. Keep watching CBSE official website to get more genuine updates.
Upcoming Application Form
CBSE 2019 Date Sheets
The central board of secondary education released the Annual/Board Exam Dates on 23 December 2018.
Check Class 12th CBSE Date Sheet here. And Class 10th CBSE Date Sheet Here.
Apply for Top & Best Colleges Here. (Official Links)
Apply Here
CBSE Latest Update
CBSE Class 12th Economics Re-Exam 2018 today: The duration of the exam is 3 hours. It begins at 10:30 am and ends at 1:30 pm. Exam is helding at 4,138 centres in India and 71 centres abroad.

CBSE re-exams: Why did the board decide to conduct re-examinations? All you need to know: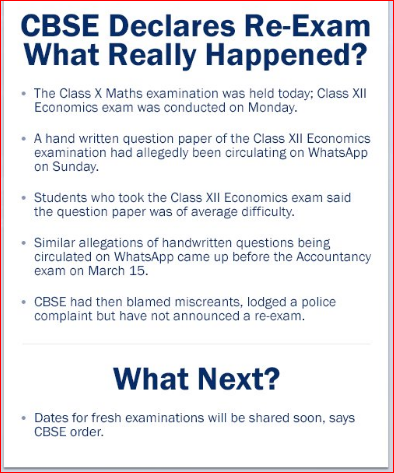 As per CBSE Press Release, 12th class economics examination will be conducted on 25 April 2018.
The new dates are announced by CBSE.
The result for CBSE 12th Board and CBSE 10th Board updates is given here.
More than 28 Lakhs students appeared in 10th and 12th board examinations this year.
CBSE 12th Result
New Dates for 10th Class Mathematics
The board will announce the mathematics 10th class examination dates within this week.
| | | |
| --- | --- | --- |
| S.No. | Subject | New Date |
| 1. | Class 10th Board Mathematics Paper | yet to be announced |
New Dates for 12th Class Economics
The CBSE board will publish the Economics examination dates soon.
| | | |
| --- | --- | --- |
| S.No. | Subject | New Date |
| 1. | Class 12th Board Economics Paper | 25 April 2018 |
CBSE paper leak affects 28 lakh students
28 Lakhs students are affected by today's CBSE paper leak. The board for 10th and 12th class started on 5 March, just after Holi where around 28 lakhs students appeared combinedly. As per the CBSE, a total of 16,38,428 had registered for Class X and 11,86,306 students had registered for Class XII examination this year.
CBSE Press Release: Reconduct of Examinations
Today two press release was published on CBSE official website www.cbse.nic.in i.e. "Press Release: Reconduct of Examinations" and "Notice For Reconduct of Examinations".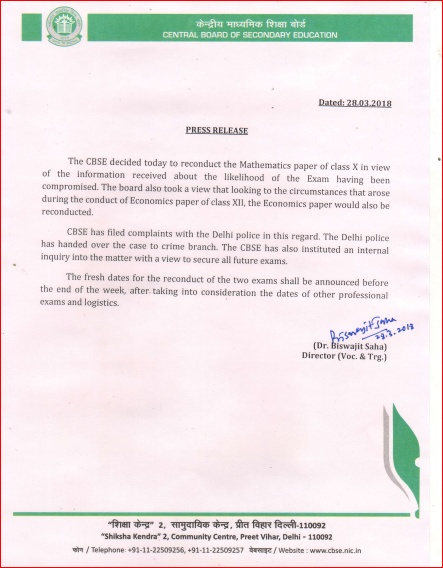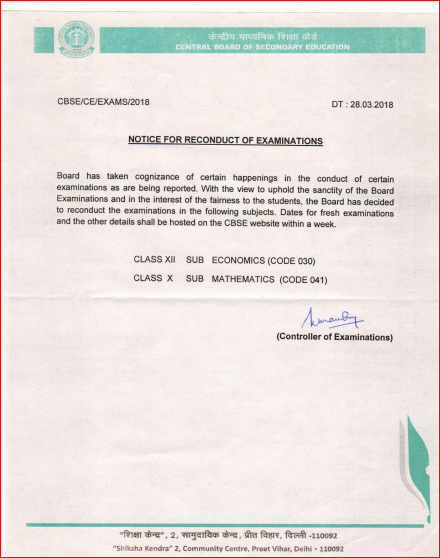 Tweets about CBSE Paper Leak
Miss the good old days where you had to reappear for an exam if you failed and not the Examiner. #CBSE

— Trendulkar (@Trendulkar) March 28, 2018
My son Aujaswi studied really hard for #CBSE Class X Board Math Exams held today

His joy of finishing Board Exams was short lived.

He is extremely dejected as the Math paper got leaked& this #LeakingGovt will hold the Exam again

I feel sorry for him as lakhs of other students!

— Ajay Maken (@ajaymaken) March 28, 2018
After the unfortunate paper leak, the acronym CBSE has a new meaning….. "Corrupt Board For Students' Education " !!

— emraan hashmi (@emraanhashmi) March 28, 2018
I also could not sleep, I am also a parent: Union HRD Minister Prakash Javadekar on #CBSEPaperLeak pic.twitter.com/aakJGmpbdP

— ANI (@ANI) March 29, 2018