CBSE to Revamp Class 10th-12th Exam Pattern: The Central Board of Secondary Education (CBSE) have proposed to reform in the paper patterns of the Class X and XII exams by 2020 which is part of an improvement that also includes holding vocational subject tests earlier (in February) and early declaration of results. The Human Resource Development Minister Prakash Javadekar had expressed his concern to rid the education system of rote learning. Officials said the new exam pattern would give more emphasis on analytical abilities rather than rote learning.
Check here CBSE 12th Time Table 2021: CBSE XII Class Date Sheet @ www.cbse.nic.in
Latest Updates
The examinations for the session 2021 will be conducted in the written mode.
CBSE Exam 2021: Check latest changes in paper pattern, new marking scheme
The Central board has reduced the class 10th and 12th syllabus by 30 percent due to which at least 4-5 chapters have been reduced in every subject.
Subscribe to Get Updated Information about CBSE to Revamp Class 10th-12th Exam Pattern 2020-21 | India - Admissions
​
About 50 per cent of questions in class 12 English sample question paper were multiple-choice questions.
No Multiple-Choice Questions (MCQ) in class 12 Biology paper 2021 have most likely been replaced by Assertion and Reason based questions.
In CBSE Class 12 Physics Question Paper 2021, students will find Assertion & Reason and Case-Study based questions in CBSE Class 12 Physics Question Paper 2021.
In Class 12 Economics question paper 2021, around 20 Multiple Choice Questions (MCQ) and Assertion and Reason based questions are expected .
Download Sample Papers Here: CBSE Updates: Sample Question Paper & Marking Scheme
CBSE Important Dates
The High Court, New Delhi directed the CBSE and Delhi University to ensure the dates while determining Cutoff Dates for Admission.
CBSE 2021 Important Dates

| Board | Exam Dates |
| --- | --- |
| CBSE 10th Board Dates | March 2021 |
| CBSE 12th Board Dates | March 2021 |
| 12th Board CBSE Result Date | July 2021 |
| 10th Board CBSE Result Date | July 2021 |
Passing Criteria for Class X Students from 2020 Batch
The CBSE released a notification about "Passing Criteria for CBSE Class 10th Students from 2020 Batch". The Notification clears the doubt about passing criteria of CBSE 10th class students appearing in 2020 onwards. Read official notification below.
The Passing Criteria will be same as 2019.
Candidates appearing for class 10th examination in 2020 onwards will have to secure overall 33% (per cent) (both taken together "Board Exam and Internal Practical Assessment" in the subjects to be eligible to pass that subject.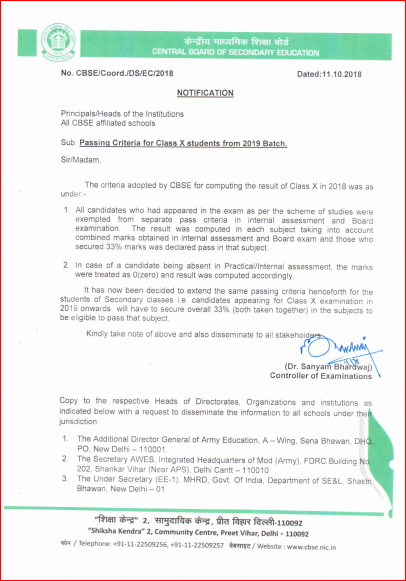 CBSE Class 10th students will have to Pass separately in Board and Internal (Practical Marks) Assessment (Denied by CBSE)
As per Hindustan times reports, the candidates appearing in the Class 10th board examination, conducted by the Central Board of Secondary Examination (CBSE), in 2020 may have to secure 33 per cent passing marks separately in theory and internal assessments. In other words, Candidates will have to secure minimum marks in both internal & board examination (read the notification above).
CBSE Board Class 10th & 12th Passing Criteria

| Examination (Internal & External) | Maximum Marks | Minimum Marks to Pass |
| --- | --- | --- |
| Class 10th Board Exam (Theory) | 80 | 27 |
| Practical Assessments | 20 | 7 |
| Total | 100 | 33 |
CBSE Notification Regarding Changes in Question Paper For English Core – Class XII
The Central Board of Secondary Education (CBSE) has published a notification regarding the changes in question paper for class 12th English core. As a result of the feedback received from the various stakeholders and subsequent meetings of CBSE Board Committee of Courses and the subject experts, the below mention changes have been made in Class-XII from session 2018-19 for the English core "Section-A-Reading" of the Question Paper.
CBSE English Core "Section-A-Reading":
CBSE to Revamp Class 10th-12th Exam Pattern by 2021
Students will get more questions from the nature of problem-solving. There will be more short questions (between 1 and 5 marks). There will be MCQ type questions & case study bases questions. observed that weightage for MCQs has been increased by 10%. A  senior HRD ministry official said that  CBSE was stressing on evaluating critical thinking abilities of students and test actual learning outcomes rather than letting students score high marks by virtue of rote.
The board is also seeking at completing all exams in March itself to give more time for evaluation and to declare the results earlier.
For that, according to MHRD sources, CBSE is likely to organize the board exams in two parts — vocational and non-vocational subjects. The CBSE officials said that the exams for vocational subjects could be conducted in February so that exams for other subjects can be completed in around days in the month of March.
CBSE to change bylaws for Affiliation
CBSE is also seeking to change its regulations that will impact the rules of affiliation for schools. The proposed regulations will lay more emphasis on the academic quality of schools, such as the quality of teachers, learning outcomes and pedagogy. The board will not organize an inspection of the school's physical infrastructure, for which it will depend on reports of the directorates of education/school education departments of respective states which give recognition to schools.
The board official said that State governments and other agencies conduct inspections during the process of granting recognition to schools. To repeat the same would be a waste of time and resources
Among other changes, the Board is reported to have submitted new regulation in which it is stressing to simplify affiliation processes. A leading newspaper of country reported that the board focus on the academic quality of schools seeking affiliation.
The process of new regulations will take about four months, but by the sample papers which will be uploaded on the CBSE website for the year 2020 will reflect the changes.