CBSE Updates: CBSE has cancelled the remaining class 10th and 12th exams. The result will be released by 15 June 2020. CBSE has released a handbook of class 11 and class 12 for Applied Mathematics subject. In the last few days, the Central Board of Secondary Education(CBSE) took very important and major decisions. This includes the promoting of student till Class 8th, promoting of Class 9th and 11th students on the bases of internal assessments, session exam, board exams for only 29 major subjects, awareness of students and teachers about Arogya Setu app, helpline number so to promote awareness and safety measures, etc. In this article students and parents will get to known different important CBSE Updates.
Home District Examination centre: CBSE will announced a notification regarding the change in examination center in the first week of June 2020. Keeping in view the problem of candidates, who have shifted to other districts than the district of their examination centre, CBSE has decided to shift their examination centre to their present district. Such candidates are informed that they should remain in touch with their own schools and as soon as CBSE issues notification, they are advised to take suggested action. Download Press Release 27 May 2020 CBSE Home District Examination Center
CBSE Class 10th and 12th Result Date Released
CBSE Class 10th 12th result will release by 15 June 2020. Students may check the below-given link for complete details.
Subscribe to Get Updated Information about CBSE Updates: New CBSE Dates, Home Center Exam, New Chairman - Admissions
​
Moreover, CBSE has revised the evaluation criteria for 10th 12th result 2020, check here
Date Sheet For Rescheduled Board Examination 2020 ( Class 10th & Class 12th)
Latest CBSE Updates
CBSE has cancelled the Class 10th and 12th examinations. The result will be announced by 15 June 2020.
CBSE released a detailed handbook for class 11 and class 12 of Applied Mathematics subject.
CBSE New Dates are given above in Time Table Link.
Board released CBSE FAQ Regarding 10th 12th Board Exam. Download CBSE FAQ Regarding 10th 12th Board Exam here.
Board Will Conduct Pending Papers Soon, New Exam Date Sheet To Be Announced Shortly, Evaluation Process To Start 4 Days After Lockdown Ends.
CBSE Appoints New Chairman: Sh. Manoj Ahuja
As per official press released by board on 20 May 2020, Shri Manoj Ahuja joined CBSE as Chairman on 20 May and hold a meeting with senior officers on various important issues.
All India Ramayana Quiz Competition
Check Now
About New Chairman: Manoj is an IAS of 1990 batch from Orissa cadre.
Education Qualification:  He holds B.E. (Mechanical) from Thapar Institute of Engineering and Technology, Patiala, MBA from Punjab University, Chandigarh and Masters in Public Administration (International Development) from Harvard University, USA.
Experience: Having numerous training modules and research papers to his credit, the new Chairman is credited with an extensive experience and professionalism.
CBSE New Syllabus 2021 (Applied Mathematics Handbook)
Central Board of CBSE has released a handbook of class 11 and class 12 Applied Mathematics subject. The CBSE board has started the new course for session 20 – 21 for students of commerce and humanities.
As Applied mathematics is a new subject so the board has released separate handbooks for both the classes which include the Applied mathematics syllabus as well as complete details of the course. Candidates can directly view or download the Applied Mathematics handbook of class 11 and 12 from here.
CBSE Discussed 8 Important Points
As per TOI, Official updates from the meeting are expected to be announced soon.
CBSE will start the evaluation process 4 days after the lockdown ends.
CBSE will conduct remaining papers.
New CBSE Date Sheet 2020 for remaining papers will be announced soon after the approval of MHRD Ministry.
Exams might be conducted even on Sunday.
Maximum 10 students can be admitted in a classroom, similar instructions might be given.
75% Attendance is compulsory in online classes
CBSE Schools can reduce the syllabus from class 1st to 8th.
CBSE Evaluation Process
According to the sources, CBSE start the evaluation process 4 days after the nation lockdown. The remaining CBSE 10th and 12th board exam and CBSE new timetable will be released soon.
The number of examines also increases by the CBSE so that CBSE Result 2020 for 10th & 12th can be declared on time.
Promoting students: Till Class 8th, Class 9th and 11th
On 01 April 2020, HRD Minister Ramesh Nishank Pokhriyal tweet that all the students till Class 8th will be directly promoted to the next class for the new session. Parents and students can refer to the following official tweet.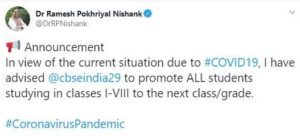 In his second tweet, Ramesh Pokhriyal clearly mentions that all the students studying in Class 9th and 11th will be promoted to the next class on the basis of school assessments which include projects, periodic tests, term exam etc.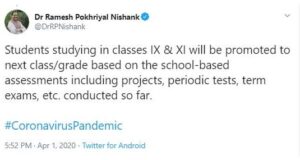 New CBSE Board Exam Dates Announced
The Central Board of Secondary Education & MHRD decided to take the board examination from 1st July to 15th July. Whereas, 12th class pending subjects will be conducted on all india basis but 10th class exams will be conducted for North east Delhi only. As per notification only 29 subjects exam will be conducted for 10th and 12th board. The time table link is given above for your reference.
CBSE Board Results May Delay
Central Board of Secondary Education(CBSE) results for 10th and 12th board examination may get delayed as evaluation of answer sheets are delayed due to lock down in country. The CBSE is yet to announce any dates but it is speculated that board results will be announced in June 2020.
One-time measures proposed by CBSE
Students studying in Classes 1st to 8th will be promoted to the next grade without conducting exams.
Some to the school have not conducted the annual examination of Class 9th and 11th. These schools are all the Kendriya Vidyalayas, Naodaya Vidyalayas and some other government and private schools. These schools will promote the students to the next grade on the bases of their performance in project work, periodic tests, term exams, etc. conducted so far.
For Class 10th Board and Class 12th Board, CBSE has not yet announced when the examinations will be conducted. The Central Board will be given a minimum of 10 days notice before scheduling the examinations again.
CBSE Board have decided to conduct examinations for main subjects that are required for admission into higher educational institutes.
However, CBSE Schools located outside India, Board decided not to conduct any exam for Class 10th and 12th because it is difficult to bring the answer booklets back to India for checking due to the lockdown and COVID19.
Central Board of Secondary Education(CBSE) ask students to be aware of rumours and only trust the official announcements by the Board that is made on the Board's website.
Central Board of Secondary Education (CBSE) will conduct class 10 and 12 examinations for only 29 main subjects
Union HRD Minister Ramesh Pokhriyal "Nishank" announced Central Board of Secondary Education (CBSE) will conduct class 10 and 12 examinations for only 29 main subjects which are important for the promotion and admission into higher educational institutions. Read more about CBSE 29 Main Subjects for more CBSE Updates.
The list of the 29 Main Subjects is given below.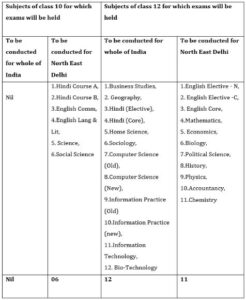 CBSE Updates on twitter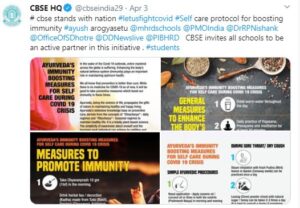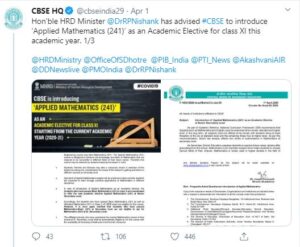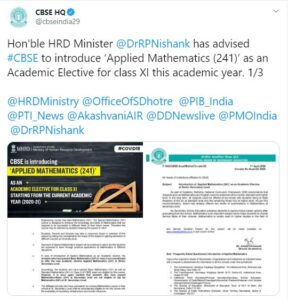 Arogya Setu App
Due to the ongoing Coronavirus and India lockdown, Central Board of Secondary Education, CBSE, has written to all the school about the Arogya Setu. Letter from HRD Ministry secretary tells to all the government organisations and bodies about the Arogya Set app. CBSE asked school authorities to inform teachers, staff members, parents and students about this app.
CBSE has also shared the protocol document for immunity boosting which has been released and developed by the Ministry of Ayush. School authorities are requested to explain the documents to the parents and students.
CBSE Official website: http://www.cbse.nic.in/
Stay connected to entrancezone of the latest CBSE Updates and the latest notifications.