Delhi University OBE exam 2020 for all UG/PG programmes including SOL and NCWEB has been postponed by the university. The Delhi University informed regarding the postponement of OBE exams to the High Court on 08 July 2020. These final year exams have been postponed from 10 July 2020 to August after considering the increase in COVID19 cases in the state.
Admission Open 2023
Top University & Colleges Official Links, Application & Scholarship Forms.
Latest Updates:
The University of Delhi has postponed all the Final Year exams till 15 August 2020.
DU Final Exams 2020 Postponed
The DU submitted before Justice Prathiba M Singh that the final term exams to be conducted after August 15. The court conducted the hearing through video conferencing, expressed displeasure over the decision and added, "You are saying you are ready but the minutes of your meeting shows the contrary" to the DU counsel. Sachin Dutta, Senior advocate and advocate Mohinder Rupal, from the DU side, submitted that the varsity has taken a decision to postpone the exams till August.
Subscribe to Get Updated Information about DU Final Exams 2020 Postponed: Delhi University Postpone All Final Year UG/PG Exams - Admissions
​
Delhi University Final Year Open Book Examination (OBE) Exam Postponement Notification
The Dean of Examination released a notification on 08 July 2020. For updates keep checking this page and Delhi University official website.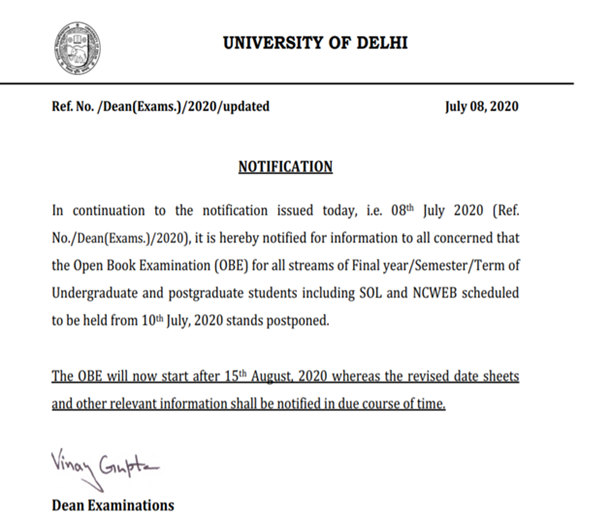 The notification of postponement of DU exams further stated that the new notification for the dates of final year exams will be uploaded on the website. The University administration has also declared that the revised date sheet along with all the necessary information will be available on the Delhi University official website.
The Delhi University in its notification further stated that the DU OBE i.e. open book exams will be conducted after 15 August 2020.