The Editorial Team of Entrancezone, spoke to Dr. Rameshwar Singh, Vice Chancellor of Bihar Animal Sciences University, Patna. The VC talks about a variety of issues including the various initiatives and reforms on "Higher Education After Covid-19 Pandemic". – Editorial Team.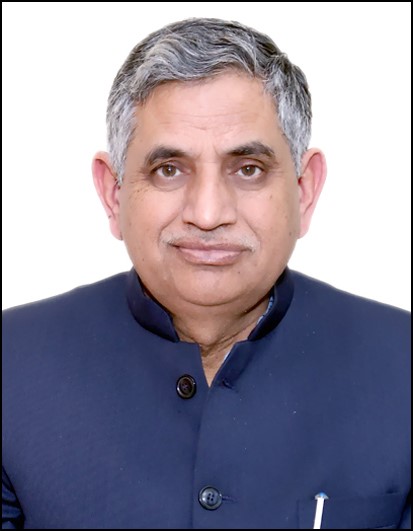 Dr.Rameshwar Singh is currently working as the founder Vice Chancellor of Bihar Animal Sciences University, Patna since June 2017.  This is a new university established by the state government. Earlier Dr Singh served as Project Director, Directorate of Knowledge Management in Agriculture, at the Indian Council of Agricultural Research (ICAR), New Delhi. He worked as a scientist in Microbiology at well known ICAR institutions viz. Indian Veterinary Research Institute, Izatnagar and National Dairy Research Institute, Karnal.  He also held the responsibility of Head, Dairy Microbiology Division and  Registrar at NDRI, Karnal from 2004 to 2012.
Dr. Singh did his Masters in Dairy Microbiology from National Dairy Research Institute, Karnal in 1977  and Ph.D. from Indian Veterinary Research Institute, Izatnagar. He guided a number of Masters and Ph.D scholars and published research papers in leading national and international journals. He established the National Collection of Dairy Cultures at NDRI Karnal, which is the only facility for dairy organisms in the country. He contributed significantly to the development of fermented dairy products in India. He also headed the media initiatives of ICAR and publication of ICAR books and research journals. Dr. Singh has played a pivotal role in establishing the new university at Patna through academic and administrative innovation. His major interests in research included fermented milks, dairy starter cultures, microbial culture collection, micro flora of ruminants and rumen fermentation.
Higher Education After Covid-19 Pandemic (Q n A)
Do you believe that Covid-19 has made a significant impact on the conventional education system that exists in our country? We'd like to hear your thoughts on this.
Ans. The pandemic has shaken the education system in a big way which is unthinkable and unheard of in our lifetime. We had to switch over to online teaching mode all of a sudden.
What is the impact Covid-19 has created in education system as well as in your institution in particular? And how are you adapting to the situation?
Ans.  There has been very fast transition to online teaching. Many teachers were relatively poor in use of multimedia and online resources for teaching  in the normal situation but due to the demand of the situation such teachers also came forward, began to innovate and identified online resources for students. Many databases, encyclopedias, dictionaries, online courses, online textbooks and journals were identified by each teacher and recommended to the students. Almost all teachers started preparing the power point presentations and study material, quiz and assignments through self learning.
However, the students and teachers are missing the classroom and campus experience. The hands on skills, science practical, internship, handling of equipment, management of laboratories, animal facilities and farms etch has suffered a lot due to the lockdown. We somehow managed to run the essential services in the University like clinical services, farms, conservancy, maintenance and finance & administration.
Do you think that the courses offered by educational institutions would change in the future? Share your insights on this.
Ans. Of course rethinking about courses about their design & duration are bound to undergo big change. Flexibility in facilitating credit transfer and early exit are likely to become more common. Animations and  virtual interactive  models  are likely to get more attention for conducting science experiments in practical classes.
Currently online education is being practiced across the world as part of an adaptation strategy across the world. How effective is this type of education system. And which type of education system do you think students as well as parents would prefer after the pandemic situation?
Ans. Changes in system of education will get accelerated but will not happen at the go. Traditional class room teaching will stay but at the same time universities will design short duration online courses or modules for different courses which can be offered from anywhere and round the year. Parents and students will choose the courses as per convenience, aptitude, affordability  and recognition of the courses by potential employers. It will depend a lot on how far such courses are meaningful in  in imparting the real life skills for the specific sector/trade or specialization.
Would you share certain guidelines for the students on how to cope up with the current situation as well as on how to take smart decisions on their future as well?
Ans. Students will have to weigh the options available to them. They have to orient themselves  towards self learning. Online system has exposed the students to global platforms and they can very well see the bigger spectrum related to education, training and job opportunities. Students need to be watchful, search different options and analyse the opportunities available to them in comparative terms. Technology is bridging the gap in access to education amongst developing and developed countries. I would advise the students not to panic, stay focussed, look for opportunities as they keep coming and harness their self learning potential.
A lot of online courses and skill workshops are being offered by many edtech companies. Would you please share on the importance of such courses as well could you highlight certain courses and skills that you feel students can learn during this period.
Ans.  A large number of courses, webinars, workshops etc. are available in each branch of education. Students can scan moocs  and short courses available on different platforms like nptel, courser, swayam, future learn, edX, future learn, study.com, udemy and Khan Academy etc,. Lots of good resources are available on the websites of various professional societies, universities, institutional repositories and open access journals and books. The choice will depend upon the specific interest of students in particular streams.  Tough times make us more competitive and I am confidant that the new normal will reset the spectrum of learning and teaching for the benefit of all. I strongly believe that technology is a big enabler, time saver and equaliser.
Sir, thank you for speaking to EntranceZone VC Talks Series. At the outset we would like to congratulate you on behalf of EntranceZone members for giving your insight on Higher Education After Covid-19 Pandemic. 
Vice-Chancellor, Bihar Animal Sciences University,
Admin. Building, Bihar Veterinary College Campus,
Patna – 800014 (Bihar) [India]