IGNOU B.Ed 2020 Exam Dates has been released by National Testing Agency. Indira Gandhi National Open University (IGNOU), New Delhi which was established in 1985. It invites for admission to the IGNOU B.Ed 2020 for January 2020 Session. On the basis marks IGNOU B.Ed 2020 exam, applicants will get admission in different colleges of this university. The maximum time duration of the course is a maximum of 5 years. The student can choose either English or Hindi medium IGNOU B.Ed 2020 Admission on his comfort. All the necessary information regarding IGNOU B.Ed 2020 e.g. admit card, registration, exam pattern, etc. are mentioned in this article.
The Eligible Candidates who are interested in enrolling in B.Ed program (Recognised by NCTE) must pass IGNOU B.Ed Admissions 2020 (Common Entrance Test) conducted every year by the University. Find more details about IGNOU B.Ed Admission Here.
Latest update: IGNOU B.Ed 2020 Application form will be released on 31 January 2020.
Apply for Top & Best Colleges Here. (Official Links)
Apply Here
Ignou B.Ed Admission Starts – इग्नू में आखिरकार बीएड ऐडमिशन प्रोसेस शुरू
Candidates can apply online for IGNOU's BEd. It is accredited by the National Council for Teacher Education (NCTE). IGNOU's BEd course is in demand every year, but this course is about 3 months late this time. The university has started the online admission process for the Bachelor of Education program.
IGNOU B.Ed 2020 Important dates:
The dates of this IGNOU B.Ed 2020 are mentioned below:
| | |
| --- | --- |
| Event | Date |
| Start Date of Application Form | 31 January 2020 |
| Last Date for Submission of Application Form | 29 February 2020 |
| Availability of Admit Card | 01 April 2020 |
| Entrance Examination | 29 April 2020 |
| Answer key | May 2020 |
| Result Declaration | 10 May 2020 |
| Counselling | To be announced |
IGNOU B.Ed 2020 Application Form
Candidate will get Admission on the basis of the score obtained in the entrance test conducted by IGNOU all over India. The candidate will be required to submit the application form with attested copy of documents. After receiving an offer letter of IGNOU B.Ed 2020 for admission, the candidate has to submit their original documents.
Copy of self-attested documents which have to submit with application form are mention below:
Original Hall Ticket
Higher Secondary/ Sr. Secondary School Certificate with mark sheet.
Degree and mark sheet of graduation/ post-graduation.
Educational qualification
Underemployment certificate
Affidavit by parent/Guardian
Affidavit by applicant
Dully filled registration form for fee exemption of SC/ST students under SCSP and TSP.
Caste certificate of belonging to OBC (Non-creamy layer ) categories.
The forms which mentioned above have available in IGNOU B.Ed 2020 prospectus.
Once the form is submitted, no changes will be permitted. if you change your residential location, then you should inform the regional center of the IGNOU for communication. A photocopy of the filled-in form must keep safe for future reference.
Registration/ Application Fee for IGNOU B.Ed 2020:
A registration fee of IGNOU Bachelor of Education 2020 is Rs. 1050/- will also be submitted with the application form. The fee of application form will be submitted by mode of demand draft at the city of concerned Regional Centre. Complete programme fees of IGNOU B.Ed is Rs 50,000.
IGNOU Official Website for Registration: http://www.ignou.ac.in/ignou/aboutignou/school/soe/programmes/detail/90/2
IGNOU B.Ed 2020 Eligibility Criteria
The eligibility criteria to apply for IGNOU B.Ed 2020 have mentioned below.
The applicant with at least 50% marks in the Bachelor's/ Master's degree in Sciences/ Social Sciences/ Commerce/ Humanity are eligible. OR
The applicant with a B.E. or B.Tech degree must have scored a minimum of 55% marks with specialization in Science and Mathematics. OR
The candidates with a degree equivalent to i) and ii) can also apply for IGNOU B.Ed 2020 exam.
Applicants who are going to fill B.Ed exam 2020 in open distance learning, must fulfil the following criteria:
Trained in-service teachers in elementary education (Or);
Applicants who have completed an NCTE recognized teacher education programme through face-to-face mode.
IGNOU B.Ed 2020 Admit Card
The admit card for IGNOU B.Ed 2020 will be released on 01 April 2020. The candidates must bring a hard copy of admit card and affix a latest photograph, attested by a Gazetted Officer at the test centre. It is advised to the candidate that admit card must be kept safe for the time of admission.
The admit card contains the following information:
Name of Candidate.
The venue of Exam.
Subjects.
Date & Time.
IGNOU B.Ed 2020 Reservation Criteria
SC/ST/OBC (Non-creamy layer)/PWD applicants will get 5% relaxation and reservation in minimum eligibility as per the guidelines of the Central Govt.
Kashmiri Migrants and war widow candidates will get a reservation as per the University Rules.
IGNOU B.Ed 2020 Exam Pattern
The paper pattern for IGNOU Bachelor of Education Examination Pattern is given below:
The paper of IGNOU B.Ed Exam consists of two major parts- Part A and Part B.
All the questions will be of multiple choice type. For every question, there have 4 alternatives.
The total questions in both sections will be 100 and the total marks will be 100.
The medium of the paper will be either English or Hindi.
Each question carries 1 mark.
The total time duration of both papers will be 2 hours.
Part
Topics
No. of Questions
Total Marks
Part A
Section I
General English Comprehension
10
10
Section II
Logical & Analytical Reasoning
20
20
Section III
Educational & General Awareness
25
25
Section IV
Teaching- Learning & the School
25
25
Part B: Subject Competence (anyone)
Section V
Science/ Mathematics/ Social Studies/ English/ Hindi
20
20
Note ­:
Candidate can attempt any one subject from Part -B.
Questions of part -B will be subjective and based on the curriculum of IX/X classes acc. To the CBSE and NCERT.
IGNOU B.Ed Exam Syllabus
 The complete syllabus of the IGNOU B.Ed exam is given below:
English Comprehension: This section covers questions related to tenses, verbs, sentences, etc.
Logical and Analytical Reasoning: Algebra, series, word problems, etc.
Educational and General Awareness: This section includes questions related to science, social science, and general knowledge.
Teaching- Learning and the School: Knowledge of the learning process, classroom training, etc is covers in this section.
Subject related Topics: It involves class 9th and 10th syllabus from CBSE and NCERT.
IGNOU B.Ed 2020 Result
The IGNOU B.Ed 2020 result will be released on 10 May 2020.
The result is available on the official website.
Candidates can download the result from the official website.
It is also advised to take the printout of the result for further reference.
Result & Counselling
The result of IGNOU B.Ed will available on the official website of IGNOU by typing their enrolment number. Also, result cards of IGNOU Bachelor of Education 2020 indicating qualifying/ non-qualifying status in the entrance test would be dispatched to all the candidates who appear for the examination. If the result card is not received, the applicant can contact the regional director of IGNOU in his/ her region.
The qualified applicants will be invited for counseling where their original documents will be verified:
Address and Official Website Link
IGNOU Residential Campus Road,
Maidan Garhi,
New Delhi,
Delhi – 110068
IGNOU official website: www.ignou.ac.in
Admissions
The student will get admission on the basis of the score obtained in the entrance test. The candidates who qualify the exam will be permitted to get admissions after the verification of their documents, identity, and eligibility. For admission in IGNOU B.Ed programme, the qualified applicants will have to pay the program fee of Rs 50,000/- along with the original admit card signed by the invigilator at the time of examination. The program fee payment will be paid through a demand draft.
List of codes (To be used while filling the application form)
State code:
| | | | |
| --- | --- | --- | --- |
| State | Code | State | Code |
| Andhra Pradesh | 01 | Nagaland | 20 |
| Andaman & Nicobar Islands (UT) | 02 | Odisha | 21 |
| Arunachal Pradesh | 03 | Punjab | 22 |
| Assam | 04 | Rajasthan | 23 |
| Bihar | 05 | Sikkim | 24 |
| Chandigarh (UT) | 06 | Tamil Nadu | 25 |
| Delhi | 07 | Tripura | 26 |
| Goa | 08 | Uttar Pradesh | 27 |
| Gujarat | 09 | West Bengal | 28 |
| Haryana | 10 | Dadra & Nagar Haveli, Daman & Diu (UT) | 29 |
| Himachal Pradesh | 11 | Lakshadweep (UT) | 30 |
| Jammu & Kashmir | 12 | Pondicherry (UT) | 31 |
| Karnataka | 13 | C/o 99 APO | 32 |
| Kerala | 14 | Learners Abroad | 33 |
| Madhya Pradesh | 15 | Chhattisgarh | 34 |
| Maharashtra | 16 | Jharkhand | 35 |
| Manipur | 17 | Uttarakhand | 36 |
| Meghalaya | 18 | Telangana | 37 |
| Mizoram | 19 | | |
Educational Qualification Code:
| | | | |
| --- | --- | --- | --- |
| Qualification | Code | Qualification | Code |
| Below Matriculation, SSC/ No Formal Education | 000 | Post Graduation or Equivalent | 006 |
| Matriculation/ SSC | 001 | Doctoral or Equivalent | 007 |
| 10+2 or Equivalent | 002 | BPP from IGNOU | 008 |
| Diploma in Engineering | 003 | Bachelor of Library Information Science | 009 |
| Graduation in Engineering | 004 | Master of Library & Information Science | 010 |
| Graduation or Equivalent | 005 | | |
Board Code:
For 10+2
Board
Code
Board of Intermediate Education, Andhra Pradesh
0101
Assam Higher Secondary Education Council
0401
Bihar Intermediate Education Council
0501
Central Board of Secondary Education, New Delhi
0701
Council for the Indian School (Certificate Exam), New Delhi
0702
National Institute of Open Schooling, Delhi
0703
Goa, Daman & Diu Board of Sec. & Higher Sec. Ed.
0801
Gujarat Secondary Education Board
0901
Haryana Board of School Education
1001
Himachal Pradesh Board of School Education
1101
J&K State Board of School Education (Summer)
1201
J&K State Board of School Education (Winter)
1202
Board of Pre-University Education, Karnataka
1301
University of Kerala
1401
Board of Secondary Education, MP
1501
Maharashtra State Board of Secondary Education & Higher Secondary Board
1601
Board of Secondary Education, Manipur
1701
Mizoram Board of Secondary Education
1901
Nagaland Board of Secondary Education
2001
Council of Higher Secondary Education, Orissa
2101
Punjab School Education Board
2201
Rajasthan Board of Secondary Education
2301
Board of Secondary & Higher Secondary Exam., Tamil Nadu
2501
Tripura Board of Secondary Education
2601
Board of High School & Intermediate Education, U.P.
2701
West Bengal Council of Higher Secondary Education
2802
Jharkhand Academic Council, Ranchi
3601
A recognized three/ two-year Diploma/ Certificate after 10th Class
8888
Not listed in this list
9999
For 10+2 Vocational Stream
Mizora

m Board of Secondary Education

1901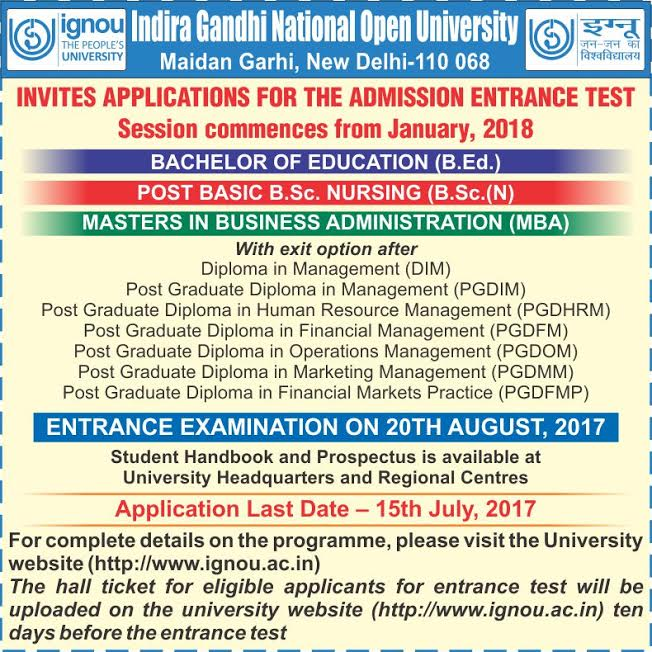 Stay tuned for Indira Gandhi National Open University Bachelor of Education (B.Ed) Program.
Indira Gandhi National Tribal University Admissions 2019: Amarkantak