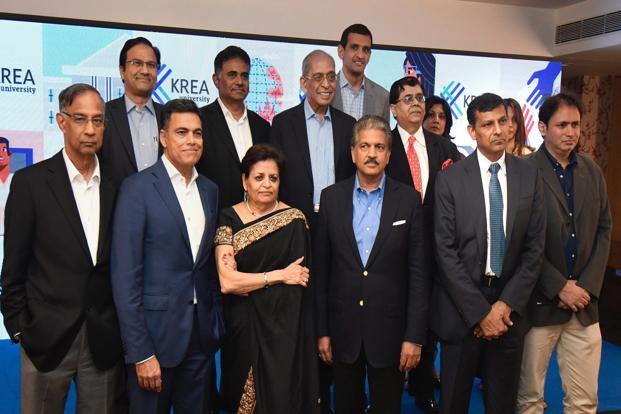 Krea University: A University focusing on liberal arts and science courses were launched this Friday by corporate leaders like Anand Mahindra, R. Seshasayee, Sajjan Jindal and Raghuram Rajan as associates of the university either as members of the governing or academic councils.
Check here KREA University Admission details.
Krea University Highlights
The University released following details on the official website.
Subscribe to Get Updated Information about Krea University: Admission Process, Application Dates - Admissions
​
Krea University Status: State Private University (The Andhra Pradesh Private Universities (Establishment and Regulation) (Amendment) Act, 2019 vide the gazette notification published on  30 April 2019).
Sponsoring body of the University: Institute for Financial Management and Research (IFMR Society).
Name of the Founding Vice-Chancellor: Dr. Sunder Ramaswamy.
Admission Process: Starts in November 2019 (Only 100 students for the Undergraduate Programmes commencing August 2020.)
Annual fees for Undergraduate Programmes: INR 700,000 to 800,000 (inclusive of living costs).
Official Website: www.krea.edu.in.
Krea University Funding: Rs 750 crore University by Anand Mahindra & Others
As per Seshasayee, chairman of Krea University's supervisory board and former chairman of Infosys Ltd said that 70-80% of the amount is already in sight from Corporate houses and other donors who have pledged for the university. Furthermore, he added that Around Rs750 crore will be spent in the first phase of setting up Krea University.
Krea University Founders
Eminent Personalities like Anand Mahindra, R. Seshasayee, Sajjan Jindal, and former Reserve Bank of India governor Raghuram Rajan will be associated either as a member of the governing or academic councils.
Krea Governing Council
| | |
| --- | --- |
| N Vaghul | Chancellor & Member |
| R. Seshasayee | Chairman, Executive Committee & Member |
| Sunder Ramaswamy, Ph.D. | Vice-Chancellor & Member |
| Kapil Viswanathan | Vice Chairman, Executive Committee & Member |
| Anu Aga | Member |
| Manjul Bhargava, Ph.D. | Member |
| Vishakha N. Desai, Ph.D. | Member |
| John W. Etchemendy, Ph.D. | Advisor |
| Dheeraj G. Hinduja | Member |
| Sajjan Jindal | Member |
| Anand Mahindra | Member |
| Kiran Mazumdar-Shaw | Member |
| Raghuram G. Rajan, Ph.D. | Advisor |
| C. Srinivasa Raju | Member |
| S Ramadorai | Member |
| Cyril Shroff | Member |
Krea Academic Council
Sunder Ramaswamy, Ph.D.
Chairman
Manjul Bhargava,
Ph.D.
R. Brandon Fradd Professor of Mathematics, Princeton University
Vishakha N. Desai, Ph.D.
Senior Advisor for Global Affairs, Columbia University
John W. Etchemendy, Ph.D.
Stanford University's 12th Provost and Patrick Suppes Family Professor in the School of Humanities and Sciences
Akash Kapur, Ph.D.
Writer and Journalist. Former Columnist, International New York Times. Senior Fellow, New York University (NYU) GovLab
TM Krishna
Renowned musician and public intellectual
Srinath Raghavan, Ph.D.
Senior Fellow, Centre for Policy Research
Gaurav Raina, Ph.D.
Faculty, IIT, Madras
Raghuram G. Rajan, Ph.D.
Katherine Dusak Miller Distinguished Service Professor, Chicago Booth; 23rd Governor of the Reserve Bank of India.
Jessica Seddon, Ph.D.
Director of Integrated Urban Strategy at the World Resource Institute.
Tara Thiagarajan, Ph.D.
Chairman and Managing Director, Madura Microfinance Ltd. Founder and Chief Scientist at Sapien Labs
The concept of Krea University
Rajan stressed the need to nurture the idea of debate and discussion. "We need to learn to respect universities as places where ideas are debated," he said. The university will focus on liberal arts and science courses. And Krea University will be a private university, it will offer four-year residential honours degrees in arts and science.
Admission Process:
The admission process of Krea University is described in this video. And criteria of admission is given in the official website, click here for more details.
Criteria for Admission
Krea University Admissions are managed by a team of professional admissions counsellors led by the Dean of Admissions. Faculties of Krea University will play an advisory role in the composition of an entering class.
Class 12 Marks – CBSE, ISC, or any other Board.
Class 10 Marks – to assess academic achievement in a broad range of subjects (before specialisation).
Essay submission – students need to submit essays that are designed to evaluate the student's character, preparedness, attitudes.
On the spot essay – focusing on a case study to ensure that a candidate is 'able to think on his/her feet'.
Personal interview – an Interview with a panel of faculty/admissions staff.
Letters of reference – 2 letters; 1 letter from a teacher; 1 from a referee outside the school who has made a difference in the applicant's life.
Parent letter – 1 letter from the parent stating their hopes for their child.
Krea University Address and Website Link
Krea University Admin office: 24, Kothari Road, Nungambakkam, Chennai, Tamil Nadu 600034
India Campus: 5655, Central Expressway, Sri City, Andhra Pradesh 517646 India
Email: [email protected]
For more updates check here>Entrancezone
Twitter Quotes about Krea University
At the Press Conference to announce the launch of KREA University. Mr.Vaghul, the force behind KREA caught me off-guard & asked me to tweet..So my instinctive response is to say that it's not often I am asked to be part of a moment in history..& that's what the launch of KREA is. https://t.co/wvJXLKryrZ

— anand mahindra (@anandmahindra) March 23, 2019
Meet @kreauniversity Academic Council – the finest of minds mentoring future leaders, thinkers & citizens#SunderRamaswamy #ManjulBhargava @VishakhaNDesai #JohnWEtchemendy #AkashKapur @tmkrishna @srinathraghava3 #GauravRaina #RaghuramGRajan @jscaseddon #TaraThiagarajan

— Krea University (@kreauniversity) March 23, 2019
We are proud to be associated with the new @kreauniversity, a new liberal arts university at Sri City in Andhra Pradesh. Looking forward to helping educate the next generation of #leaders! #cyrilamarchand #kreauniversity #lawfirm #education #learning https://t.co/vThzetx3Jn

— cyrilamarchand (@cyrilamarchand) March 27, 2019
Andhra Pradesh will soon have the prestigious Krea University in Sri City that will be established with an investment of Rs.750 crore. It will lay the foundation for the future of several students from the state. https://t.co/Oa5BVjOjMg

— Lokesh Nara (@naralokesh) March 25, 2019
krea university fees, krea university jobs, krea university courses, krea university chennai, krea university campus, krea university ifmr.