The All India Council for Technical Education (AICTE) is a Central Government body and a national-level council for technical education, under the Department of Higher Education, Ministry of Human Resource Development. AICTE released List of all the approved universities/institutions, AICTE approved institutions with progressive Closed Courses, AICTE approved Progressive Closed institutes, List of Institutes with Academic Autonomy Etc. Check the links Below.
AICTE News Updates: Circulars, Guidelines, Approvals
One can find all the AICTE updates here. We are collecting the AICTE news for students to take informed decision while taking admission or already studying in some AICTE affiliated institutes.
AICTE approval mandatory for institutes offering B.Des, M.Des
The All India Council For Technical Education has published a notification communicating that colleges and institutes who are planning to introduce Bachelor of Design (B.Des) and Master of Design (M.Des) programme from the next academic year are required to get approval from AICTE.
AICTE withdraws approval of GTB Polytechnic, Delhi
As per Tribune News Service, The All India Council for Technical Education has withdrawn its approval to the Guru Tegh Bahadur (GTB) Polytechnic Institute at Vasant Vihar managed by Delhi Sikh Gurdwara Management Committee.
Subscribe to Get Updated Information about AICTE withdraws approval of GTB Polytechnic, Delhi
​
Reason: As said reason discontinuing the approval is that there is no perpetual lease executed by the DDA for the said land in favour of the committee.
Andhra Pradesh and AICTE started Pilot Engineering Course of the six-year
The state government and All India Council for Technical Education are working on a proposal for introducing '3+3 integrated courses. This 6-year course will start after class X exams with two-and-a-half year diploma course, two-and-a-half years of a degree course and a year of industrial training. Furthermore, the internship program is called the sandwich course is called a sandwich because the 1-year internship course will be injected between diploma and degree course.
As per reports, AICTE is reviewing the curriculum and removing all the irrelevant portion that is not relevant to the skills required by the industries.
Open-Book Exams For Engineering, A Future Possibility
A report "Introduction of Open-Book Examinations for Engineering" from a panel of four members suggesting a major reform to engineering education in India is submitted for review by the All India Council For Technical Education, and the HRD (Human Resource Department).
Whereas changing the examination process alone will not help. Engineering Education needs to be complemented by the innovative teaching methods as well.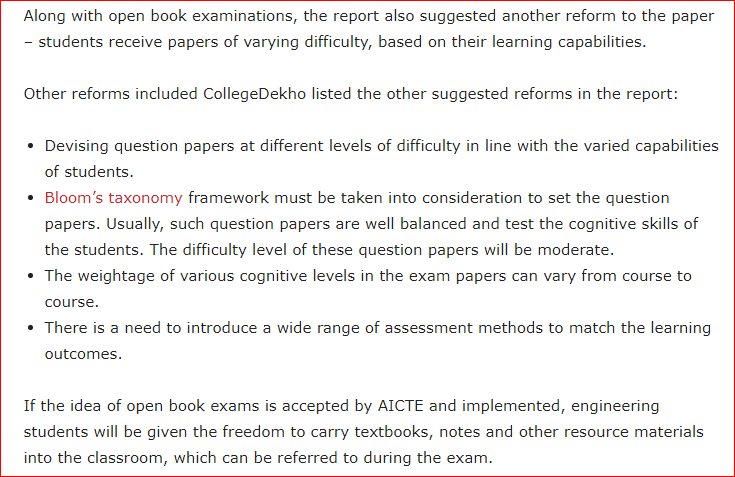 Read more All India Council for Technical Education News Here: https://www.aicte-india.org/news