BITSAT 2021 Eligibility Criteria is set by Admission Cell BITS Pilani. And, here is the list of important admission requirements for the online Computer Based Test. And this test for the candidates to get admission into UG and PG courses. The admission criteria for admission to all the above programs except B.Pharm is mentioned below. The Candidates should check the Eligibility Criteria before filling the online application form for BITSAT 2021.
BITSAT 2021 Eligibility Criteria
All the candidates must go through the criteria mentioned below to check for their eligibility before beginning the application process:
Academic Qualification:
Applicants should have passed the class 12 exam from a Recognized Central or State board or an equivalent Board.
And the student with Physics, Chemistry, Mathematics as main subjects (for all the programs except B.Pharm) can only apply.

For admission to B.Pharm, c

andidates should have passed the 12th examination of 10+2 system from a recognized Central or State board or its equivalent with Physics, Chemistry and Biology (PCB) and adequate proficiency in English. However, candidates with PCM may also apply for the Pharmacy program.
Candidates must be proficient in the English language.
A minimum of 75% marks aggregate is must in PCM and PCB(for B.Pharm candidates) in the qualifying examination and also secure 60% marks in Physics, Chemistry, Mathematics or Biology individually. However, candidates with Mathematics as a subject can apply for B.Pharm course as well.
Age Limit:
Subscribe to Get Updated Information about BITSAT 2020 Eligibility Criteria: BITS Pilani New Admission Criteria
​
Students, appearing for the 10+2 exam in 2021 or who passed the exam last year (2018) will also be able to sit for the CBT (Computer-based test). And if a candidate has passed class 12 in the second attempt, then the exam conducting body will consider the marks that the candidate obtains in the second chance.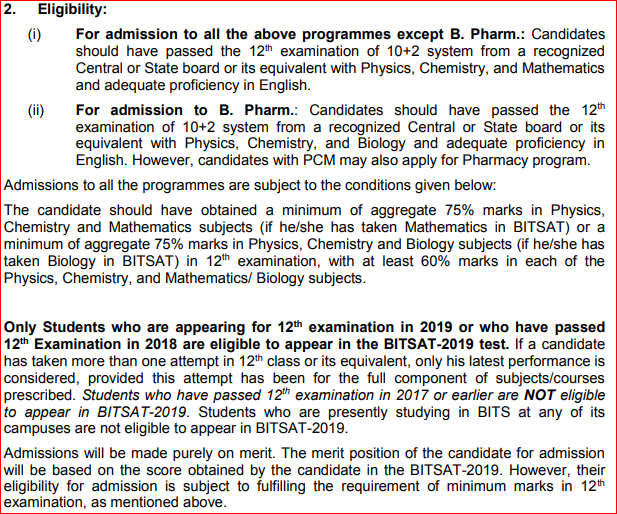 B.Pharma Admission Eligibility Criteria
The Eligibility Criteria for admission in B.Pharma at BITS Pilani is different from eligibility for other Programs. Read carefully if you are applying for the B.Pharma course.
Direct Admission to Board Toppers: The first rank holders in any of the state/ Central board will get direct admission into the institute.
And, even without considering their BITSAT 2021 score as per the Eligibility Criteria mentioned above.
This provides a golden opportunity for deserving students from all over the country to get admission in this institution.
Admission Criteria for International Students
The overseas students, who appeared for  SAT and SAT Subject Tests organized by the College Board of the USA can also apply for admission.
For them, various programs are available at BITS .
Candidates having a passport of any country other than India will be able to apply using the  'International Students Scheme'.
Admissions are based on SAT Subject Tests marks.
And in the qualifying exam as explained above and on the BITSAT Official website..