VITEEE 2020 Application form has been started from 27 September 2019. The students who wish to take admission in VIT must visit the website and fill the application form. Eligible candidates can select the courses offered at VIT Vellore Campus, Chennai Campus, VIT-Bhopal and VIT-AP on the Counselling day as per the order of merit and availability of seats. The VIT group currently offers 36 undergraduate courses inclusive of B.Arch degree (5 years) course. The admission into the B.Architecture Degree is based on NATA score. Moreover, it is a prestigious University and lakh of students attempt to qualify the Entrance exam. The VIT University Engineering Examination will have "No Negative marking for wrong answers". Take a look at the entire syllabus and Up to date insights about VITEEE eligibility criteria, paper pattern, ranking list, No. of seats etc in the article given below. Candidates can select the campus of their choice at the time of counselling based on the ranking.
Latest Update:
Sale of printed Application forms for VIT Engineering Entrance Examination (VITEEE-2020) for B.Tech Programmes has been started.
VITEEE 2020 Application Form has been started from 27 September 2019. Click here> Application Form.
Check your JEE Main Eligibility Here. Join & Refer your Friends to Earn Paytm Cashback
Check Now & Refer
VITEEE 2020 Exam Date
The University will announce the Important Dates for Engineering Entrance Examination. The official dates for important events related to VITEEE are given below.
Subscribe to Get Updated Information about VITEEE 2020: Application Form (Started), Dates, Eligibility
​
VITEEE 2020 Important Dates

| | |
| --- | --- |
| Events | Dates (Announced) |
| Commencement of Application Form | 27 September 2019 |
| Last date of Application form | 29 February 2020 |
| Last date to edit online Application Form | 29 February 2020 |
| Starting of Slot Booking | Third week of March 2020 |
| Downloading of Admit Card | After slot booking |
| VITEEE 2020 Exam dates | 2nd to 3rd week of April 2020 |
| Result declaration | 30 April 2020 |
| Counselling | 2nd to 3rd week of May 2020 |
| Class Commencement | 2nd week of July 2020 |
Note: All the dates are announced by VIT University.
VITEEE 2020 Application Form
VITEEE 2020 Application Form is available in both offline as well as online mode. Also, all the details including examination centre registration and the issue of online admit card with applicant's details on it will be communicated only through email. Therefore, candidates must submit an authentic Email Id and original mobile number for further communication with  VIT University.
Online Mode:
Firstly, the online application form for the Indian students belonging to different categories will be available for download on the official site or you can visit VITEEE Online Application form here.

Moreover, applicants must register themselves on the official website, they have to provide their name, DOB, Nationality, Email Id as well as their present mobile number.

Then, a verification code will be provided to applicants on their email ID to verify their details.

Further, as a result, a Password will be generated and the applicants can have access to login and fill the Application Form for VITEEE.

The candidate has to pay Rs. 1150/- as an Application fee.
Also, when the Application fee is paid through the

VITEEE App

, the cost of the application is Rs. 1,050/- only.
Offline Mode:
Firstly, to obtain the offline application form, the Applicants will be needed to send the application form and Demand Draft to the Director of UG Admission at VIT University.

Also

, the application form is accessible at the assigned branches of Post Office and admission office and VIT Bhopal, Amaravati, Chennai and Vellore Campuses by producing the Demand Draft for Rs. 1250/- in favour of VIT University.
Download VIT Information Brochure Admissions to B.Tech. Degree Programmes 2020 Here.

VITEEE 2020 Application Fee
VITEEE 2020 Application Fee

| | |
| --- | --- |
| Form Type |  Application Fee |
| Online Application Cost of Online Application Form | Rs. 1150/- |
| Through VITEEE App | Rs. 1050/- |
| Cost of Offline Application Forms | Rs. 1250/- |
| For Foreign Candidates (From test centre located in respective countries) | $ 50 (excluding bank charges) |
| Modes Of Payment | Mode |
| Online | Net Banking, Debit Card, Credit Card or Paytm, VIT University App |
| Offline | Demand Draft |
NOTE: Offline (OMR) application forms will be available in selected post offices and VIT Campuses. List of post offices will be released in due course.
Sample OMR Application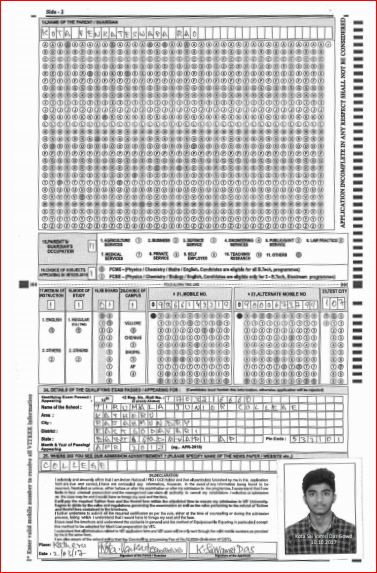 VIT Engineering Entrance Examination Application Status
The applicants can check their application status at VIT University VITEEE page. And the status for VITEEE application form can be checked by entering the candidates 10 Digit Application No. (the link is given below). Also, candidates need to access the application status page, the link is given here and at the official website of VITEEE.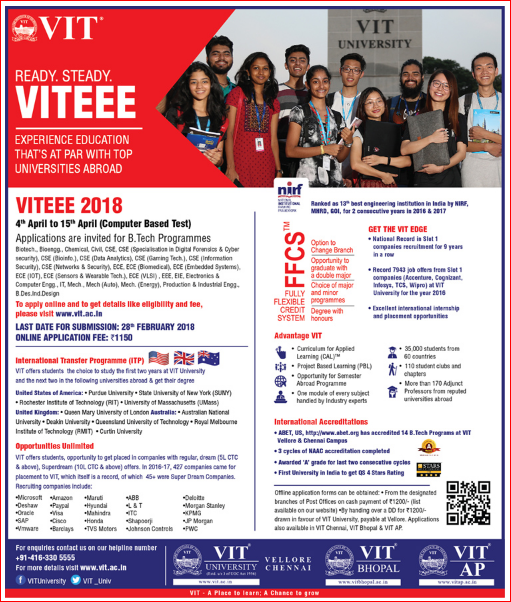 How to fill the VITEEE Application Form 2020 Online?
The steps to fill the Online Application form for VIT Engineering Entrance Exam is given below.
Search for VIT University official website. i.e. www.vit.ac.in
Click on Admission and follow the link for 'VITEEE 2020'.
Now the detailed information about the Entrance Exam can be viewed.
Finally, Click on the 'Application Form' link and fill in the details asked.
Submit the Application form and pay the fee for the same.
Take the print out of the application form for future reference.
Check the application status at the given link.
Detailed requirements to fill the VIT Application Form
Documents Required: Applicants are required following documents while filling the Application form.
Photograph: Scanned copy of recently taken passport size colour photograph with 50Kb – 100Kb (Dimensions – 3.5 cm*4.5 cm).
Signature: Scanned copy of Signature of the Candidate with 20Kb – 50Kb (Dimensions – 3.5 cm*1.5 cm ) in JPG / JPEG format.
Aadhar Card: Applicants are required to submit the Aadhar Card if not then proof of enrolment ID of Aadhar Card is compulsory.
Note: Selfie photos will not be accepted.
Online Application for B.Tech Programmes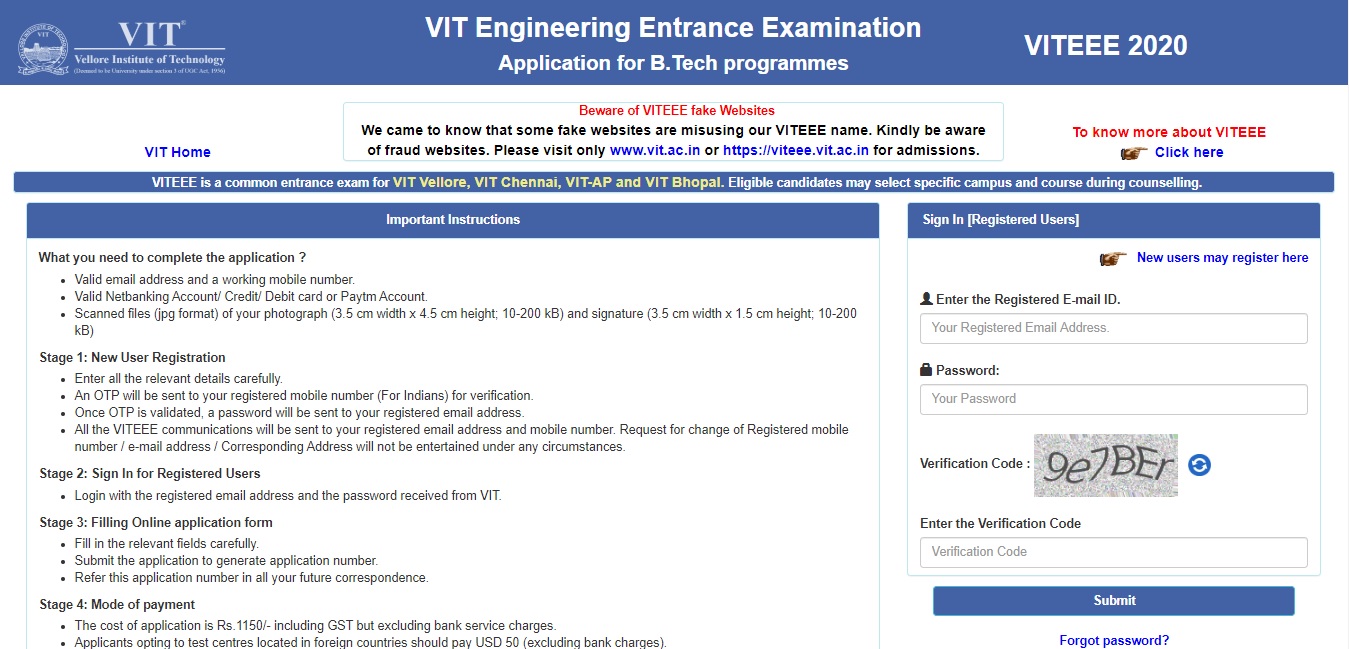 VIDEO ON HOW TO FILL THE VITEEE 2020 APPLICATION FORM
VITEEE 2020 Eligibility Criteria
Passing the eligibility criteria is necessary for each applicant because the admission will be given on this basis. So, below are some of the rules and regulations that need to be fulfilled for VITEEE 2020:
S. No
Particulars
Details
1.
Citizenship

The candidate must be resident/non-resident of India.
 A foreign citizen can also apply separately through a Foreign National Application form.

2.
Age Limit

Students whose DOB falls on or after 1st July 1997 are eligible to apply for VITEEE 2020.
Candidates should have completed the age of 17 years as on 1st July of the admission year.

3.
Qualification Criteria

 Candidate must pass 10+2 examination held by the State Board, CBSE and ISCE, New Delhi. 10+2 or two-year Pre-University examination organized by a recognized Board/ University.
HSCE of the Cambridge University or IB Diploma of the International Baccalaureate Office, Geneva.
NIOS students are eligible to appear for the VITEEE-2020.
Candidate should produce the Migration Cum Transfer Certificate at the time of joining.
 A student must secure an aggregate of 60% in Physics, Chemistry, and Mathematics/Biology in the qualifying examination.
The combination of PCBE/PCME marks should be 50%.
Note: All our Admissions are only through Counselling as per VITEEE 2020 ranking. Hence we request the parent/students not to contact any consultants/agents for admission purpose. We have not appointed any consultants /agents for our admissions. For all our admission related information, please refer only www.vit.ac.in website. Do not follow/believe any other fake websites/blogs/facebook/whats'up messages for VIT admission purpose.VIT University
What is Equating methodology at VIT Entrance Exam?
Equating is used to adjust scores of candidates who have taken different forms of a test, in order to facilitate meaningful and fair comparison for merit list and ranking of these candidates. The statistical procedure of Equipercentile Equating would be used by VIT to identify the percentile ranks for candidates, such that scores on different forms with the same percentile rank are considered to be equivalent. Thus, Percentile Rank is a unique and invariant position of the test taker in that group. A percentile Rank, say 90 Percentile Rank denotes that there is 90 percent of test takers scores below this score level and 10 percent above this test score. Candidates are advised not to make assumptions and predictions of their score or rank based on their own estimates of raw scores
Is VIT OMR Application available at Post Office?
Yes, VITEEE OMR applications are Available at post offices
Click here for List of Post Offices
GVSDP – GV School Development Programme Scholarships
| | |
| --- | --- |
| Scholarship* | Performance |
| 100% Tuition fee waiver for all the four years | Toppers of each State Board and Central Board |
| 75% Tuition fee waiver for all the four years | VITEEE rank holders of 1 to 50 |
| 50% Tuition fee waiver for all the four years. | VITEEE rank holders of 51 to 100 |
| 25% Tuition fee waiver for all the four years. | VITEEE rank holders of 101 to 1000 |
VITEEE 2020 Slot Booking
Firstly, VITEEE 2020 Slot booking will start from the third week of March 2020 (tentative).
Candidate can select from any of the available slots out of effectively announced test dates to take the online test of VITEEE 2020.
The online test will be taken on a computer.
Each candidate must book a slot as soon as possible.
But, if by any chance, an applicant did not reserve any slot, VIT will provide them with a random slot as per the availability.
Candidates need to books the slot according to their choice.
After slot booking candidates need to enter the date and batch of the exam.
Slot Booking will be made on a first come first serve basis.
Once the slot is filled it cannot be changed.
After Slot booking the applicants can download their e-Admit Card from the VIT website, by entering the Application Form No., Registration Number and Online Test slot booking password for downloading the admit card. Moreover, the VITEEE Admit Card will likewise be given to the applicants through email. Also, the candidates must carry ORIGINAL Admit Card alongside your e-admit card at the examination hall.
VIT Engineering Entrance Exam Paper Pattern 2020
Question paper consist of 4 Parts i.e. Physics, Chemistry, Mathematics(optional), Biology(optional) and English. Moreover, the exam will be held in April 2020 in three sessions.
The recommended Exam Pattern for VITEEE 2020 is mentioned hereby:
| | | |
| --- | --- | --- |
| S. No | Particulars | Details |
| 1. | Mode | The exam will be conducted through online mode. |
| 2. | Duration of Exam | 2 hours 30 minutes will be allotted for the exam. |
| 3. | Type of Questions | All questions will be of multiple-choice questions. |
| 4. | Total Questions | 125 questions will be asked in the exam. |
| 5. | Language of Exam | The language of the test will be English. |
| 6. | Negative Marking | There will be no negative marking. |
| 7. | Marking Scheme | Each question carries 1 marks. |
Marking Scheme:
| | |
| --- | --- |
| Parts | Total No. Of Questions |
| Physics | 35 |
| Chemistry | 35 |
| Mathematics/Biology | 40 (Each) |
| Aptitude | 10 |
| English | 5 |
Selection of VITEEE Question Paper
Candidates are requested to give uttermost attention While selecting VITEEE Question paper selection (PCME / PCBE).
PCME: Candidates with PCME is eligible for all the B.Tech. Degree programmes as per the VITEEE Merit.
PCBE: Candidates with PCBE is eligible only for 3 Bio-stream B.Tech. Degree programmes i.e. (Biotechnology, Biomedical, and CSE with spec. in Bioinformatics) as per the VITEEE merit.
VIT Sample Questions
To download the Sample questions of subjects like Physics, Mathematics, Chemistry, and English. Download official  VITEEE Sample Questions PDF here.
Mock / Demo Test: A mock test will be available to the candidates on the website www.vit.ac.in
VITEEE 2020 Syllabus
The Syllabus of VITEEE has been created to evaluate the overall aptitude and knowledge of the students for advanced education in Engineering. Nonetheless, a major part of the syllabus is based on class 11 and 12. Also, the syllabus for, Mathematics, Chemistry, and Physics, as well as English.
Detailed Syllabus for Physics:
PHYSICS

Chap1-  Physics And Measurement

Chap2-  Kinematics

Chap3-  Laws Of Motion

Chap4-  Work, Energy, and Power

Chap5-  Rotational Motion

Chap6-  Gravitation

Chap7-  Properties of Solids And Liquids

Chap8-  Thermodynamics

Chap9-  Kinetic Theory of Gases

Chap10- Oscillation and Waves

Chap11- Electrostatics

Chap12- Current Electricity

Chap13- Magnetic Effect of Current and Magnetism

Chap14- Electromagnetic Waves

Chap15- Dual Nature of Matter and Radiation

Chap16- Atoms and Nuclei

Chap17- Electronic Devices

Chap18- Communication Systems
Detailed Syllabus for Chemistry:
CHEMISTRY

Chap1- Some Basic Concepts in Chemistry

Chap2- States of Matter

Chap3- Atomic Structure

Chap4- Chemical Bonding and Molecular Structure

Chap5- Chemical Thermodynamics

Chap6- Solutions

Chap7- Equilibrium

Chap8- Redox Reactions and Electrochemistry

Chap9- Chemical Kinetics

Chap10- Surface Chemistry

Chap11- Classification of Elements and Periodicity in Properties

Chap12- General Principles and Process of Isolation of Metals

Chap13- Hydrogen

Chap14- S- Block Elements

Chap15- P- Block Elements

Chap16- F-Block Elements

Chap17- D and F-Block Elements

Chap18- Environmental Chemistry

Chap19- Purification and Characterization of Organic Compounds

Chap20- Some Basic Principle of Organic Compounds

Chap21- Hydrocarbons

Chap22- Organic Compounds Containing Oxygen

Chap23- Organic Compounds Containing Nitrogen

Chap24- Biomolecules

Chap25- Chemistry in Everyday Life
Detailed Syllabus for Mathematics:
MATHEMATICS

Chap1- Sets, Relations and Functions

Chap2- Complex Numbers and Quadratic Equation

Chap3- Matrix, and Determinants

Chap4- Permutations and Combinations

Chap5- Binomial Theorem and its simple application

Chap6- Sequence and series

Chap7- Limit, Continuity, and Differentiability

Chap8- Integral Calculus

Chap9- Differential Equation

Chap10- Coordinate Geometry

Chap11- Three Dimensional Geometry

Chap12- Vector Algebra

Chap13- Statistics and Probability

Chap14- Trigonometry

Chap15- Mathematical Reasoning

Chap16- Approximation
Detailed Syllabus for English:

Comprehension questions
English Grammar and Pronunciation
VITEEE Result 2020
VITEEE 2020 Result will be available on the official website. Notification SMS in regards to the rank of the applicant will be sent to the Applicants at the time of result declaration. Also, the competitors can check their outcome online through the official site of VIT University.
Further, VIT University will independently direct their counselling and seat allotment. Before counselling, Applicants need to provide their choices regarding counselling centres. Also, a confirmation will be given according to the ranking attained by the applicants in the examination. Moreover, counselling will take place in different phases and the date of the first phase of counselling will be available at the VIT University website.
VITEEE Admission 2020
The admission in the university will be based on the entrance examination. There will no procedure of direct admission without appearing in the exam. For admission in B.Arch, aspirants can apply through NATA score. It is compulsory that all the original documents i.e. Marks statement, Transfer Certificate, Conduct Certificate should be submitted to the Admissions Office at the time of admission.
CANDIDATES SHOULD SUBMIT THEIR ELIGIBILITY BEFORE THE COMMENCEMENT OF THE PROGRAMME.
The following documents in original are required to be submitted at the time of Admission for verification:
Qualifying examination mark statements of all attempts.
Transfer Certificate / School Leaving Certificate.
Migration Certificate (if issued by the board).
Community Certificate (For SC/ST only).
Nativity Certificate (For candidates hailing from Jammu and Kashmir/Ladakh and the North-Eastern states of Arunachal Pradesh, Assam, Manipur, Meghalaya, Mizoram, Nagaland, Sikkim and Tripura.)
Provisional Admission Letter. (Photocopy)
Recent Passport size colour photos – 4 nos.
Affidavit to be signed separately by Student, Parent and Hostel on an Rs.20/- Stamp Paper. (Format available on the website www.vit.ac.in)
Physical Fitness Certificate.
Copy of student profile (Please refer www.vit.ac.in for filling up through an online link

2 sets of photocopies of all original documents (Except Affidavit & Physical Fitness Certificate).
Candidates can download the acknowledgement for the documents submitted from the VIT website. No written acknowledgement will be issued.
All the above-mentioned documents shall be handed over to the Admissions Office for verification at the time of admission, failing which the provisional admission accorded will stand cancelled.
VITEEE 2020 Merit-Based Scholarship
Scholarship under "GV School Development Programme" (GVSDP)
VITEEE 2020 Merit-Based Scholarship
Performance
Scholarship*
Toppers of each State Board
and Central Board
100% Tuition fee waiver for
all the four years.
VITEEE rank holders of 1 to 50
75% Tuition fee waiver for
all the four years.
VITEEE rank holders of 51 to 100
50% Tuition fee waiver for
all the four years.
VITEEE rank holders of 101 to 1000
25% Tuition fee waiver for
all the four years.
Courses Offered By Colleges Under VITEEE 2020
B.Tech. Programmes offered at Vellore Campus
Biotechnology
Civil Engineering
Chemical Engineering
Computer Science and Engineering
Computer Science and Engineering with a speciality in Bioinformatics
Computer Science and Engineering with a speciality in Information Security
Electronics and Communication Engineering
Electronics and Communication Engineering with a speciality in the Internet of Things and Sensor
Electrical and Electronics Engineering
Electronics and Instrumentation Engineering
Electronics and Communication with a speciality in Biomedical Engineering
Electronics and Communication with a speciality in Sensors & Wearable Technology
Information Technology
Mechanical Engineering
Mechanical with lsp. in Automotive Engineering
Mechanical with a speciality in Energy Engineering
Production and Industrial Engineering
Courses offered at Chennai campus
Civil Engineering
Computer Science and Engineering
Electronics and Computer Engineering
Electronics and Communication Engineering
Electrical and Electronics Engineering
Fashion Technology
Mechanical Engineering
Courses Offered at Bhopal (Madhya Pradesh)
Aerospace Engineering
Bioengineering
Computer Science and Engineering
Computer Science and Engineering with a speciality in Gaming Technology
Computer Science and Engineering with a speciality in Cyber Security and Digital Forensics
Computer Science and Engineering with a speciality in AI and Machine Learning
Electronics and Communication Engineering
Electrical and Electronics Engineering
Mechanical Engineering
Courses offered at Amaravati (Andhra Pradesh)
Computer Science and Engineering
Computer Science and Engineering with a speciality in Data Analytics
Computer Science and Engineering with a speciality in Networking and Security
Computer Science and Engineering with a speciality in Artificial Intelligence
Electronics and Communication Engineering
Electronics and Communication Engineering with a speciality in Embedded Systems
Electronics and Communication Engineering with a speciality in VLSI
Mechanical Engineering
VIT University Information
The brief information about the university is given here.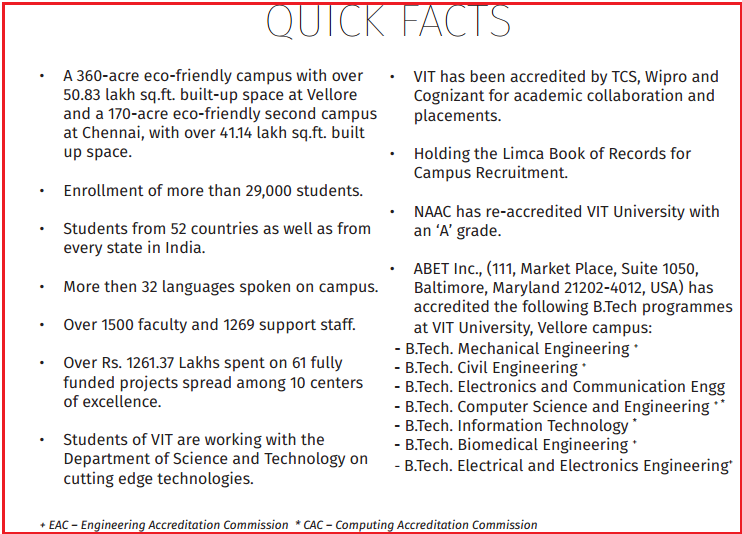 VITEEE 2020 Exam Centres
VITEEE 2020 Exam Centres
State
Test City Code
Test City
Venue Address
Andaman and Nicobar Islands
101
Port Blair
Tagore Government College of Education,
M.G. Road, Middle Point, PORT BLAIR – 744101
Andhra Pradesh
102
Ananthapur
Srinivasa Ramanujan Institute Of Technology,
Rotary Puram Village, B K Samudram Mandal,
Anantapur, Andhra Pradesh 515701, ANANTHPUR – 515701
103
Eluru
Sir C R Reddy College Of Engineering, Vatluru Post,
Peddapadu Mandal, West Godavari District,
Eluru, Andhra Pradesh, India-534007, ELURU – 534007
104
Guntur
Sri Venkateswara Institute of Technology, Baba Gardens, Narsaraopet road, Perecherla(v),
Medikonduru (M),Opposite Universal College,
Guntur, Andhra Pradesh, 522009, Guntur – 522009
105
Kurnool
Indus IT Software Services Private Limited,
#405, Sai Vasanth Complex,Birla Compound,
KURNOOL, Andhra Pradesh-518002,
Kurnool – 518002
106
Nellore
Narayana Engineering College, Off NH-5, Muthukur Road,
A.K. Nagar, Near Apollo Hospital, Nellore,
Andhra Pradesh – 524004, Narayana Avenue, NELLORE – 524004
107
Rajahmundry
Gsr Online Academy, 8-80,MALLAYAPETA Road, Above Central Bank of India, rajahmundry,
Andhra Pradesh, 533105, Upstair Central Bank Of India,
RAJAMAHENDRAVARAM – 533105
108
Tirupati
Shree Institute of Technical Educational, Gopalapuram Vill&PO,Renigunta Madal,
Ranigunta – Skikalahastri Highway,Chittoor Dist,
Andhra Pradesh-517127, TIRUPATI – 517127
109
Tanuku
Sasi Junior College, Mainroad,Velivennu,
Undrajavaram Madal,TANUKU – 534329, TANUKU – 534329
110
Vijayawada
Q Technologies, 28-23-2,Moulana Street,Arundalpet, Vijayawada, Andhra Pradesh, 520002,
Opposite Street Of Lot Mobiles Eluru Road Near Vijaitakies,
VIJAYAWADA – 520002
111
Vishakhapatnam
Welfare Institute Of Science Technology & Management, Pingadi Village,
Near Pendurthy, Visakhapatnam,
Andhra Pradesh, India, 531173, VISAKHAPATNAM – 531173
Arunachal Pradesh
112
Itanagar
Aptech Education Centre, 1St Floor,
Sun View Centre, Near Petrol Pump,
Sector C , Near Petrol Pump, ITANAGAR – 791111
Assam
113
Dibrugarh
Lahowal College, Po- Lahowal Dist- Dibrugarh,
DIBRUGARH – 786010
114
Guwahati
Studylink Academy, 1st Floor,
Ujjala Market, A K Dev Road , Fatashil,
Near Fatashil Bazar, GUWAHATI – 781009
115
Silchar
Womens College, Shillong Patty,
Silchar, SILCHAR – 788001
Bihar
116
Bhagalpur
Maxwell Computer Centre,
Above Yamaha Showroom, Ghooran Peer Bab Chowk,
Bhagalpur, BHAGALPUR – 812001
117
Gaya
Dav Public School, Dav Public Sghool,
Cant Area,, GAYA – 823001
118
Muzaffarpur
L N Mishra College Of Business Management,
Bhagwanpur Chawk, MUZAFFARPUR – 842001
119
Patna
Informatic Computer Education, Kumrahar , Maurya Colony,
Near Alankar Sun City Apartment, North Of Kumrahar Over Bridge,
Near Alankar Sun City Apartment, PATNA – 800007
Chandigarh
120
Chandigarh
E Edu Solutions, Sco 324-325,
2 Floor, Sector 38 D, CHANDIGARH – 160015
Chhattisgarh
121
Bhilai
Christian College Of Engineering And Technology,
Kailash Nagar, Housing Board Industrial Estate,
Dalit Parishad Appartment,Kailash Nagar, BHILAI – 490026
122
Bilaspur
Chouksey Engineering College, Bilaspur,
Lal Khadan, Masturi Road, N.H.-49, Bilaspur, BILASPUR – 495004
123
Raipur
Kruti Institute Of Technology And Engineering,
Knowledge Village, Nardha – Vidhan Sabha Road,
Near Vidhan Sabha, RAIPUR – 493111
Delhi
124
Delhi
MeritTrac Services Pvt Ltd, 256, Okhla Industrial Estate ,
Phase-3, Modi Mill Compound,
Opposite to Post Office, DELHI – 110020
Goa
125
Goa
Manipal Institute Of Computer Education,
Iii Floor, Virgincar Bhavan,
Martinho Menezes Road,
Opposite Saraswath Bank, MARGAO – 403601
Gujarat
126
Ahmedabad
All India Institute Of Local Self Government,
Cd Barfiwala Bhavan, Near Bhavan'S College,
Khanpur, Near Vidhya Gowri Neelkanth Road,
AHMEDABAD – 380001
127
Rajkot
B.H. Gardi College Of Engineering & Technology, "Gardi Vidyapith" ,
Rajkot-Kalawad Highway ,
Near Village Anandpur, RAJKOT – 361162
128
Surat
Shri Shambhubhai V Patel College Of Computer Science & Business Management,
Beside I.C Gandhi High School, Sumul Dairy Road,
Railway Station ,Patel Nagar ,
SURAT – 395008
129
Vadodara
Future Thinkers, Urban One ,
4Th Floor ,Near Hanuman Temple ,
Vasna Bhayali Road, BARODA – 391410
Haryana
130
Faridabad
Vm Sr Secondary School ,
Gurudwara Road, Jawahar Colony ,
FARIDABAD – 121002
 131
Gurgaon
Gurugram Institute Techno World,
4A Idc 1 & 2 Floor Opp Prime Motors Mg Road Opp Sector 14,
GURGAON – 122002
 132
Hissar
E Computer Training Center, Scf ,
1 , 2Nd Floor , Sagar Building ,
Gurudwara Road Model Town ,
Opposite Geetanjali Hospital, HISAR – 125005
 133
Kurukshetra
Shri Krishna Institute Of Engineering And Technology,
Post Box No. 35,
Ratan Dera Road,
KURUKSHETRA – 136118
Himachal Pradesh
134
Dharmshala
Vision Academy ( Sai Infotech), Near Petrol Pump,
Opposite Shanti Hotel,
Birta , KANGRA – 176001
135
Shimla
Horizon Infosys , C/O Aptech Computer Education,
Walia Cottage,
Near Auckland Tunnel,
Lakkar Bazar , SHIMLA – 171001
Jammu and Kashmir
136
Jammu
National Institute Of Management & Technology,
Kot Bhalwal Road ,
Near Sbi Bank,
Kot Bhalwal Jammu, JAMMU – 181122
137
Srinagar
Study Web Computers, Opp. J&K Bank ,
Near Habib Cotton House Lane ,
Barzulla, Srinagar ,
SRINAGAR – 190005
Jharkhand
138
Bokaro
SJS Online Services, Plot No 50,
Bari Cooperative Colony,
Bokaro Steel City,
BOKARO – 827012
139
Dhanbad
JDS ITI, Binod Nagar Chiragora,
Hirapur, Dhanbad,
Jharkhand, Near Bsnl Tower,
DHANBAD – 826001
140
Jamshedpur
Al-Kabir Polytechnic,
Kabirnagar Kopali, Via Mango,
JAMSHEDPUR – 831012
141
Ranchi
Lakhsya Online Test Center ,
3Rd Floor, Sethi Corporate,
P P Compound, Main Road,
Near Sujata Chowk, RANCHI – 834001
Karnataka
142
Bangalore
Edu Surge, Radhakrishna Layout, 80Ft Main Road,
Padmanabha Nagar,
Opp To Prarthana School 2 (P2),
BANGALORE – 560070
143
Hubli
GIT IT Academy, 3Rd Floor,
Kittur Enclave, Vidyanagar, Opp Bvb College,,
HUBLI – 580030
144
Mangalore
Manipal Institute of Computer Education(MICE),
Somayaji House, Bunts Hostel Road,
MANGALORE – 575003
Kerala
145
Kochi
Edu Surge, Door No C.C 37/1634, Cosmo Tower,
Narikapparambu Avenue 2, Under Kathrikadavu Junction Flyover,
K.K.Road,Ernakulam,
Near Kathrikadvu Junction, KOCHI – 682018
146
Kozhikode
G TEC College,
Markaz Complex, opp mofusal bus stand Mavoor Road,
Arayidathupalam, Kozhikode,, opp mofusal bus stand,
Calicut – 673004
147
Thiruvananthapuram
Edu Surge, Thulasi Tower,
Edavacode, Sreekariyam P.O,
THIRUVANATHAPURAM – 695017
148
Thrissur
Sahrdaya College Of Engineering And Technology,
Pb No 17, Kodakara Po,
THRISSUR – 680684
Madhya Pradesh
149
Bhopal
IES Group Of Institutions,
Kalkheda, Ratibad Main Road,
Near Neel Baad Petrol Pump,
BHOPAL – 462044
150
Gwalior
Prestige Institute Of Management ,
Airport Road, Opposite Deendayal Nagar,
GWALIOR – 474020
151
Indore
Jaipuria Institute Of Management ,
Dakachaya ,Indore Dewas Highway ,Near Shipra Naka,
INDORE – 453771
152
Jabalpur
Global Nature Care Sangathan'S Group Of Institutions- Faculty Of Engineering And Management,
Patan Bypass ,
Near Ntpc, Raigwan,
JABALPUR – 482001
153
Ujjain
Prashanti Institute Of Technology & Science,
Jain Mahaveer Tapobhumi Post Lekoda Gram Gangedi ,Indore Road,
UJJAIN – 456006
Maharashtra
154
Amravati
Sipna College Of Engineering And Technology,
Sipna Campus, Infront Of Nemani Godown,
Badnera Road, AMRAVATI – 444701
155
Aurangabad
RGM Info Tech, Opposite Peer Gaib Sahab Dargah,
Collector Office Road,
S.T.Collony, Fazilpura,
AURANGABAD – 431001
156
Latur
Sandipani Technical Campus : Faculty Of Engineering,
Nanded Road Highway,
Kolpa, LATUR – 413512
157
Mumbai
Edu Surge, Basement, Chandramuky Building,
Opp Oberio Hotel,
Nariman Point,
MUMBAI – 400021
158
Nagpur
Green Heaven Institute Of Management And Research,
Village Rui, Via Hotel Le Meridien ,
Off. Wardha Road,
NAGPUR – 441108
159
Nashik
Omiz Solutions,
Office No-49,Roongta Shopping Mall ,4Th Floor ,
Uttam Nagar,Cidco, Next To Burkule Hall,
NASHIK – 422009
160
Pune
Pro Skills Consulting Pvt. Ltd.,
Survey No.-37,Danny Mehta Nagar ,Kodhwa Saswad Road ,
Near Khadi Machine Chowk ,Kondhwa Budruk,
Opposite Silver Star Hall Bus Stop,
PUNE – 411048
161
Thane
Edu Surge, Ground Floor, Mbc Park, Next To Hypercity,
Godbunder Road, Kasarwadawli,
Thane West, Near Hypercity,
MUMBAI – 400615
Manipur
162
Imphal
Nongnil It Consultants, 2Nd Floor,
Loklaobung Gas Building, Moirangkhom,
Loklaobung, Imphal, IMPHAL – 795001
Meghalaya
163
Shillong
St. Anthony'S College, Bomfyle Road,
Near Mizo Church, Shilong, Meghalaya,
SHILONG – 793001
Mizoram
164
Aizwal
Govt Aizawl North College, Ramhlun Chaltlang,
Po-Ramhlun, Aizawl,
AIZWAL – 796012
Nagaland
165
Dimapur
Softech Education Center,
Opposite Holy Cross School, Dimapur,
DIMAPUR – 797112
Orissa
166
Berhampur
Kalam Institute Of Technology, Govindavihar,
Govindpur, Po-Laxmipur, Ps- Chamakhandi,
Berhampur, Near Tata Project Nh-5,
BERHAMPUR – 761013
167
Bhubaneswar
Edu Surge Mancheswar Center, Edu Surge,
Plot No. 22 & 23 Zone D, Sector – A,
Mancheshwar Industrial Area, Arss Office Lane,
Near Indian Express,
Near Indian Express, BHUBANESWAR – 751017
168
Rourkela
Seenet Consultancy Services Pvt. Ltd.,
Stpi Complex, Sector-5,
Near Panth Nivas,
Behind Ig Park,
ROURKELA – 769002
Puducherry
169
Puducherry
Sri Ganesh College Of Engineering And Technology ,
Keelparikalpet, Pondicherry-Cuddalore Ecr Road,
Mullodai,Puducheery -607402,
PUDUCHERRY – 607402
Punjab
170
Amritsar
Swami Satyanand College Of Management And Technology ,
A-Block, Guru Amar Dass Avenue, Airport Road,
Near District Court, AMRITSAR – 143005
171
Bathinda
S. S. D. Senior Secondary School,
Opposite Gole Diggi Market,
The Mall Road, BHATINDA – 151001
172
Jalandhar City
CT Institute Of Management And It ,
Greater Kailash,
G T Road, Maqsudan,
Near Secret Heart Hospital,
JALANDHAR – 144001
173
Ludhiana
Guru Nanak Computer Centre, #6966,
New Janta Nagar, Back Side A.T.I College,
Opp. Kali Mata Mandir, Ludhiana,
LUDHIANA – 141003
Rajasthan
174
Ajmer
Ajmer Institute Of Technology,
Pushkar Bye Pass ,
AJMER – 305004
175
Bikaner
Gyanoday Private Iti ,Bikaner ,
90-91, Road No 8,
Industrial Area, Rani Bazar,
Bikaner, Rajasthan 334001 ,
BIKANER – 334001
176
Jaipur
Anand International College Of Engineering, Near Kanota,
Agra Road, Opposite To Shahidh Puliya,
JAIPUR – 303012
177
Jodhpur
Slbs Shodh Evam Parsikshan Sansthan,
6Th Road, Shakti Nagar,
Paota C Road, Near Incom Tax Office/Near Rto Office Jodhpur,
Near Rto Office,
JODHPUR – 342010
178
Kota
Modi Institute Of Management & Technology, Dadabari,
Jawahar Nagar, KOTA – 324009, Apex Institute Of Science And Arts,
Before Riico Office Ranpur , Kota ,
KOTA – 324004
179
Udaipur
11, Swami Nagar, Bhuwana, Behind Celebration Mall ,
Near Neelkanth Hospital ,
UDAIPUR – 313004
Sikkim
180
Gangtok
Sikkim Manipal University,
5Th Mile, Tadong, East Sikkim,
GANGTOK – 737102
Tamil Nadu
181
Chennai
VIT Campus – Chennai, Vit University,
Vandalur-Kelambakkam Road,
CHENNAI – 600127
182
Coimbatore
Kgisl Institue Of Technology (Kite),
Kg Campus, Thudiyalur Road,Saravanampatti Post,
COIMBATORE – 641035
183
Kumbakonam
Arasu Engineering College,
Chennai Main Road,Kumbakkonam – 612501,
Near Hotel Le Garden,
KUMBAKONAM – 612501
184
Madurai
Sethu Institute of Technology ,
Pulloor, Kariapatti
Madurai – 626 115
185
Salem
Jairam Arts And Science College,
Chinnathirupathi (Po),Salem -636008,
Near Narasus Coffee Company,
SALEM – 636008
186
Tiruchirapalli
Shivani College Of Engineering And Technology,
No.90 ,Navallur Kuttapattu Village,
Trichy Dindigul High Road,Tiruchirapalli – 620009,
Opp To Law College,
TIRUCHIRAPALLI – 620009
187
Tirunelveli
Pet Engineering College,
No 6, Thiruchendur Road,
Vallioor,Tirunelveli – 627117,
TIRUNELVELI – 627117
188
Vellore
VIT Campus – Vellore,
VIT University,
VELLORE – 632014
Telangana
189
Hyderabad
CMR Institute Of Technology, Kandlakoya(V),
Medchal Road (M),Hyderabad – 501401,
Near CBN India,
Hyderabad – 501401
190
Karim Nagar
Vaageswari College Of Engineering,
Beside Lmd Police Station, Rama Krishna Colony, Karimnagar,
Telangana, India-505481, Beside Lmd Police Station,
KARIMNAGAR – 505481
191
Khammam
Bomma institute of technology and science , Allipuram,
Khammam, Telangana 507318,
KHAMMAM – 507318
192
Nalgonda
Anurag Engineering College, Ananthagiri Village ,
Kodad Mandal, Nalgonda District,
Kodad, Telangana, India-508206,
NALGONDA – 508206
193
Warangal
Warangal Institute Of Technology,
Gudepadu X Roads, Oorugonda,
Atmakur,Warangal -506342,
WARANGAL – 506342
Tripura
194
Agartala
Women'S Polytechnic, Govt. Of Tripura,
Agartala, Hapania, Tripura (W), Po: Amtali,
AGARTALA – 799130
Uttar Pradesh
195
Agra
Faculty Of Engineering And Technology,
Fet,Raja Balwant Singh Engineering Technical Campus, Bichpure,
Bichpure, AGRA – 282005
196
Aligarh
Vivekananda College Of Law, Mathura Bypass,
500 Mtrs From Nada Pul,
Near Khair Road, ALIGARH – 202001
197
Allahabad
ICSD College,
14B Chak Daud Nagar Mirzapur Road Naini Allahabad,
ALLAHABAD – 211008
198
Bareilly
Jyoti College Of Management Science And Technology,
Mudiya Ahmad Nagar, Near Mayur Van Chetna Kendra,
Pilibhit Road,
BAREILLY – 243122
199
Gorakhpur
Cavalier Animation And Tech ,
2Nd Floor Mangalam Tower, Golghar,
GORAKHPUR – 273001
200
Jhansi
Manaswin Global Services, 97/3 E Civil Lines ,
Munu Vihar , Manaswin Tower ,
JHANSI – 284001
201
Kanpur
Nimact Infotech ,
117/26,Bhootnath Building , Sarvodya Nagar ,
KANPUR – 208005
202
Lucknow
IPCC, Ground Floor,Prtap Bhawan,
Hazratganj, Behind Leela Cinema,
LUCKNOW – 226001
203
Mathura
Cadd Center Training Services Pvt Ltd ,
Plot No 1, Second Floor, Maholi Road ,
Nh 2 Mathura, Near Bajrang Dhramkata,
MATHURA – 281004
204
Meerut
J.P Institute Of Engineering And Technology, Mawana Road,
Po Rajpura,Opposite Translam Academy, Near Defense Colony,
MEERUT – 250001
205
Moradabad
Moradabad Muslim Degree College, Katghar,
Near Katghar Railway Station,
MORADABAD – 244001
206
Noida
Mangalmay Institute Of Engineering And Technology, Plot No 8, Knowledge Park 2,
GREATER NOIDA – 201310
207
Rae Bareli
RAJIV GANDHI COMPUTER SHIKSHA KENDRA, RANA NAGAR,
KANPUR ROAD, RAEBARELI , -(RGCT) BUILDING,
Rae Bareli – 229001
208
Saharanpur
Dev Bhoomi Group Of Institutions,
Village – Berijama, Dabki Road, Near Baliyakheri Railway Station,
SAHARANPUR – 247001
209
Varanasi
Bhartiya Institute Of Information Technology (B.I.I.T), Opp. Tvs Service Centre,
Prabha Complex, Sidhgiribagh Road, Sigra ,
VARANASI – 221001
Uttarakhand
210
Dehradun
Orion Society Of Computer Education And Management,
3, Akshdeep Colony, Chakrata Road, Near Hotel Surbhi Palace ,
DEHRADUN – 248001
211
Pant Nagar
Apex Institute Of Technology, Village And Po-Kaushal Ganj,
Tehsil-Bilaspur District Rampur, Near Chini Mill,
RUDRAPUR – 244923
212
Roorkee
Institute Of Technology ,
Rcp Universe, 09Th Km Stone, Vill Kishanpur,
ROORKEE – 247667
West Bengal
213
Asansol
B B College, B B College Road,
Asansol, Ushagram, West Bengal,
ASANSOL – 713303
214
Durgapur
Sanaka Educational Trust,
Po-Malandighi, Ps-Kanksa,
DURGAPUR – 713212
215
Kolkata
Edu Surge (Pride Building), 1st Floor,
Unit 103C, BG12, Action Area, 1B ,
New Town Rajarhat, (Near Pride Plaza),
Kolkata, Near Pride Plaza,
Kolkata – 700156
216
Siliguri
Umang Infotech, 3rd Floor, Goyal Plaza, 2nd Mile,
Sevoke Road Opp- Hotel Sachitra By Lane,
Siliguri – 734001
Exam Centres Abroad
| VITEEE Test City Code | VITEEE Test City |
| --- | --- |
| 217 | DUBAI |
| 218 | KUWAIT |
| 219 | MUSCAT |
VITEEE Official Address and Link
Contact Address:
DIRECTOR-UG ADMISSIONS,
VELLORE INSTITUTE OF TECHNOLOGY,
VELLORE-632014,
TAMIL NADU, INDIA
PHONE NO. 0416-220 2157/ 2168 (MONDAY – FRIDAY – 9.00 AM TO 6.00 PM)
Email: [email protected] website: www.vit.ac.in
Exclusive VIT Admission Help Line Nos. 0416- 2202125 (ten lines available) will be functioning from November Second week onward.
Check your VIT Engineering Entrance Examination Application Status Here.
VIT University Campuses ( VIT Vellore Campus, Chennai Campus, VIT-Bhopal and VIT-AP)
The university owns four campuses in India at Vellore, Chennai, VIT-Bhopal and VIT-AP. At Vellore campus, there are 36 undergraduate courses offered by the institute. The group recently opened the Bhopal campus at Kothari, Madhya Pradesh. And last year expanded to Andhra Pradesh and started new campus called VIT-AP University, Amaravati.
Note: Engineering aspirants candidates should give JEE Main 2020 exam also so that he can get ample opportunity to participate in different admission counsellings.
Candidates can check EntranceZone.com, for more details regarding Engineering Examination.
viteee 2019 form, viteee 2019 dates, viteee 2019 exam centre, viteee 2019 registration, viteee 2019 login, viteee 2019 application form date, viteee 2019 registration fee, viteee 2019 exam centres*