CBSE Launches Helpline Numbers: The Central Board of Secondary Education (CBSE) has announced new helpline numbers for students to create awareness about the COVID19 pandemic. The helpline services will continue from 10 AM to 1:30 PM and 2 PM to 5 PM from 24 March 2020 till 31 March 2020 until further announcement.
Admission Open 2023
Top University & Colleges Official Links, Application & Scholarship Forms.
CBSE Launches Helpline Numbers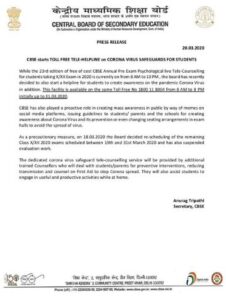 Here are the new helpline numbers and the timing:
10 AM – 1:30 PM
1. 9899991274
2. 8826635511
3. 9717675196
4. 9999814589
Subscribe to Get Updated Information about CBSE Launches Helpline Numbers: How it works? - Admissions
​
2 PM – 5 PM
1. 9811892424
2. 9899032914
3. 9599678947
4. 7678455217
5. 7210526621
Meanwhile, CBSE physiological helpline will continue to assist at a toll-free number 1800-11-8004 till March 31st.
How it works?
The counselling service dedicated to coronavirus safeguards will be provided by trained counsellors. They will interact and counsel both students and parents on prevention, reducing transmission and also about first-aid for stopping coronavirus spread. They will also assist the students in engaging in useful productive activities while they stay at home, the CBSE said in its press release.
The new helpline supplements the existing life counselling facility for Class 10and 12 students taking board exam, the CBSE's press release said: "While the 23rd edition of free of cost CBSE Annual Pre Exam Psychological live counselling for students taking 10th/12th Exam in 2020 is currently on from 8 AM to 10 PM, the board has recently decided to also start a helpline for students to create awareness on the pandemic coronavirus besides."
Covid-19 Cases in India
The total number of confirmed coronavirus infections in India has now climbed up to 500, including 42 foreigners. While 29 people have been cured of the infection, the country has seen 10 deaths.
To check the spread of coronavirus, the government has close all the train faculty. However, flight will be close from 24 March 2020.
Also read: CBSE Class 10th
Also read: CBSE Class 12th