JNU Delhi Admission Notification 2020: Jawaharlal Nehru University (JNU, Delhi) Application Form has been extended till 30 April 2020. The National Testing Agency will conduct the JNUEE 2020 from 11-14 May 2020 for admission to various courses at JNU as per the list available in the Information Bulletin. JNUEE 2020 is also known as JNUET 2020. This exam is conducted at the national level once in a year. This entrance exam offers admission into M.Phil, PhD, M.Phil / PhD through JRF, PhD through JRF, M.Tech, MPH, PGDE, MA, M.Sc. BA (Hons). The list of University Schools of inter-disciplinary research and teaching besides some Special Centres of Study is given below.
Admission to Jawaharlal Nehru University is based on the performance of candidates in the All India Level Entrance Examination called Jawaharlal Nehru University Entrance Examination. The final selection is based upon the performance of candidates in the CBT for all programmes of study, except M.Phil. and Ph.D. For Selection in M.Phil. and Ph.D through CBT mode, candidates are called for Viva voce and final merit list is made with 70% weightage to CBT score and 30% weightage to Viva.
Check here complete details about JNUEE 2021
JNU Entrance Test Dates 2020
The important dates of JNU Entrance Test is given below.
JNU Entrance Test 2020 Important Date

| Events | Dates  |
| --- | --- |
| Release of Application form | 02 March 2020 |
| Last date of application submission | 31 March 2020    30 April 2020 |
| Application correction window opens | March 2020        Will be announced |
| Availability of Admit card | 21 April 2020     Will be announced |
| JNU Exam Date | 11-14 May 2020 |
| Announcement of result | 31 May 2020 |
| Merit List | June 2020 |
| Counselling | Third week of August 2020 |
These are the officially announced dates released by NTA.
JNU Delhi Admission Notification 2020: JNUET or JNUEE
On 30 March 2020, NTA released the official notification that application form has been extended till 30 April 2020. Candidates can read the following NTA Public Notice.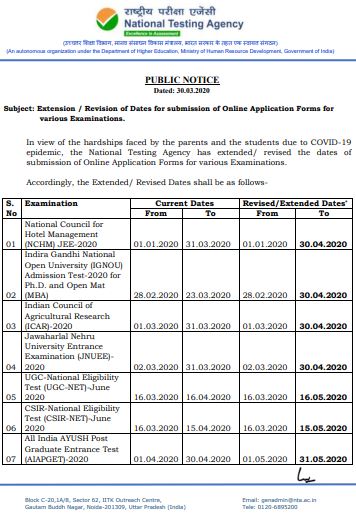 NOTE: Click here to view NTA Public Notice.
JNUEE 2020 Official Notification
The Test will be conducted in Computer Based Test (CBT) mode only. Candidate can refer the following official notification regarding JNUEE 2020.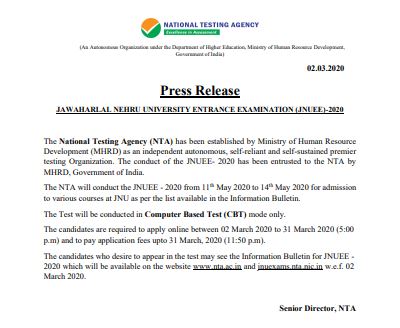 NOTE: Click here to view and download JNUEE Notification.
Scheme Of JNU Entrance Examination
The JNUEE Exam Pattern is listed below:
JNUEE Exam Pattern

| Particulars | Details |
| --- | --- |
| Mode of Examination | LAN Based CBT (Computer Based Test) |
| Duration | 3 Hours |
| Type of Questions | Multiple Choice Question |
| Number of Questions* | 100 |
| Marks per question* | 1 (one) for each correct response |
| Negative Marking | No negative marking for incorrect response |
| Medium of Paper | English only (Language courses may have exception) |
Note: *-may vary in certain subjects depending upon the nature of the subject.
Syllabus for JNU Entrance Test
The Question Papers /Tests of JNUEE 2020 shall be based on the syllabus prescribed by the JNU which is available at website.
Download JNU E-Prospectus 2020-21 Syllabus PDF Here.
Eligibility Criteria and Subject Wise Qualifications
The eligibility Criteria and Subject wise Qualifications for admission are given in Annexure-XV of Information brochure added above.
AGE LIMIT: The Minimum Age limit for B.A. (Hons.) Programme is 17 years as on 1 October 2020. There is no age bar for any other programme.
M.Phil. and Ph.D. Admission Through JNUEE
There will be a common/single question paper for M.Phil. and Ph.D. programmes in the same field of study (provided intake is there in both the programme for JNUEE).
The entrance examination shall be conducted for both the programmes in same filed on the same date and time, as per the schedule given in the Information Bulletin.
If any candidate intends to apply for these two Programmes of study i.e. M.Phil. and Ph.D. in the same filed, candidate can apply for both the programmes and has to appear only in one common test and attempt the relevant question paper (in the same field).
The marks obtained by the candidate shall be considered for both the programmes, if opted for both.
JNU Schools and their Programmes of Study
School of International Studies (SIS)
School of Language, Literature and Culture Studies (SL)
School of Life Sciences (SLS)
School of Social Sciences (SSS)
School of Environmental Sciences (SES)
School of Computer & Systems Sciences (SC&SS)
School of Physical Sciences (SPS)
School of Computational and Integrative Sciences (SC&IS)
School of Arts & Aesthetics (SAA)
School of Biotechnology (SBT)
Centre for Sanskrit Studies (CSS)
Centre for Molecular Medicine (CMM)
Centre for the Study of Law & Governance (CLG)
Centre for Nano Sciences (CNS)
JNU Application Form 2020 for all Courses
The registration form for Jawahar Lal Nehru University 2020 Entrance Exam for all courses has been released from 02 March 2020. The candidates who desire to appear in the Jawahar Lal Nehru University Entrance Test may see the Information Bulletin for JNUEE – 2020 which will be available on the official website and can download here.
Download JNUEE 2020-21 Information Brochure PDF Here.
JNU Exam form
JNU Application form is the initial stage to get the admission in the Jawahar Lal Nehru University. Candidate considers this step carefully and read all the required guidelines to fill this form.
JNU Application Form 2020: JNUET 2020
JNUET Application Form 2020 through ONLINE MODE only. Candidate can go through this section to get detailed information about the Application form 2020.
Candidates can fill the application form now at https://admissions.jnu.ac.in/.
Before filling the application form, candidates must be ready with a valid mobile number & email id.
The aspirant also has to upload scanned photograph & signature in a JPG format during the time of filling the form
The aspirant has to fill the maximum three fields for the same level of courses in a single application form.
An aspirant can go for Application correction from 25 October.
For the future preference, the aspirant needs to carry the Print of the form along with him.
JNU 2020 Application Fee
The aspirant can easily pay the fee of the Application form fee payment through debit card/credit card/net banking etc. GST will also be included.
Previous Year JNUET Cutoffs
The JNU released the JNU 2020 Cut Off, Qualifying Marks, JNUET here. Download JNUET FIRST CUT OFF LIST 2018 Here.
JNU Minimum Marks
Following are the minimum marks required for various courses offered by JNU:
JNU Minimum Marks Table
Subjects
Minimum Marks out of 100
General
OBC
SC
ST
PWD
FN
MA Politics (International Studies)
81
77
74
79
70
62
MA Economics (World Economy)
84
59
52
56
31
–
MA Geography
42.55
38.39
37.23
38.9
25.56
–
MA Philosophy
66
52
37
54
31
31
MA Political Science
65
56
50
55
35
34
M.Sc Physics
48
39
30
27
–
–
MA English
76.3
57.8
56.9
65
51
44.2
Important Information regarding JNU Delhi Admission Notification 2020-21
JNU Delhi Admission 2020 Highlights

| | |
| --- | --- |
| Examination Conducting Body | Jawaharlal Nehru University |
| Name of the Exam | JNU Entrance Exam (JNUET 2020) |
| Courses | UG, PG and Doctoral (check website for more details) |
| Official Website | https://www.jnu.ac.in/main/ |
| | |
Note: As yet the official website is not updated for 2020 admission. Candidates can query at [email protected]
Read more about Central Universities Admission Here.
FAQs
Does JNU offer postgraduate courses?
The Asian College of Journalism offers students admission in regular undergraduate and postgraduate courses.
What is the duration of the JNUEE?
The JNUEE duration is of 3 hours.
How can I prepare for JNUEE?
Candidates are advised to stick to the syllabus, know the exam pattern and marking scheme, solve sample papers and give mock tests.
Stay tuned for the more detailed report on JNU Admission at EntranceZone.Com.
jnu online application form 2020, jnu admission 2020 last date, jnu admission 2020-19, jnu entrance exam result 2020, jnu admission 2018-18, jnu entrance exam 2020 19, jnu phd admission 2020, jnu application form 2020, jnu admission form 2020, jnu admission 2020-20 notification, jnu pg admission 2020, jnu admission 2020-20 apply online, jnu ma admission 2020.