Naval Architecture Engineering Course is a four-year undergraduate engineering program aimed at preparing students in the concepts of design and construction of marine crafts and structures. CET is conducted for admission to the course. The course is divided evenly into eight semesters, with each semester lasting six months. The candidate should be Higher Secondary qualification with Biology, Maths, and Chemistry as main subjects to get admission. The admission will be carried out by different universities based on JEE Main, UPSEE, AIEEE and other State-level examinations. Interested candidates can go through the following article for detailed information regarding the Naval Architecture Engineering Courses.
Admission Open 2023
Top University & Colleges Official Links, Application & Scholarship Forms.
B.Tech in Naval Architecture Engineering: Syllabus and Course Description
The semester wise naval architecture engineering syllabus and course description is given below.
Subscribe to Get Updated Information about Naval Architecture Engineering Course 2023: List of Top Institutes, Course Details, Fees - Admissions
​
Semester I

Semester II

Mathematics-I
Chemistry
Chemistry Laboratory
Mechanics Electrical Technology
Electrical Technology Laboratory
English for Communication
Engineering Drawings and Graphics Workshop
Practice EAA

Mathematics-II
Physics
Physics Laboratory
Programming & Data Structure
Programming &Data Structure Laboratory Engineering Drawings & Graphics Workshop
Practice Fluid Dynamics
Introduction to Naval Architecture

Semester III

Semester IV

Mathematics-III
Thermodynamics
Basic Electronics
Basic Electronics Laboratory
Hydrostatics & Stability Marine
Hydrodynamics

Machine Design
Elements of Ocean Engineering
Resistance & Propulsion
Marine Construction & Welding Marine
Structures-I
Marine Structures computations
Hydrostatics & Stability calculations

Semester V

Semester VI

Hospital Management
Marine Structures II
Motion & Control
Marine Design-I
Marine Production
Hydrodynamics Laboratory

Digital Image Processing
Marine Design II
Marine Systems
Computer-Aided
Design & Production
Industrial Management Elective I
Marine System Laboratory
CAD-& Production Laboratory

Semester VII

Semester VIII

Pattern Recognition and Artificial Intelligence
Industrial Training
Ship Design Project
Business Fundamentals & Economics
Vibration & Noise
Vibration & Noise Laboratory
Marine Power Plant Comprehensive
Viva-voce

Project
Viva-voce
Physical Oceanography
Seminar
Elective II
Elective III
Automation & Control Theory
Electives required to be chosen by the enrolled candidates as part of a requirement of their course are:
High- Performance Marine Vehicles
Port Infrastructure and Management
Fishing Vessel Technology
Inland Water Transportation
Submarines and Submersibles
Environmental Management
Naval Architecture Engineering: Skill Required
The requirement of the skill for the naval architecture engineering course is given below:
| Skills | Requirement |
| --- | --- |
| Critical thinking | Ability to use logical reasoning for a better understanding of the logic behind theoretical and practical concepts of the subject. |
| Scientific abilities | Applying scientific methods and rules for solving problems. |
| Mathematics | Efficient mathematical abilities for a problem- solving. |
| System analysis | Determining the changes that a system can bring by analyzing the condition, operations and environment of its operation. |
| Active learning | Easily able to grasp new things to help understand ever-evolving technicalities and system developments. |
| Coordination | Adjusting actions by the actions of others. |
| Troubleshooting | Ability to identify a problem and to make quick decisions to tackle it timely. |
Naval Architecture Engineering: Top Institutes
The list of the top institutes of the naval architecture engineering along with courses fee is given below
Top Institutes of Naval Architecture Engineering

| Name of Institute | City |  Average Fees |
| --- | --- | --- |
| IIT, Kharagpur | Kharagpur | Rs. 3.7 Lacs p.a. |
| IIT, Chennai | Madras | Rs. 90,000 p.a. |
| | Vishakapatnam | Rs. 2.25 Lacs p.a. |
| | Pune | Rs. 7,000 p.a. |
| | Chennai | Rs. 1.3 Lacs p.a. |
Naval Architecture Engineering: Job Profiles
The detailed information regarding the Naval Architecture Engineering job profiles are given below.
| | | |
| --- | --- | --- |
| Job Profile | Job Description | Average Pay Scale |
| Port Manager | A Port Manager helps in doing activities at a port concerning disparate activities such as movements of ships, cargo, and other containers, loading and unloading of ships and containers and activities related to customs | Rs. 1,44,000-2,40,000 per annum |
| Chief Marine Engineer | The work of a Marine Engineer is usually on board looking after the marine engineering department on the vessels and also has the responsibility of maintaining all onboard equipment and operation on board | Rs. 11,85,151 per annum |
| Technical Superintendent | This includes daily management and technical operation, overseeing of daily operations of repair and maintenance onboard, general assessment of vessels, docking, survey schedules, budgeting etc. | Rs. 7,04,155 per annum |
| Marine Surveyor | Surveys ships and boat tankers dredges to ascertain conditions of the machinery onboard and to look for changes, up-gradation and its repair. Also, surveys underwater conditions. | Rs. 4.52,000 -5,57,000 per annum |
| Ship Operator | A ship Operator's job is to make sure that all the management and operations are done as per the company's laid- down procedure. The ship operator is also in charge of crew members, managing bunkers, appointments etc. | Rs. 5,46,700 per annum |
| Second Marine Engineer | A Second Marine Engineer plans the machinery and equipment that are to be present in the engine room. It is one of the most important jobs in the specialization of marine sciences. | Rs. 20-25 lakhs per annum |
NOTE: The above-mentioned figure varies from individual to individual.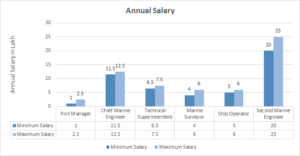 Naval Architecture Engineering Highlights
The detailed information regarding the naval architecture engineering is given below.
| | |
| --- | --- |
| Course Level | Graduate |
| Duration | 4 years |
| Examination Type | Semester System |
| Eligibility | 10+2 with science subjects |
| Admission Process | Based on counselling after clearing Entrance Tests (JEE Main, AICET and IMU CET) for different colleges |
| Course Fee | Rs. 1.5 Lakh p.a. |
| Average Starting salary | Rs. 1.8 to 2 Lakh p.a. |
| Top recruiting companies | Mazagon Dock Limited, Garden Reach Shipbuilders Engineers Ltd., Bharati Shipyard Ltd., Larsen & Toubro Limited, Shipping Corporation of India Ltd., Goa Shipyard Limited |
| Job Description | Port Manager, Chief Marine Engineer, Technical Superintendent, Marine Surveyor, Ship Operator and Second Marine Engineer |
See Popular Courses After 12th Class: Options for Science, Arts, Commerce